Report: Revised D-League pay could pave way for 'two-or-none' system
The NBA is considering changes to the D-League to help players who look to join the D-League out of high school instead of going to college.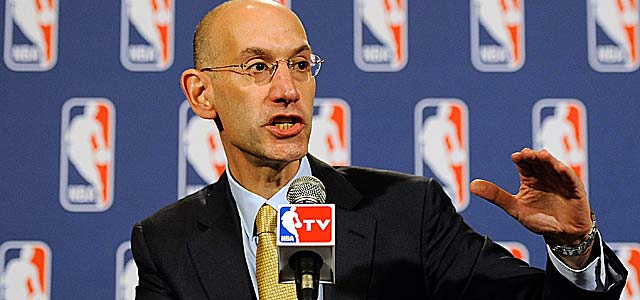 The Sporting News reports that as the NBA continues to explore raising the age limit beyond the current "one-and-done" system, the league could be providing a viable alternative for those players wishing to seek a living before being drafted by raising D-League salaries. 
In the dispute over what should be done about age limits for players coming out of college basketball and entering the draft, expect the NBA's D-League to become a major battlefield.

According to multiple sources, a proposed plan that is circulating now would see the age limit extended from its current position — one year after high school graduation — to three years, essentially barring most players from entering the NBA until they are 20 or 21.

The sources said that, in order to pave the way for raising the age limit, the league would be willing to expand salaries in the D-League, giving each team a salary cap and allowing executives with each team to sign players as they wish. Not only would that allow D-League teams to sign good young players, it would allow NBA clubs to size up young executives and player evaluators.
via The Baseline: D-League could be major part of NBA raising age limit, sources say - NBA - Sporting News.
More Draft: Emmert meets with owners | Early entries this year | Draft news
So what you would face as a high schooler with pro potential after graduating would be this.  You can either go to college, but if you choose to do so, you will have to spend two-to-three years in college, risking injury, not getting paid, but playing on a bigger stage with, at times, better players. Or, you can go to the D-League, play in relative obscurity but in front of NBA personnel on a nightly basis, and make something closer to middle-class earnings.
Currently, the D-League employs a three-tier structure of salaries for players, with the "C" players making around $18,000 per year and the top end making a little over $30,000 per year. 
It would have to coincide with a full adaption of the D-League in a one-to-one ratio of affiliates, which would take a lot on the part of the league to set up, but could mean drastic improvement of the NBA's development system. The only thing keeping many players from the D-League instead of going to Europe is the money. A higher pay level not only helps the kids coming out of high schoo who want to start developing their games now, but would raise the overall quality of the league by bringing many of those players back from overseas. 
The question would be what happens when a phenom decides to spend two years in the D-League, a team devotes resources to developing him, and then a competitor drafts him? 
The more pressing concern is about the money, where it would come from and how it would be distributed. It continues to perplex me as to how this is an issue, since, take a gander down any NBA roster and you're going to find wasted money all over the place. The amount it would take to run a D-League team, even with enhanced salaries, is nothing compared to what teams spend on an annual basis. 
Still, the most relevant component of this is that the league isn't just seeking to raise the age limit. They're looking to find ways to help those players for whom college isn't the best option, or those that need immediate help for their families financially. It's a baby step, but the fact this is even on the horizon tells you the much smarter approach Adam Silver is taking to the issue than just a draconian limitation of civil and labor rights. 
A dive into the NBA history books for every result from every NBA All-Star Game

James set the tone during practice that this year's All-Star game was going to be differen...

The 76ers center handled 'mismatches' like they were nothing
LeBron James says he will continue his social activism no matter what people say about him

The 76ers guard is in hot water after a controversial video surfaced showing him using a racial...

LeBron James earned his third career All-Star Game MVP award