Bills, LeSean McCoy express confidence that running back will avoid suspension
The NFL is currently looking into a claim that McCoy was involved in a home break-in
Bills running back LeSean McCoy sounds confident that he's going to be able to play this season, despite the fact that he's facing some serious accusations following a break-in, at a home he owns, that left his ex-girlfriend injured.  
McCoy showed up to Bills training camp on Thursday, where he took questions from the media for the first time since the July 10 incident involving his ex-girlfriend, Delicia Cordon. During his press conference, McCoy was asked if he thought he would be available for the entire season. 
 "I'm here right now, so I'm very confident," McCoy said, via the Buffalo News. 
Bills general manager Brandon Beane sounded equally confident about the status of his star running back. 
"We've communicated with (the NFL)," Beane said. "We feel comfortable that LeSean's going to be here and ready to roll. We don't see that changing."
The NFL has been looking into the situation to find out if McCoy had anything to do with the attack, which took place at a home he owns just outside of Atlanta. During the robbery, Cordon was allegedly struck in the head with a firearm and suffered injuries to her wrist when the suspect attempted to remove her jewelry. During a 911 call with police, Cordon immediately said that she thought McCoy was involved in the incident. 
Roughly a week after the robbery, Cordon's attorney told the Buffalo News Cordon believes that McCoy likely masterminded the entire thing. 
"She absolutely thinks Mr. McCoy had something to do with it," the attorney wrote in an email. "She believes anyone else involved was likely contacted by someone else on behalf of Mr. McCoy."
Although McCoy has maintained his innocence, the running back wasn't willing to talk about the situation on Thursday. 
"Right now, it's an open investigation, so I'll leave it at that," McCoy said. "That's what's going on right now. But right now, my main focus is here with my teammates, my team, trying to build together in camp to reach our goal together, and that's a championship. I'll let (the investigation) take care of itself and right now I'm just being supported with my teammates."
Despite leaving reporters out of the loop, McCoy said he did talk things over with Beane and Bills head coach Sean McDermott. 
"We had a long talk (Wednesday), and we're moving forward, we're ready to roll, as they would say," McCoy said. "And everything's just geared on making this team better. I want to be there for my teammates, my guys, my coaches. That's the kind of mindset."
If police in Milton, Georgia are close to solving the crime, they're not saying. After just over two weeks of investigating, authorities still haven't named any possible suspects. 
Pick Six Newsletter
Get the day's big stories + fun stuff you love like mock drafts, picks and power rankings.
Please check the opt-in box to acknowledge that you would like to subscribe.
Thanks for signing up!
Keep an eye on your inbox for the latest sports news.
Sorry!
There was an error processing your subscription.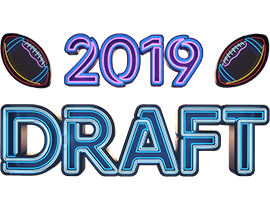 Get Live Coverage of Every Pick
Steelers fans could be in for some drama on draft night

Plus the Giants pass on a QB, more Clemson players are selected than Alabama players and m...

Here's everything you need to know about the dates, times and streaming options for the NFL...
Apparently New York is weighing all kinds of options at quarterback

There are still plenty of directions the Cardinals can go with the top pick

Metcalf is a top prospect in this year's draft