The New York Jets are coming off their most lopsided victory since October 2012. They hammered the Cleveland Browns 31-10 in their season opener last Sunday, giving some hope to those praying Gang Green can get back to the playoffs for the first time since 2010.
The bad news for those who believe in omens: The Jets actually lost their opener in that 2010 playoff season and have won every opener since. But the good news is that the team they beat by an even larger margin back in October 2012 was the Indianapolis Colts, whom they face this week in an attempt at an encore performance.
The Jets spanked Indianapolis 35-9 in Andrew Luck's fifth career game, but a lot has changed in three years, and this week's Monday Night Football matchup between the two takes place in Indy rather than East Rutherford. So don't expect a cakewalk for the underdog Jets, but keep an eye out for what might be a sneaky good game.
Using numbers to tell the story, here's what to expect Monday night at Lucas Oil Stadium.
1. Andrew Luck knows how to avoid losing streaks
Key stat: In the Luck era, the Colts are 14-1 in games directly following losses.
The only time they've lost back-to-back games since 2012 came at the beginning of the 2014 season, so it's possible the Colts are slow starters. They opened up 1-1 in 2012 (also losing their third game), 1-1 in 2013 and 0-2 last season.
Still, that start to 2014 marks the only time Luck has lost back-to-back games since he was a freshman at Stanford in 2009. Following losses during his college and professional career, he's 18-1.
Andrew Luck's ability to bounce back
Scenario
Interception rate
Passer rating
Record
Following losses
1.0
92.1
14-1
All other games
3.0
83.7
19-15
That obviously does not bode well for a Jets team that was victorious in Week 1 but has won two consecutive regular-season games just once since the start of 2013. Plus, Luck is particularly good at avoiding turnovers in these games, and the Jets had a league-low 13 takeaways last season.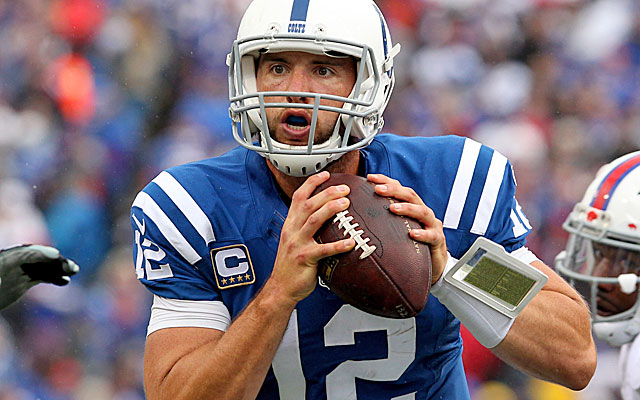 2. Don't expect an aerial assault from either side
In other words, only Richard Sherman of the Seahawks surrendered completions less often than the top corners for the Colts and Jets.
Coverage snaps per reception, 2014
Cornerback
Snaps
Receptions
Snaps per reception
1. Richard Sherman
552
65
17.8
2. Vontae Davis
479
71
15.5
3. Darrelle Revis
606
79
14.8
On the surface, this looks like the type of game in which the Colts could light up the scoreboard with Luck's arm. After all, Indy led the NFL by a wide margin with 78 passing plays of 20-plus yards last season, and Luck had a league-high 39 completions on throws that traveled at least 20 yards.
But only four teams surrendered fewer deep completions than the Jets last season, and that was before they added the four-time All-Pro Revis to the fray. No. 2 corner Antonio Cromartie gave up a deep touchdown pass early in the second quarter last week against Cleveland, but from that point forward the Browns didn't complete a single pass for more than 20 yards.
When throwing at Revis, Marcus Williams and Buster Skrine (Cromartie left the game with a knee injury soon after giving up that touchdown), Browns quarterback Johnny Manziel completed just seven of 15 passes and averaged just 5.7 yards per attempt.
The Colts, of course, are a different team than the Jets. And yes, they completed a lot of bombs last season, but their top receiver, T.Y. Hilton, is a major question mark after suffering a bruised knee in the opener. Hilton caught a league-high 17 passes for 25-plus yards last season but may not be available Monday night.
Nobody will accuse Ryan Fitzpatrick and the Jets of being explosive -- even against the Browns they had just two completions for 20-plus yards -- but they could really be limited against Davis, who earned his first Pro Bowl nod after being graded by PFF as the second-best corner in football last season.
3. Ryan Fitzpatrick was hardly touched in Week 1
Key stat: Not only did the Browns fail to sack Fitzpatrick, but he was hit just twice and pressured just five times on 24 dropbacks, according to PFF.
Cleveland blitzed the Jets on nine passing plays but couldn't total more than a few fingers laid upon Fitzpatrick, who was well-protected by an offensive line that was responsible for only 10 of the sacks Gang Green gave up last season (the third-lowest total in football, per PFF).
And while the Jets were one of seven teams that didn't give up a sack in Week 1, the Colts were one of seven that didn't have one. In fact, they didn't even register a single hit against Bills quarterback Tyrod Taylor.
Indy and Chicago were the only teams that didn't have a sack or a quarterback hit last week, putting extra pressure on Trent Cole to step it up and Robert Mathis to get back into the lineup.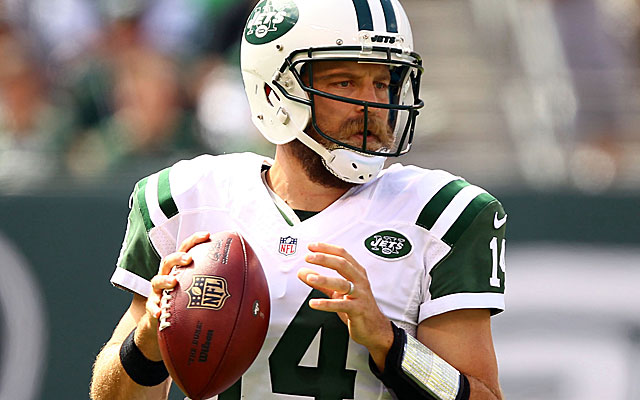 4. Watch out for the one-dimensional Colts
Key stat: The Colts, who ran the ball less frequently than any of the 12 playoff teams last year, ran 53 passing plays and only 14 running plays in Week 1.
One of the team's prize free-agent additions, five-time Pro Bowl running back Frank Gore, carried the ball just eight times for 31 yards. I know, they trailed early and were forced to play catchup, but it was only 7-0 Bills for much of the first half and Buffalo didn't go up by three scores until the dying moments of the second quarter. And yet at one point in the first half, Indy ran 16 consecutive passing plays (18 if you count penalties) over a four-series span.
Not only do the Jets have the ultimate coverage weapon in Revis, but they also surrendered just 3.7 yards per rushing attempt last season, and they held Cleveland backs Duke Johnson and Isaiah Crowell to just 42 yards on 19 carries (2.2 yards per rush) in Week 1.
So you can see Pep Hamilton falling into that same old trap on Monday night.
Highest passing play rates, 2014
Team
Pass play %
Record
1. Raiders
65.1
3-13
2. Bears
63.2
5-11
3. Falcons
63.0
6-10
4. Saints
61.9
7-9
5. Colts
61.4
11-5
6. Jaguars
60.7
3-13
5. Wrong place, wrong time?
Key stat: The Jets have lost 13 consecutive road games against teams that finished the season with a winning record.
Jets/Colts based on location and opponents, 2012-2014
Category
Jets vs. winning teams on road
Colts vs. losing teams at home
Record
0-10
11-3
Avg. points scored
13.4
24.5
Avg. points against
30.0
17.4
It's no guarantee the Colts finish with a winning record, which would disqualify this game from that category, but since Indy has traditionally started slow, has won 11 games in three straight seasons and is a Super Bowl contender, it's probably safe to assume they'll win at least nine games again in 2015.
The Jets haven't defeated an eventual playoff team on the road since beating the Steelers 22-17 in December 2010. And since then, in those 13 road games they've played against teams that finished above .500, they've been outscored by an average margin of 31-16. Nine of those 13 affairs were lost by at least two scores.
Prediction: When you include that the Jets ran extremely well in Week 1 (Chris Ivory and Bilal Powell combined for 153 yards on 32 carries), a lot of the matchups here point to New York sticking around. Still, Luck knows how to bounce back, and precedent suggests that'll happen in a closer-than-expected tilt at Lucas Oil Stadium.
Brad Gagnon has covered the NFL since 2007. You can also read his work at Bleacher Report, Awful Announcing and This Given Sunday. Follow him on Twitter. Or don't. It's entirely your choice.