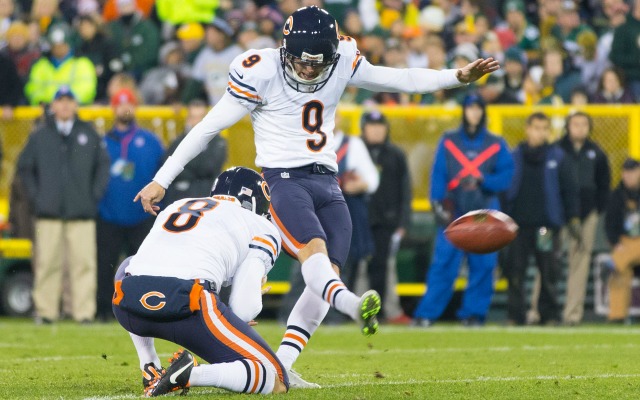 The NFL changed a crucial rule for the 2015 season. Extra points are no longer going to be automatic and defenders are no longer going to look silly when they try to return an interception or fumble during a two-point conversion attempt.
In 2015, instead of kicking an extra point from the two-yard line, teams will be forced to kick from the 15-yard line. And the defending team will be allowed to score two points if it grabs possession of the ball and takes it back the other way.
Despite a proposal to move the line of scrimmage for two-point conversions to the one-yard line, it will stay put at the two-yard line. 
The extra point rule for 2015 just changed. Snap for kick from the 15-yard line, 2-pt try stays at 2-yard line and defense can return.

— Dean Blandino (@DeanBlandino) May 19, 2015
According to Lindsay Jones of USA Today, only two teams voted against the new rule, which is only in effect for the 2015 season.
The PAT rule passed 30-2. The no votes were Washington and Oakland.

— Lindsay Jones (@bylindsayhjones) May 19, 2015
The change in rules should up the number of two-point conversions in 2015. Here's a very quick rundown, via Football Outsiders.
Smart coaches will now generally go for 2 (roughly 0.99 exp pts) instead of 1 (now roughly 0.91 exp pts based on 2013-2014).

— Aaron Schatz (@FO_ASchatz) May 19, 2015
As expected, not all kickers were pleased with the new rule. Dan Carpenter of the Buffalo Bills, who coincidentally missed a PAT last season, is not a fan of the longer attempt.
Dan Carpenter: The NFL wants to cut down on collisions but this new XP rule will only cause more guys crashing into each other.

— SiriusXM NFL Radio (@SiriusXMNFL) May 19, 2015
One interesting aspect of the rule change is that it gives teams that play indoors an advantage over teams that play in places like Chicago, Green Bay, and Buffalo -- especially when December rolls around. An extra point at Soldier Field in December will probably have a higher degree of difficulty than an extra point kicked at Ford Field -- the Lions' indoor stadium.
Dan Carpenter: Its gonna change the game for sure, a 33 yd kick is no gimmie when the weather is brutal in November/December.

— SiriusXM NFL Radio (@SiriusXMNFL) May 19, 2015
Still, when taking a look at statistics from last season, NFL teams connected on over 99 percent of their extra points. For the sake of comparison, on field goal attempts ranging from 30-39 yards (the new PAT is going to measure at 33 yards), kickers hit on 90 percent of their tries. 
And here are some more specific statistics on field goals that would now qualify as PATs, via Pro Football Focus.
30-35 yard FG accuracy in 2013 and 2014 by location: Left Hash 91.6%, Center 97.6%, Right Hash 93.8%

— Nathan Jahnke (@PFF_NateJahnke) May 19, 2015
In other words, kickers should still be able to be successful on extra points. And coaches should still be going for two points more frequently next year. And if you're not a fan of the new rule, well, it's only in effect for this season -- for now.