At 8-0, the Cincinnati Bengals are off to their best start in franchise history. Sufficed to say, for a franchise that has won four playoff games in 45 years, that makes for exciting times.
There's not quite as much to smile about if you're a fan of the 3-5 Houston Texans, but Houston is fortunate enough to be competing for a division title in the mess that is the AFC South. And besides, playing spoiler is always fun.
That's what makes Monday night's matchup between Cincinnati and Houston interesting. The Texans have made a habit of spoiling things for the Bengals. Cincinnati has made the playoffs a franchise-record four straight seasons, but Marvin Lewis' squad has been bounced in the first round on all four of those occasions, with two of those losses coming at the hands of those pesky Texans.
The only two playoff wins in Texans franchise history have come against Cincinnati, and now they have a chance to make a large statement on the road while spoiling Cincy's perfect season in prime time.
Using numbers to tell the story, here's what to expect when the two meet Monday night at Paul Brown Stadium.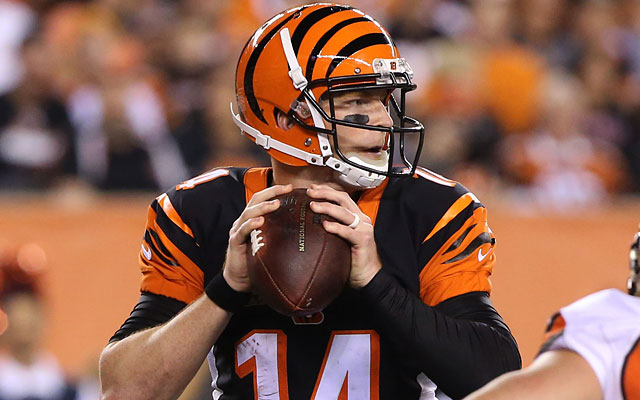 1. Getting ahead
Key stat: With his team leading, Bengals quarterback Andy Dalton has a 115.9 passer rating, which leads all NFL quarterbacks who have thrown at least 50 passes under those circumstances.
Dalton entered Week 10 as the league's second highest-rated passer to begin with, but he's been especially stellar when ahead, completing 66.7 percent of his passes for an average of 8.9 yards per attempt (which ranks second to only Carson Palmer). He and Derek Carr both entered this week with exactly 10 touchdown passes and only one interception while leading.
QB ratings while team is leading
Quarterback
Comp.%
TD-INT
YPA
Rating
Andy Dalton
66.7
10-1
8.9
115.9
Derek Carr
62.7
10-1
8.3
113.6
Tom Brady
66.1
15-2
8.0
109.1
That puts extra pressure on the Houston offense to score early, which is daunting when you consider that the Texans have scored an NFL-low 49 points this season in the first half.
Points by quarter, 2015
Quarter
Bengals (rank)
Texans (rank)
1st
7.3 (T-3rd)
2.9 (28th)
2nd
6.4 (18th)
3.3 (T-31st)
3rd
5.5 (9th)
4.6 (18th)
4th
9.0 (T-5th)
11.0 (1st)
Now, plenty of the Texans' late points came in garbage time. They trailed the Falcons 42-0 after three quarters and scored all 21 of their points in the final frame, and they trailed Miami 41-0 at halftime and scored all 26 of their points in the second half.
That said, they deserve credit for putting together superb second halves in order to grind out victories over Tampa Bay, Jacksonville and Tennessee.
Dalton and the Bengals won't likely be as generous.
2. Who says Houston needs a quarterback?
It's hard to believe that earlier this season, Hoyer was benched in favor of Ryan Mallett, because the 30-year-old former Patriot, Cardinal and Brown ranks fifth in the NFL with a 13-to-3 touchdown-to-interception ratio and ninth with a QBR of 69.39.
He also ranks fourth in football with an average of 5.1 air yards per attempt, which places him one spot ahead of Dalton. That means both quarterbacks have been accumulating the majority of their passing yards through the air, rather than benefiting from yards after the catch.
Highest percentage of passing yards through the air
Quarterback
Yards
Air yards
Rate (%)
Brian Hoyer
1,581
1,098
69.5
Blake Bortles
2,193
1,448
66.0
Tyrod Taylor
1,278
791
61.9
In that respect, Hoyer's receivers haven't done him any favors. And when you throw in that a league-high 22 passes that have been dropped by Houston's receivers, backs and tight ends, you begin to realize that Hoyer has been pretty good.
And he's picking up steam. Things were a bit chaotic earlier this year, but Hoyer and the Texans are 2-2 in their last four, with the Michigan State product posting a 101.2 passer rating with 10 touchdowns and two picks during that stretch.
That was against Indy, Jacksonville, Miami and Tennessee. Again, the Bengals (who have the league's fourth-rated scoring defense) are different. But Hoyer is hot and should be healthy and well-prepared coming off a bye week.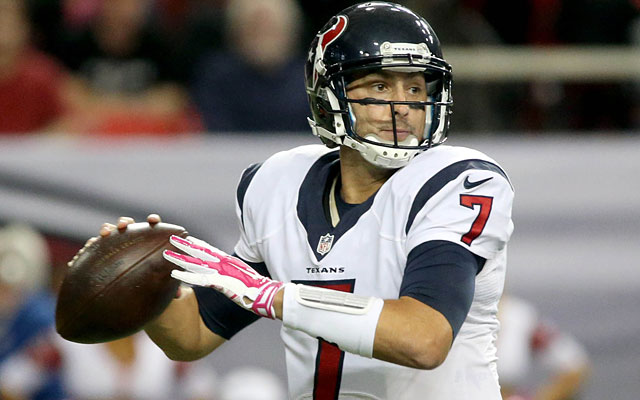 3. The ultimate defensive X-factor
Key stat: J.J. Watt has 4.5 sacks in his last two games.
Watt raised the bar so damn high during his 2014 defensive player of the year campaign that we've almost become desensitized to his greatness. He got off to a "slow" start with just four sacks and zero forced fumbles in Houston's first six games, but against Miami and Tennessee he had 4.5 sacks amid 12 tackles and picked up his first forced fumble of the 2015 season.
Against a Bengals team that Football Outsiders ranks first in football in terms of passing DVOA (defense-adjusted value over average), second in terms of adjusted run-blocking yards and sixth in terms of pass-blocking DVOA, the Texans had better hope that the 26-year-old can continue to build on that Monday night.
4. Whatever happened to Jeremy Hill?
Key stat: Among 21 running backs with at least 100 carries, Hill's 3.3 yards-per-attempt average ranks second-last in the NFL.
With Arian Foster out and Alfred Blue and Chris Polk unlikely to suddenly emerge, the Texans (who are averaging a league-low 3.2 yards per rushing attempt) might be forced to go to battle with a one-dimensional offensive attack Monday night.
But the Bengals might not be a lot better off.
That's because they're going up against a tough defensive front while dealing with some questions at the running back position. Hill was supposed to turn into a star this season after averaging 5.1 yards per carry as a rookie, but this year Football Outsiders ranks him 28th among 37 qualified running backs in terms of DVOA.
The LSU product hasn't scored a rushing touchdown since Week 4, yet he continues to start and receive more touches than Giovani Bernard, who entered Week 10 with the league's second-highest yards-per-attempt average (5.6) among backs with at least 70 carries.
The Bengals did give Bernard two drives to himself last week against Cleveland, and sure enough Cincinnati scored on both of those possessions. A ridiculous 22 of his 91 attempts (24 percent) have gone for 9 or more yards, while Hill -- whose longest run of the year is 15 yards -- is stuck at nine percent.
Jeremy Hill vs. Giovani Bernard
Category
Hill (rank)
Bernard (rank)
Yards per carry
3.3 (35th)
5.6 (2nd)
DVOA
-11.4% (28th)
20.2% (5th)
% of 10-yard runs
6.7 (36th)
18.7 (1st)
Among 37 backs with 70 or more carries entering Week 10
If the Bengals struggle early Monday night with Hill, they have to pull the trigger and give Bernard a more thorough shot.
5. Afraid of the dark?
Key stat: The Texans have lost six consecutive games in prime time.
A lot has been made of the fact the Bengals have failed to rise to when the lights come on, and to a degree that is deserved. Cincinnati has lost four straight prime-time road games and four straight wild-card playoff games. However, the Bengals have actually won three of their last four prime-time home games, with all three wins coming by double-digit margins (including a blowout victory over Cleveland last week).
Instead, the Texans are the team looking to get a nationally televised monkey off their backs Monday night. Houston hasn't won a night game since beating San Diego in Week 1 of the 2013 season. One month after that, they were trounced 34-3 by the Raiders on Sunday Night Football. But on the bright side, all five of the prime-time losses they've since suffered have come by seven or fewer points.
Prediction: I think this is going to be a lot closer game than the Las Vegas spread suggests, but Cincinnati is a much better all-around team and should prevail at home.
Brad Gagnon has covered the NFL since 2007. You can also read his work at Bleacher Report, Awful Announcing and This Given Sunday. Follow him on Twitter. Or don't. It's entirely your choice.