Titans RB Chris Johnson keeps NFL combine 40-record
For the sixth straight year, an NFL combine ends without any player breaking Chris Johnson's 40-record. Johnson ran a 4.24 2008.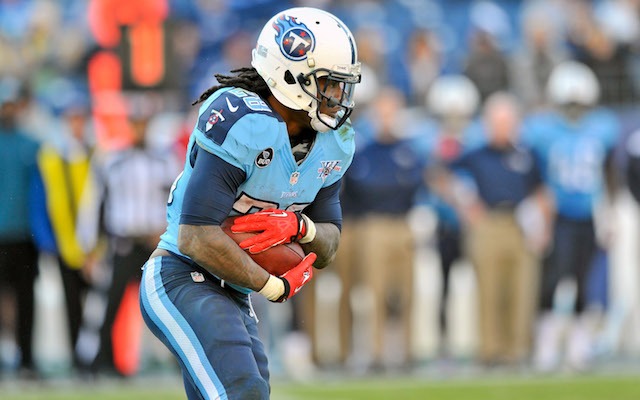 For the sixth straight year, Titans running back Chris Johnson can brag that he has the fastest official 40-time in the history of the NFL combine. The final 40-yard dashes were run on Tuesday and no one topped Johnson's record-time of 4.24, which he set at the 2008 combine. 
However, someone did come close to Johnson's record and that someone was Kent State running back Dri Archer. Archer ran a 4.26 40, which goes down as the second fastest time since the NFL officially began electronic timing in 1999.
Archer's 40-time on Sunday was fast enough that Johnson tweeted about it.  
Can't lie archer had the boi nervous

— Chris Johnson (@ChrisJohnson28) February 23, 2014
The unofficial 40-record at the combine belongs to Bo Jackson. Jackson's 4.12 came in 1986, long before the NFL was using the electronic timer to officially verify times. 
Here's a list of the top-10 fastest 40 times that were run at the 2014 combine.
1. Kent State RB Dri Archer (4.26)
2. Oregon State WR Brandin Cooks (4.33)
On a somewhat related note, Cooks won $100,000 from Adidas for his blazing time. You can read more about that here. If Archer would've worn the Adidas adizero 5-star cleat while running his 40, the money would have been his.  
3. Pittsburgh State (Kansas) WR John Brown (4.34)
4. Oklahoma State CB Justin Gilbert (4.36)
T-5. Rice CB Phillip Gaines (4.38)
T-5. Texas Christian CB Jason Verrett (4.38)
7. Ohio State CB Bradley Roby (4.39)
T-8. Ole Miss WR Donte Moncrief (4.40)
T-8. Colorado WR Paul Richardson (4.40)
T-10. NW Missouri State CB Brandon Dixon (4.41)
T-10. Georgia Southern RB Jerick McKinnon (4.41)
T-10. Florida CB Jaylen Watkins (4.41)
Oh and someone at the NFL took the time to make this picture. It's 16 different players running the 40 and making 16 different faces. That seems like a good thing to leave you with. 
The faces of the 40-yard dash. #NFLCombine pic.twitter.com/aLlpRSkxAy

— NFL (@nfl) February 23, 2014
Not even 10 stitches could slow down Tom Brady

Here's a look at the NFL's entire postseason schedule for 2018

Follow along live as the Vikings and Eagles battle for a spot in the 2018 Super Bowl
The winner of Sunday's game will be headed for Super Bowl LII

One of the Patriots' biggest plays of the day quickly went south

The winner will be revealed on the eve of Super Bowl LII