Where does LT rank on my all-time RB list?
With LaDainian Tomlinson retiring Monday, the question now is where he ranks on the list of all-time backs?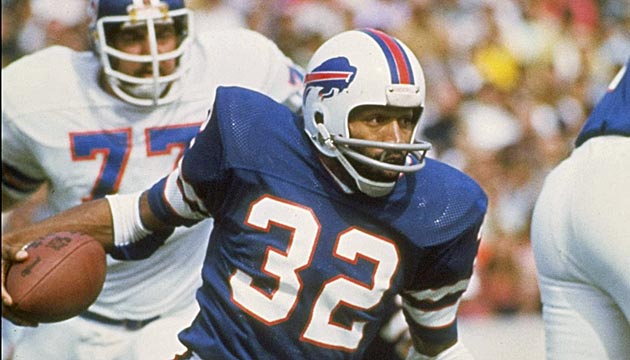 Sprinter's speed and durability made O.J. Simpson a unique weapon. (Getty Images)
With LaDainian Tomlinson retiring Monday, the question now is where he ranks on the list of all-time backs?
I have him sixth on my list, behind five Hall of Fame backs. Tomlinson will get a bust to join them as soon as he's eligible. My list doesn't include Gale Sayers in part because he didn't play long enough due to knee troubles.
My top back is O.J. Simpson, getting a slight edge over Jim Brown, although you could flip a coin.
The rest of the list includes many backs you would expect, and Tomlinson certainly deserves his spot.
1. O.J. Simpson, Bills-49ers. The man was big, strong, and had sprinter speed. And his team was horrible most of the time. 
2. Jim Brown, Browns. He was a power runner who was a lot bigger than the defenders he ran by and over. It's too bad he retired so soon.
3. Barry Sanders, Lions. He was the kind of back who made you hold your breath on every carry. He was so explosive.
4.  Eric Dickerson, Rams-Colts-Raiders-Falcons.  The man is the most under-appreciated back of our time. He was big, strong and fast. Close your eyes. You can see him running with that upright style through defenses.
5. Walter Payton, Bears. He was a complete back who put up huge numbers on some really bad teams. He was a brute. 
6. LaDainian Tomlinson, Chargers-Jets. He retires as the fifth leading rusher all time and also is second in rushing touchdowns.
7. Tony Dorsett, Cowboys-Broncos. He averaged 4.5 per rush four times in his career, one more time than Emmitt Smith did it, which is why he's above him.
8. Emmitt Smith, Cowboys-Cardinals.  He is the all-time leading rusher, but he played for a long time and with a lot of good players. You have to give him credit for staying on the field.
9.  Marshall Faulk, Colts-Rams. He was the perfect fit for what the Rams did and what teams do now. He could run it and catch it. 
10. Thurman Thomas, Bills-Dolphins. He's another run-pass threat who could beat you in a lot of ways. He was ideal for the "K-Gun" offense.
Everything you need to know about the Packers-Panthers game on Sunday afternoon

The Lions will be wearing their Color Rush uniforms for the first time on Thursday

The Lions look to maintain playoff positioning while the Bears attempt to play spoiler
The Panthers have hired an outside law firm to conduct the investigation

Here's every official injury designation for each NFL team for Week 15

Bennett was one of the few players who escaped punishment after Sunday's melee in Jacksonv...