2014 team preview: Baltimore Orioles
We continue our series of team previews for the 2014 Major League Baseball season. This installment covers Buck Showalter and his Baltimore Orioles.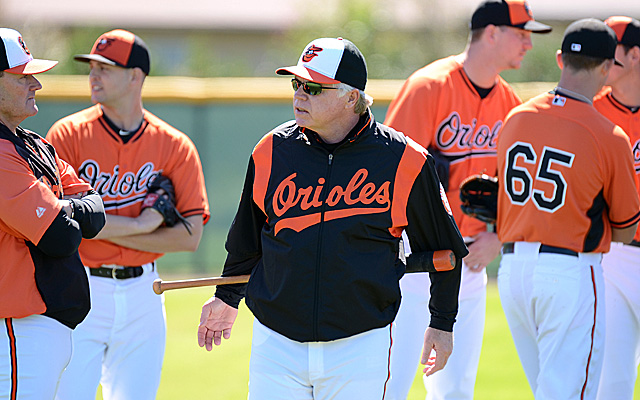 More: Team Previews | Spring Training 
More Orioles: Likes, dislikes | Over/unders
After a surprising -- and a bit miraculous, actually -- 2012 season in which the Baltimore Orioles won 93 games and advanced to the ALDS, they took a step backward in 2013, going 85-77 and missing out on a tie for the second wild-card spot by six games.
The O's were relatively dormant for much of the offseason, but have added two major free agents in the past week and still might add another. Will it be enough to get them back to the postseason for the second time in three years after a 14-year drought?
Probable lineup
1. Nick Markakis , RF
2. Ryan Flaherty , 3B*
3. Chris Davis , 1B
4. Adam Jones , CF
5. Nelson Cruz , DH
6. Matt Wieters , C
7. J.J. Hardy , SS
8. David Lough , LF
9. Jemile Weeks , 2B
* - Manny Machado will be back to man third base sometime early in the season, barring a major setback.
Bench - C Steve Clevenger , IF Alexi Casilla , OF Nolan Reimold , OF Steve Pearce
Save for Weeks at the bottom of the order, there isn't much speed on the bases. It's entirely possible that the cleanup hitter ends up the leading base-stealer. There is power, though. Lots of it. It's no secret how this offense gets things done. They ranked fourth in the AL in runs last season despite being 10th in on-base percentage. That's because they were third in doubles, first in homers and third in slugging percentage.
Probable rotation
1. Ubaldo Jimenez
2. Chris Tillman
3. Wei-Yin Chen
4. Bud Norris
5. Miguel Gonzalez
Suk-min Yoon is also a possibility, just as youngster Kevin Gausman is at some point. And, of course, the Orioles continue to be connected to free agent Ervin Santana in reports and rumors. So this group is far from set in stone.
Probable bullpen
Closer - Tommy Hunter
Setup men - Darren O'Day , Brian Matusz , Ryan Webb
Middle men - Brad Brach , Edgmer Escalona
Long man - Suk-min Yoon
The Orioles traded Jim Johnson in the offseason and then had a deal with Grant Balfour fall through, so it's a clear path for Hunter to assume closing duties.
Under-the-radar offseason transaction
The falling-apart of the Balfour signing wasn't under-the-radar at all, but I'm going with not signing a closer from outside the organization here. Conventional wisdom for a while had been that teams need a "proven closer," but the actual closers worth eight figures these days can be counted on one hand. Jim Johnson -- who was a "proven closer" -- led the majors with nine blown saves last season. The Orioles as a whole blew 27 saves, topped by only the Astros in the AL. So having a proven closer didn't really help, eh?
Hunter looks up to the task, too. He only accounted for two blown saves alongside four saves and 21 holds. He only gave up 13 unintentional walks in 86 1/3 innings, helping to keep his WHIP down at 0.99. He also stranded 24 of the 28 runners he inherited, so it's not a problem to bring him into a mess.
For more ...
Fantasy sleeper: Tommy Hunter

"Truthfully, any reliever in line for saves for the first time is a sleeper in Fantasy. When only 30 players are capable of contributing something everybody needs, all of them have value. But Hunter even more so because he's getting his chance in the same place Jim Johnson recorded 50-plus saves each of the last two seasons. And he might be even better equipped for the role. You wouldn't have thought so when he was a back-of-the-rotation starter for the Rangers a few years back, but he's found his niche in the bullpen with the Orioles, boasting a fastball that reaches triple digits. He's not any more of a bat-misser than Johnson -- or he hasn't proven to be yet, anyway -- but his control is so good that you can count on a low WHIP and ERA. Of course, he has to win the job first, so most of the "proven" closers still take precedence on Draft Day. But among the bottom-feeders, Hunter is one of those worth the extra dollar." - Scott White [Full Orioles fantasy team preview]
Biggest strength
Power. Last season, the Orioles had four players hit at least 20 homers, two top 30 and Chris Davis pace the majors with 53. Expect all four to again top 20 homers and Cruz to join Davis and Jones in topping 30. Once Machado returns from injury, it's reasonable to expect him to see a slight increase in home-run power, too. The Orioles led the majors with 212 home runs last season. Expect them to end up in the top spot again.
Biggest weakness
Lack of patience at the plate. Yes, power is good, but the Orioles' offense could benefit from being a bit more picky at the plate. No, I'm not suggesting every hitter become Joey Votto -- though a lineup full of Vottos would be awesome -- but the Orioles' OBP last year was just .313 compared to an AL average of .329. The club averaged 3.8 pitches per plate appearance, which ranked 12th of 15 AL teams. Only the lowly Astros and White Sox swung at a higher percentage of pitches. Only the White Sox took fewer walks. By a point of comparison, the Red Sox were second in the AL in walks and swung at the lowest percentage of pitches in the entire league. Patience helps tire the starting pitchers and get into the bullpen quicker. The Orioles could use more of it.
Outlook
Are the Orioles measurably better than last season? It's hard to definitively say yes. Davis is almost certainly due a regression (even if it's slight), Machado is beginning the season injured and the pitching staff is, at this juncture, wholly unexciting.
There is definitely talent here, though, and Cruz was a great, cheap add so late in the offseason.
The pitching staff could come together if Jimenez continues to pitch like he did in the second half of last season, Tillman and Chen show slight improvement and Gausman shows up to meet his immense promise. Hunter could well perform as a top closer, too.
If all that happened, the offense has enough power to make this team a legitimate contender.
My feel for right now, though, is more mediocrity than playoff-worthy. High-70s to mid-80s in wins seems the most likely path in this tough division.
---
Coming Wednesday: Previewing the New York Mets