3 to Watch: The 'Difference makers?' edition
It's a big week for debuts, and for possible difference-makers. Kevin Youkilis joins the White Sox, Chase Utley may finally rejoin the Phillies and Trevor Bauer is expected to make his first big-league start with the Diamondbacks. Who will make a difference? 3 to Watch tries to answer.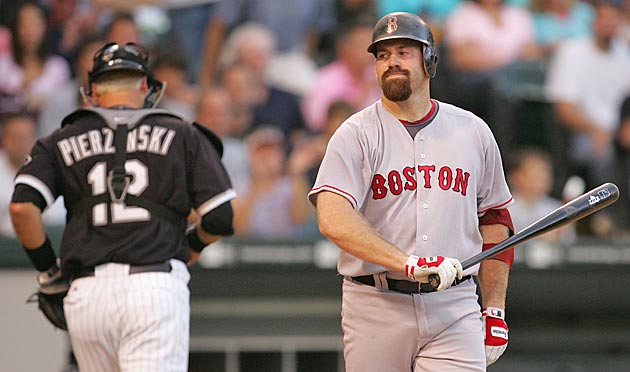 A.J. Pierzynski and Kevin Youkilis are now teammates. (US Presswire)

Kevin Youkilis will join the Chicago White Sox on Monday.
Will he make a difference?

Chase Utley may join the Philadelphia Phillies Wednesday.

Will he make a difference?

Trevor Bauer is expected to make his big-league debut for the Arizona Diamondbacks on Thursday.

Will he make a difference?

It's a big week for debuts, and that doesn't even include the possibility that the Chicago Cubs call up Anthony Rizzo on Tuesday, as some have speculated. Of course, that's the Cubs, and we know he can't make a difference this year.

Youkilis could, even though his work this year for the Boston Red Sox suggested he's not the same player he once was. Utley could, even though he's not the same player he once was, either.

And Bauer?

In a season where two of the hottest stories in baseball have been 19-year-old Bryce Harper and 20-year-old Mike Trout , perhaps the next big story will be the 21-year-old right-hander who would be the first player from the 2011 draft to reach the big leagues.


Bauer, who is 11-1 with a 2.23 ERA in two minor-league stops this year, would join a Diamondbacks team that has already made up more than half of what was once an 11 1/2-game deficit to the first-place Los Angeles Dodgers in the National League West. The Diamondbacks swept the Cubs over the weekend to move to within 5 1/2 games of the Dodgers, the closest they've been since the first week of May.

The Diamondbacks still haven't said for sure that Bauer is starting on Thursday, but there's plenty of evidence, and also a report from Jack Magruder of Fox Sports Arizona. The Diamondbacks need a starter to take the spot vacated when Joe Saunders was hurt, and they pulled Bauer after 2 2/3 innings on Sunday to set him up for the Wednesday game in Atlanta.

Bauer has star potential, beyond just his ability on the mound (as I wrote this spring).

But it's hard to know if any rookie pitcher can impact the National League West race -- just as it's hard to know if Youkilis and Utley can put the White Sox and Phillies into the playoffs.

The Youkilis deal made perfect sense for the White Sox, whose third baseman have had by far the worst offensive production in baseball. And while Youkilis wasn't doing all that well with the Red Sox, there's at least a chance that he'll benefit from a move to a team that absolutely needs him and wants him.

The White Sox moved back into first place in the American League Central on Sunday, so it would be silly to ask if they have a chance to win it. Of course they do.

At the same time, the Sox are about to enter a difficult stretch of their schedule. Beginning with Thursday's game at Yankee Stadium, they'll play 17 of the next 20 games against the New York Yankees , Texas Rangers , Toronto Blue Jays , Red Sox and Detroit Tigers .

This is also a crucial point for the Phillies, who were swept by the Tampa Bay Rays in a doubleheader on Sunday, to fall nine games behind the first-place Washington Nationals .

The Phillies have known for a while that they needed to find a way to stay afloat while waiting for Utley, Ryan Howard and Roy Halladay to come back from the disabled list.

At this point, they're on the edge of not staying afloat. Already, the computers at coolstandings have reduced their chance at the playoffs to 7.6 percent (barely better than the Kansas City Royals ).

Some will say that Utley, with his questionable knees, isn't good enough anymore to make a difference. But his knees weren't good last year, either, and his presence in the lineup was enough for the Phillies to go 66-37 in the games he played.

If the Phillies were to win at that rate for the rest of this season, they'd end up with 97 wins.

Is that realistic?

It almost certainly isn't, but it's very realistic to think that Utley could make a difference.

On to 3 to Watch:

1. Here's a White Sox question that could be more important than whether Youkilis will help them: Will Jake Peavy stay healthy? He can be a dominating pitcher when he does, and his 2.74 ERA this year (and a 1.91 mark this month) show it. Peavy will be the starter in Youkilis' debut, in White Sox at Minnesota Twins , Monday night (8:05 ET) at Target Field. Francisco Liriano starts for the Twins, who will wonder if his improved results (2.67 ERA in five starts since reentering the starting rotation) will cause someone to want to trade for him.

2. Utley will join Triple-A Lehigh Valley on Tuesday, and Jim Salisbury of CSN Philadelphia says he could then make his big-league season debut in Pittsburgh Pirates at Phillies, Wednesday night (7:05 ET) at Citizens Bank Park. If so, it'll be a challenging first day back, with James McDonald (2.19 ERA, .195 opponents batting average) starting for the Pirates.

3. If there's a concern about Bauer, it's that his walk totals in the minor leagues have been high. So maybe it'll help him to debut against an aggressive Atlanta team, in Diamondbacks at Atlanta Braves , Thursday night (7:10 ET) at Turner Field. It's an interesting game for the Braves, too, because they'll see if Jair Jurrjens can repeat his strong performance last Friday in Boston, in what was his first game back from the minor leagues.


The Astros are still in control of the series, but have been unable to solve Yankees pitch...

The Astros and Yankees will play Game 4 in the Bronx early Tuesday evening

Yankee Stadium helped, but there's more to it than that
Aaron Judge and CC Sabathia had big games

Judge had an impact on both sides of the ball in Game 3

Ausmus most recently managed the Tigers, but won't be headed to Queens