Panda, seeking $100M plus, is testing Giants' record for keeping stars
The Giants are said to have bumped their initial $40-million, three-year offer to Pablo Sandoval, but talks are on hold now.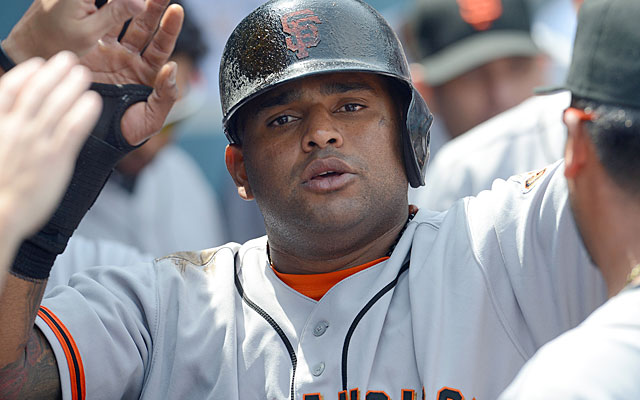 More MLB: Power Rankings | Expert Picks | Latest news & notes | Fantasy news
FORT LAUDERDALE, Fla. -- Some folks were surprised when the San Francisco Giants, a team that's unmatched in its resolve and record for keeping its best players, announced that contract talks were being tabled with star third baseman Pablo Sandoval, the beloved Panda. Those folks were maybe even a bit shocked, too, when longtime general manager Brian Sabean suggested things weren't going especially well.
Sabean, the architect of two World Series winners and incredible organizational and player continuity, went so far as to declare in an interview with CSN Bay Area that in this case Sandoval and his agent were "drawing a line in the sand" that the team shouldn't and wouldn't meet.
Gustavo Vazquez, the longtime agent for Sandoval, expressed surprise at hearing such a characterization. While sitting at a restaurant here on the famed coast Route AIA which runs along the beach, Sandoval responded to Sabean's suggestion with humor. Referring to the "line in the sand" remark, Vazquez, peering across the street to the ocean, said with a smile, "Maybe he knows I'm in Florida."
Sandoval's uncharacteristically slow start notwithstanding -- he's hitting .165, 130 points below his career average coming into the year -- the team of Vazquez and Sandoval are sitting pretty. Should the deep-pocketed Dodgers lock up superstar shortstop Hanley Ramirez, as most expect they will, Sandoval is in position to become the top free-agent position player in a pitching-heavy market.
While no team in general has made a more conscientious effort to keep its stars than the Giants, and some onlookers saw enough progress this spring to expect a deal would be forthcoming, beyond the one-line return volley regarding the beach metaphor, both public and private talks between the Giants and Sandoval are dormant and are expected to remain so at least for the foreseeable future.
Neither side will discuss the particulars of the offers and counteroffers, but word is Sandoval is seeking at least $100 million on a five-year deal, which shouldn't come as a shock considering his age (27), a market lacking in big punch (among players in their prime, Chase Headley may be the closest thing to Sandoval, and he isn't the player Panda is) and a terrific talent that has seen him twice make All-Star teams, twice receive MVP votes and twice exceed a .900 OPS despite not always being in peak shape ("just a great, great hitter," one competing executive called him).
The Giants, meanwhile, are said by a source to have followed a previously reported conversation-starting $40 million, three-year offer this spring by at least expressing a willingness to do something along the lines of four years plus an option. Whether an official, concrete offer for beyond three years was ever actually made could not be determined. But that's about the time some interested onlookers characterized the sides as possibly being "in the zone" to do a deal, understandable since Sandoval has made clear he's seeking only a slightly longer term, a solid, guaranteed five-year deal, and the Giants are great closers when it comes to their own stars.
But Sabean also said in that CSN interview that they are "probably at the end of the rope" with talks.
It isn't known what dollar figure the Giants attached to their purported four-year suggestion. Of course, even if they increased the proposed annual salary to $15 million per year, that would still seem to leave the sides tens of millions apart based on the $100 million-plus target figure. While there has been a reported suggestion or two Sandoval was shooting for a "Hunter Pence deal," meaning $90 million for five years, neither side confirmed Pence's name or contract was ever mentioned in that context, and people familiar with the talks suggest the targeted price is actually in the nine figures, which puts him above Pence.
While not confirming the asking price, Vazquez offered no hint he's about to try to restart talks.
"They know what they have, I'm sure," Vazquez said, regarding Sandoval. "It wasn't the offer we were expecting."
Combining the Giants' recent stellar history of keeping their stars, the general well-known difficulty of finding a suitable starting third baseman and outside execs' strong feelings about Sandoval's extraordinary abilities, one might ultimately expect a monster offer. But while there's no doubt the Giants like Sandoval very much, they also recognize and take into account some imperfections, such as some inconsistency in performance and even wilder fluctuations in weight. They are said to view his career thusly: one great season, one near-great season (those are the two years he made the All-Star team and had an OPS over .900) and three just decent ones that are probably beneath his ability level.
Vazquez doesn't minimize the size issue, but suggests Sandoval is mature now at 27, as evidenced by recent dedication to get down to a reasonable playing weight. Though he's talented enough to produce respectably even as the portly Panda, Sandoval is down to 242 pounds from about 284 a year ago, Vazquez said. Even more important to the future salary equation, Vazquez suggests it's a weight Sandoval expects to maintain now that Rafael Alvarez, a diet and exercise expert who previously guided Bobby Abreu, has virtually moved in. Alvarez is a personal trainer in the truest sense as he lives two floors from Sandoval in the same building a few blocks from AT&T Park, and better yet, he promises to stay by his side until Sandoval retires, according to Vazquez.
Though Sandoval is off to a slow start, dragging his lifetime average down a point to .294 and OPS a couple points to a still stellar .818, it is a beginning that Sabean speculated could be partly attributable to the earlier talks, which can distract even the best players. Vazquez figures Sandoval's age, career numbers and propensity for big moments (three homers in a World Series game, two off Tigers ace Justin Verlander, plus big bases-clearing triple in the 2012 All-Star Game, also off Verlander) will play on a pitcher-heavy market should he get there.
If anything, reviews like these can't do anything but embolden them.
"I think he is really good. It's tough to find third basemen and he's a terrific athlete who can really hit," one NL executive said. "The issue is the body and what he will be three, four, five years from now."
"Excellent plate coverage from both sides," is the report from one NL scout on the switch-hitting Sandoval. "Best bad ball hitter in league. Plus arm and hands. Range would be better if he lost pounds."
Though everyone quizzed acknowledged amazing talent, one NL exec offered a bit more tempered assessment. "He is a good player ... one to invest in but not one for the long term," that exec said. "I don't love his overall offensive discipline so it would be hard to go long with him. But for today's game and the lack of offense, he is intriguing. He does pose a threat. Good player ... just not a star."
The Giants will have the qualifying offer at their disposal, which has affected the free agencies of players who fall into the category of "very good" but not quite "great," and Sandoval's season could determine whether it may impact him. While Headley and Aramis Ramirez are also free-agent eligible, and Headley is all but assured of hitting the market, the overall lack of players with pop should play well for Sandoval.
The Diamondbacks, Red Sox, White Sox and Yankees (depending on how the Alex Rodriguez situation is resolved) all are among many teams that could make sense should the Giants finally let a big one get away.
Vazquez and Sandoval are a team (since rookie ball) but he has also entertained a few overtures from bigger agencies since he and Sandoval left the Morgan Agency a few months back. Either way they go, it's a big moment for Vazquez, who's 42, a lawyer and CPA. He has his own stable now that he left Morgan, including star Royals catcher Salvador Perez, Braves reliever Luis Avilan and several high-ranked prospects, and it's a big job representing potentially the top free-agent hitter. Vazquez employs two to aid him in this endeavor, one of whom is Pablo's older brother Michael, himself a former Giants player, who is said to stay with Pablo 24-7.
The Giants are easily the model team in regard to making sure their best and most popular players stay home. And while they have concerns about Sandoval's performance fluctuations, their history suggests they won't easily let him go.
The Giants in recent years locked up stars Matt Cain, Buster Posey, Tim Lincecum and Pence, and also re-signed Angel Pagan, Marco Scutaro, Jeremy Affeldt, Javier Lopez and Ryan Vogelsong after they became free agents, so it still would surprise folks to see them let Sandoval get away.  For his part, Vazquez seems a bit surprised by the early approach.
"They wanted to do it in a rush," Vazquez said. "We're not in a rush."
Wright was arrested at his home Friday

The former Tigers teammates were voted into Cooperstown by the 16-person Modern Era Commit...

The Yankees still have room for a good-sized signing even after Saturday's trade with Miam...
St. Louis gets some much needed help for their bullpen

Keep tabs on the top 50 free agents right here

Morrow thrived with the Dodgers last season