Reggie Evans: title 'proves nothing,' LeBron no different than Blatche
Reggie Evans doesn't believe the Miami Heat proved anything last season, and he says LeBron James is no different than some of Reggie's teammates.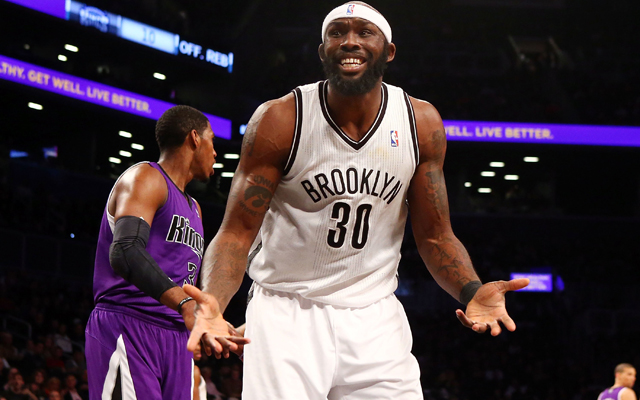 Short and sweet is not how Reggie Evans likes his NBA seasons.
(Getty Images)
Back when the San Antonio Spurs were left as the last team standing following a chaotic 50-game season in 1999, then Los Angeles Lakers coach Phil Jackson tried to dismiss the Spurs' first NBA championship by saying it deserved an asterisk. The lockout-shortened season cheapened it in Jackson's mind and only favored teams without injuries and with younger players.
Reggie Evans of the Brooklyn Nets also seems to think a lockout-shortened season doesn't really mean anything for the team who wins the NBA championship. From the New York  Daily News:
The Heat is just another team and LeBron is just another player to Reggie Evans, who indicated Miami's title run last season is diminished because the schedule was shortened.

"It doesn't prove nothing," Evans told the Daily News when asked what it would mean to beat the defending champs. "That was a lockout season."
I wonder if Evans would have said the same thing if the Los Angeles Clippers managed to win it all last season. Evans played 18 minutes per game in 11 playoff games with that Clippers team that managed to make the second round of the Western Conference playoffs. 
But that's not all Evans isn't impressed with when it comes to the Miami Heat. He also doesn't seem to think LeBron James is much different than the players they typically game plan for.
"Our team is defending the Miami Heat. If our team has to defend one person, LeBron isn't going to score nothing. … LeBron is no different from Joe Johnson or Andray Blatche. No different," Brooklyn's starting power forward said. "People need help (on defense). Some people don't need help. Everybody has to be double-teamed, it doesn't matter who you are. You just have to stop LeBron in transition.

"He's quick in transition. If you look at Joe Johnson -- Joe Johnson has two or three people trying to stop him. Whoever is guarding him."
I have encountered a lot of naysaying when it comes to LeBron James, his place in NBA history, the legitimacy of his title and MVP awards, and what his legacy is now and what it will be when it's all said and done; however, I have never seen someone go as far to say he's no different from Andray Blatche. This might be the most prolific trolling of LeBron James the Internet has ever seen.
Let's start out with the comments about the legitimacy of the Miami Heat's 2012 NBA championship. Is it the same as going through an 82-game season and playoff schedule? Absolutely not. The 66-game season was different just like the 50-game season was different in 1999. There is no way around that fact. I'm not sure that diminishes either title from those seasons, though.
Just because it was different doesn't mean it was easier by any means. It was just different. You could even argue that it was harder because the schedule was so compacted that surviving the toll of that season was harder to do and setbacks were harder to overcome, especially when you factor in Chris Bosh's injury in the playoffs for Miami last season.
I don't see people saying Tim Duncan is a 3.5-time NBA champion. Phil Jackson said before the 2011 lockout ended:
"I always kind of term that as an asterisk season out of this fun at poking fun at San Antonio. In reality it changes the complexity of how you play the game and what you make your team up with. You have to have young players and you have to have healthy players to win. So they want to have a representative season and we have some terrific teams in the NBA right now and there are some teams that are very, very good. It should be interesting to see how a lot of them come out and a lot of teams don't want to lose that opportunity."
I agree with what Jackson said in terms of needing young players and healthy players to win, but you kind of need that with every team in most normal seasons. You look for teams with a nice mix of veteran experience and youthful talent. You look for the teams that stay the healthiest to typically come out on top. That's just one of the things you end up seeing.
In terms of how Evans regards LeBron, there is validity to it. You can't think of just trying to stop one player in the NBA, especially not when you're going against one of the top teams in the league. They have too much talent and firepower to hit you with if you just concentrate on stopping one guy, which is what helps make James so dangerous.
However, you don't "just have to stop LeBron in transition" like Evans posits. Only 20.5 percent of LeBron's points come on fast breaks, but that still leaves roughly 21 points per game and seven assists per game. Cutting down on his transition buckets are key because you don't want to get him into a rhythm, but I'm not sure that means he's similar to Andray Blatche or Joe Johnson.
Gerald Wallace, who will defend LeBron for the majority of his time on the court Wednesday night, intelligently responded with "no comment" when he was asked about defending LeBron. I'm sure he feels the Heat's bulletin board is full enough.
Davis left the Pelicans' game against the Nuggets in the third quarter

Popovich was upset about an out of bounds call

Wall went 3-for-12 from the field, and had just eight points in the Wizards' loss
Noah was reinstated from his 20-game suspension on Monday, but is yet to play for the Knic...

In his first season with the Cavs, Rose has not played since Nov. 7

Keep it right here for all your Friday NBA scores, updates and highlights