Report: NBA considering making All-Star break a week long
Adam Silver has said before that players wanted a longer break, and the league is reportedly looking at it.
• 1 min read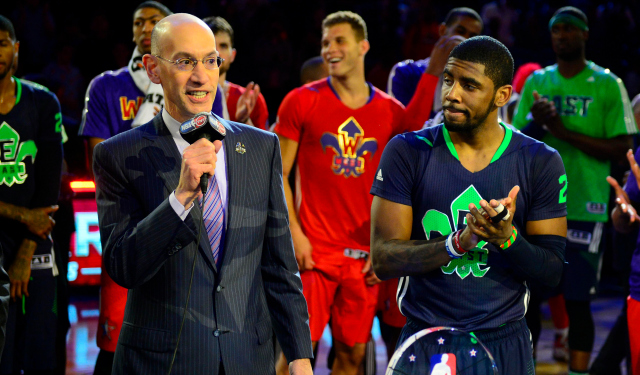 Offseason: Free Agency | Latest from Ken Berger | Rumors
The NBA is considering a weeklong All-Star break in order to give players a bit more in-season rest, according to Ira Winderman of the South Florida Sun Sentinel:
The move, which would give players seven days off between games in mid-February, would result in an increase of one or two back-to-back sets per team for the coming season, a party familiar with the process said.

"That's the model they're using right now while they're filling in the schedule," an NBA source familiar with the process told the Sun Sentinel Friday. "Could they go back and use some of those dates if needed? That's possible. But the week off looks like what's going to happen."

The release of the 2014-15 NBA schedule has been pushed back into August to allow the league's television partners to adjust for the dramatic shakeup created by free agency, including the shift of LeBron James from the Miami Heat to Cleveland Cavaliers.

With the elongated All-Star break, the possibility of then starting the 2015-16 season a week earlier also has been deliberated recently, although that dynamic has yet to gain traction, according to an NBA source familiar with the situation, with such a move potentially requiring an adjustment in the collective-bargaining agreement.

"And then," the NBA source said, "we'd have to look at dates already committed to on the [2015] preseason schedule."
Commissioner Adam Silver mentioned in February that players had spoken to him about extending the break, and it makes a lot of sense. The season is long and grueling. Everyone would benefit from a bit of recovery time. For players participating in All-Star weekend, the current model is hardly a break at all.
One suggestion for the league: go with the starting-the-season-earlier plan. Remove some preseason games. There are way too many of them anyway.
Irving has requested a trade away from the Cavaliers

The Lakers made a strong push for Rose, but he would have been a backup in Los Angeles

The small forward spent last season with the Sacramento Kings
Knight still has three years left on his five-year, $70 million contract

The Golden State forward is accused of assault, battery and making misleading statements

The Nets get their shooter a year later, and the Blazers reportedly will waive Nicholson