For the second consecutive week, a national audience gets the privilege of seeing the highest-rated quarterback in NFL history do his thing in a football cathedral as reigning MVP Aaron Rodgers and the Green Bay Packers host the feisty Kansas City Chiefs on Monday Night Football.
Green Bay's a tough team to beat anywhere, let alone in Wisconsin, but the Chiefs are well-rested and hungry coming off a tough Thursday night loss in Week 2, so there's no reason to think that a well-coached team with a steady veteran quarterback and a reliable defense can't at least make things interesting in the Week 3 finale.
Using numbers to tell the story, here's what to expect Monday night at the Lambeau Field.
1. Unstoppable at Lambeau?
Key stat: In his past 14 home games, Rodgers has completed 70 percent of his passes, averaged 9.4 yards per attempt and thrown 38 touchdown passes with zero interceptions, giving him a home passer rating of 129.4 dating back to December 2012.
Highest-rated quarterbacks at home since 2013
 
Comp.%
TD/INT
YPA
Rating
Aaron Rodgers
69.4
35/0
9.5
129.8
Peyton Manning
69.1
48/10
8.3
112.5
Ben Roethlisberger
67.1
40/11
8.5
108.0
Drew Brees
70.8
44/13
8.0
107.4
Tony Romo
69.2
33/15
8.0
102.3
Technically, Rodgers is 13-1 as a starter during that stretch, but the lone loss came in a game against the Bears in which he was was injured after throwing just two passes. In fact, the Packers have won 19 consecutive home games in which Rodgers has thrown more than two passes, with that last legitimate home loss coming against San Francisco on Sept. 9, 2012.
Yes, it has been more than three years. And before that, he had won 12 straight regular-season home starts. Thus the Packers have won 31 of their past 32 regular-season home games in which Rodgers was the primary quarterback.
It gets better (or worse, if you're the Chiefs), because they've also won 13 consecutive prime-time home games with Rodgers as the primary starter, and Rodgers has 14 touchdown passes and no picks in the past five. Kansas City will be looking to deal him his first true Monday night home loss of his career.
Considering that Kansas City has lost eight of its past 10 prime-time games (including three in a row and five of their past six on the road), it's easy to understand why the Packers are the definitive favorite.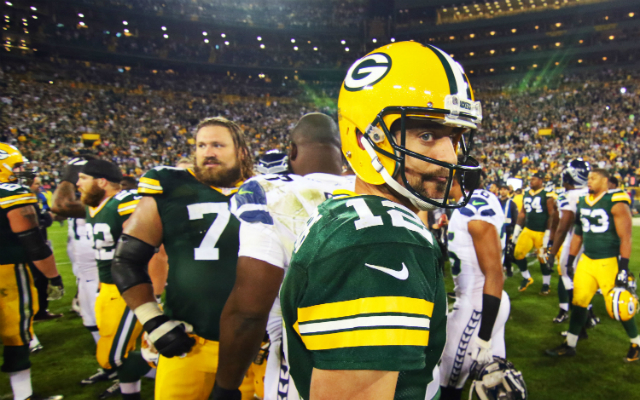 2. No Jordy, no problem
Key stat: In six games without Jordy Nelson dating back to 2010, the Packers are 6-0 and have averaged 30.8 points per game.
Just floating that out there for those expecting things to be different for Rodgers and Co. on Monday night because the team's top receiver is out for the year with a torn ACL. It's a small sample size, but this offense has actually been more productive without Nelson than with him.
Randall Cobb, Davante Adams, James Jones, Ty Montgomery and tight end Richard Rodgers have combined for 37 catches and zero dropped passes, making life a little easier for their quarterback.
3. Alex Smith's safety valve
Key stat: Among tight ends who have been targeted at least 50 times since the start of 2014, Chiefs tight end Travis Kelce ranks second with a reception rate of 78.6.
Much has been made of the fact Smith hasn't thrown a touchdown pass to a wide receiver since 2013 (seriously, it's kind of crazy), but when you have a solid offensive line and a good running back and you can rely on a studly young tight end like Kelce, who needs scores from the receiver position?
The 25-year-old has dropped just four of the 98 passes thrown his way during the 18-game stretch in which he has been a focal point of the Kansas City offense, and zero of those have come this season. In fact, Kelce has caught 10 of the 11 passes thrown his way this year and ranks second to only Rob Gronkowski with 84 yards after the catch.
Monday will be a challenge, though, because Green Bay held Jimmy Graham and Luke Willson of Seattle to just three catches on six targets last week.
4. Jamaal's butter hands
Key stat: Jamaal Charles has fumbled 16 times in his past 48 games, losing eight, which is more than any other non-quarterback in football.
Charles, of course, lost two fumbles in a heartbreaking Week 2 loss to the Broncos. Yeah, backs that get a lot of work are bound to cough it up from time to time, but Charles still fumbles much more frequently than his heavily worked counterparts.
And the last time Charles fumbled twice in a game (early in 2012 against San Diego), he followed that up with another fumble the next week. He also fumbled in three consecutive games in 2013 and back-to-back games in 2014.
In a game that won't likely have a margin for error, he can't afford to slip up again Monday night. But on the bright side, the Packers ranked tied for 20th in football with only 14 forced fumbles last season.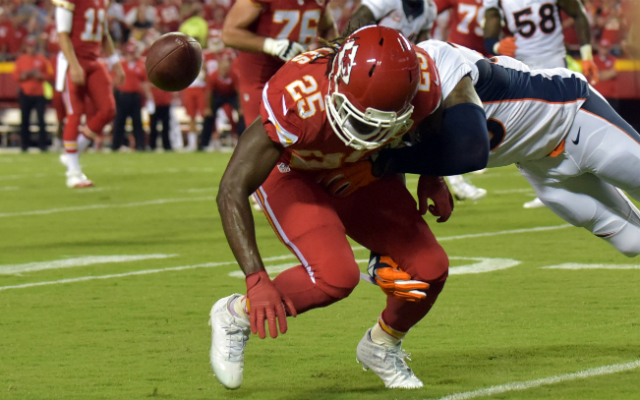 5. Kansas City's key to success?
Key stat: Chiefs All-Pro pass rusher Justin Houston has 13 sacks in his past eight games.
Houston fell just half a sack short of Michael Strahan's single-season sack record thanks to a hot final stretch in 2014 and is off to another smoking start with three sacks and 11 pressures two weeks into the 2015 campaign.
He and Tamba Hali give the Chiefs one of the best pass rushes in football, and against Rodgers and a Green Bay offensive line that has struggled a tad more than usual without regular starting right tackle Bryan Bulaga, that might be the key to a potential Kansas City upset.
Prediction: I still think Rodgers is too smart and too talented to fall victim to that defensive front, and you can't ignore those insane numbers at Lambeau. The Chiefs are competent enough to hang around, but look for Rodgers to pick on a shorthanded and thus inexperienced secondary that is still without top corner Sean Smith. Rookie Marcus Peters has filled in nicely with two picks in two games, but he has also given up a tied-for-league-high three touchdowns. Green Bay by a touchdown.
Brad Gagnon has covered the NFL since 2007. You can also read his work at Bleacher Report, Awful Announcing and This Given Sunday. Follow him on Twitter. Or don't. It's entirely your choice.