Dolphins fire head trainer cited in Ted Wells report
Kevin O'Neill, who had been the Dolphins head athletic trainer since 1996, was fired on Wednesday.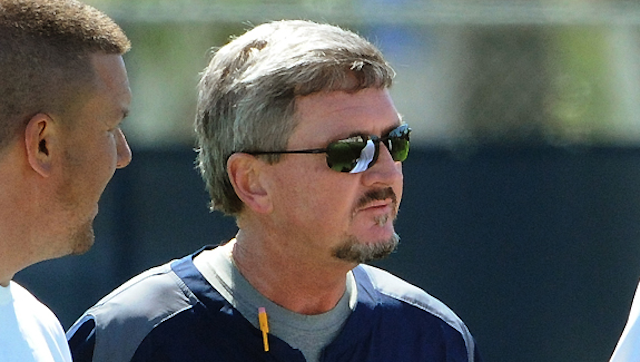 Wells report: Harassment details | Martin considered suicide | Coach involved | Racist messages | Incognito lawyer response | NFL, NFLPA, Dolphins to 'review'
The fallout from the Ted Wells report has officially cost someone in the Dolphins organization their job. Miami's head athletics trainer, Kevin O'Neill, was fired on Wednesday, the team announced. O'Neill had been with the Dolphins since 1996. 
The 18-years of service apparently didn't mean much though, the Dolphins fired O'Neill in Indianapolis after flying him there for the NFL Combine, according to the Miami Herald.
O'Neill's undoing probably had to do with the fact that he 'expressed hostility toward' the Wells investigation.
The Dolphins trainer was mentioned several times in the report. In one instance, Jonathan Martin alleged that O'Neill would sometimes laugh when other players would make jokes and crude remarks about Martin's sister. Here's an excerpt from the report: 
Martin maintained that Kevin O'Neill, the Dolphins head trainer, also heard such remarks [about Martin's sister] and even laughed at them from time to time. On one occasion, according to Martin, O'Neill pulled him aside and told him he was too nice and needed to stand up for himself more. 
In another instance, the report states that O'Neill would laugh when Incognito and others would hurl racial insults at an assistant trainer who was Asian-American. The report also noted that O'Neill was not cooperative with the investigation. 
Martin and other players claimed O'Neill, the head trainer, not only overheard the racist insults, but also sometimes laughed along and never intervened. We did not cover this specific topic in our interview with O'Neill, which was cut short because O'Neill expressed hostility toward our investigation.
O'Neill's firing comes just eight months after he was named the recipient of the 2013 Tim Kerin Award for Excellence in Athletic Training. O'Neill was only the fifth NFL trainer to win the award, which has been handed out since 1994. 
Bettors are favoring the Eagles to keep Super Bowl LII close, but the Patriots remain clear...

Here's everything you need to know about Super Bowl LII

Here's a look at the NFL's entire postseason schedule for 2018
Here's all the details you need to know on watching Super Bowl LII between the Patriots and...

All of the information you need to know about the 2018 Super Bowl

Could the singer stage an *NSYNC reunion in Minnesota?