Dwayne Bowe apologizes in statement
Chiefs receiver Dwayne Bowe has begun the process of asking for forgiveness.
• 1 min read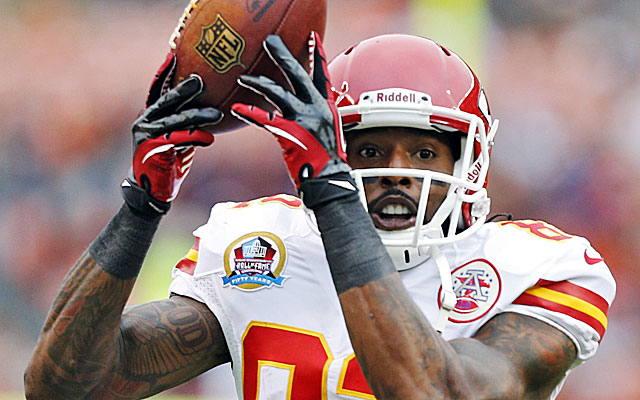 Chiefs receiver Dwayne Bowe was arrested Tuesday morning and charged with speeding and possession of marijuana. On Wednesday, he released a statement in which he said he was sorry.
"I apologize to the Hunt family, Coach [Andy] Reid, my teammates and Chiefs fans for the distraction I have caused the team this week," Bowe said, via Foxsports.com. "Due to the nature of the pending matter, I am unable to make any further comment on the situation."
Bowe was pulled over after police say he was going 48 mph in a 35 mph zone. While questioning him, police say the officer detected a strong order of marijuana and asked Bowe and his passenger to get out of his 2011 Audi A-8.
"Once out of the vehicle the officer explained to the driver, who owned the vehicle, that he was a K-9 Officer and that the dog would alert to an illegal substance," the police said. "Subsequently, inside of a black bag the officer discovered the wallet of the driver and vehicle owner, Dwayne L. Bowe, and two containers that had 6.6 grams and 3.8 grams respectively of what is believed to be marijuana in them. Bowe was then placed under arrest for the possession of a controlled substance. The K-9 alerted to a black backpack and inside of that was found a container that had 4.2 grams of what is believed to be marijuana in it."
Bowe's lawyer, though, had a different take on the matter.
"My investigation reveals that Dwayne Bowe is unequivocally, 100 percent innocent in this matter," attorney Kevin E.J. Regan said in a statement released to the Kansas City Star on Wednesday. "We look forward to clearing his good name at our earliest opportunity.
"Mr. Bowe has long been a giving member of our community, and he remains committed to giving Kansas City his best on and off the field."
None of that, though, should keep Bowe from playing Sunday.
"It is a legal matter, and that's the way we'll handle it," Reid told reportersWednesday. "Let it run its course there. Dwayne will play, he'll start."
Follow Josh Katzowitz on Google+
The 49ers' last three wins have come against the Rams though they're 0-19 against everyone...

The Rams have struggled against the 49ers but that was during the Jeff Fisher era

Two weeks into the season, the Chiefs keep creating long touchdowns. Can they keep it up?
CBS All Access allows viewers to stream every NFL on CBS game in their local market

CBS All Access allows viewers to stream every NFL on CBS game in their local market

CBS All Access allows viewers to stream every NFL on CBS game in their local market