Here's why a Colin Kaepernick trade is reportedly being held up
Why hasn't the Colin Kaepernick trade happened yet? Here's a breakdown of each team's issues.
The NFL world is still waiting for a Colin Kaepernick trade to go down. Nothing has happened (as of Sunday morning) and nothing might happen for a while, with multiple teams in a stalemate situation with the 49ers.
San Francisco is one of four teams with a major quarterback need, and the other three are interested in acquiring the guy the 49ers have on the roster.
So where do things stand with the Browns, Broncos and Jets, all of whom have shown some sort of interest in Kaepernick? Matt Barrows of the Sacramento Bee has an outstanding breakdown of the teams chasing the former potential superstar turned reclamation project.
Browns: The easiest landing spot to peg for Kaepernick, because of Hue Jackson's fondness for the 49ers quarterback. 
"Scouting him, I fell in love with the kid," Jackson said in 2013. "Leader, won a ton of games at Nevada, really impressive when you talked to him, strong, all the tools to win in the NFL. No doubt in my mind he was going to be good."
Kaepernick wants to play for Jackson too. Cleveland is reportedly willing to give up a third-round pick in exchange for Kaepernick (65th overall) which would be enough to get the deal done.
Barrows reports the deal is being held up because Kaepernick is "wary of taking a lower-money deal on a bad team that is losing talent and that may also use its first-round pick, No. 2 overall, on a quarterback."
Those are reasonable concerns. The 49ers and Browns can agree on a deal all they want, but if Cleveland requires a restructured deal from Kaepernick to get something done, he holds the cards.
Broncos: According to Barrows, if Denver had the same deal for Kaepernick as Cleveland is offering "he'd likely sign it in a second."
The combination of Denver's Super Bowl-caliber defense, led by MVP Von Miller,  and skill position talent on offense (Emmanuel Sanders, Demaryius Thomas) make the franchise a much more desirable destination compared to Cleveland. Also a bonus: no No. 2 overall pick that can be used on another quarterback.
Denver is also reportedly offering a third-round pick, but it's a pick far below what Cleveland can throw out there. John Elway offering up his second-round pick (No. 62) might get the deal done, but its understandable he isn't interested in giving up that much value for a quarterback who was benched for Blaine Gabbert in 2015.
In this instance Trent Baalke/Chip Kelly hold the cards, knowing they can get mid-60s value for Kap and not being willing to take less. 
Jets: The "extra" team included in this sweepstakes, the Jets feel less likely to make a move for Kap than the Broncos or Browns.
Maybe it's because Ryan Fitzpatrick is such an obvious fit for Chan Gailey's system and the two sides almost have to work out a deal at some point. Or maybe they'll get sick enough of Fitz' asking price to just call the dogs off and go for broke at some point.
The Jets' interest, Barrows reports, isn't as strong as the Cleveland's or Denver's. Essentially nothing's happening with New York because the Jets are willing to play a slow game of chicken with Fitzpatrick in free agency.  
It's entirely possible after all of this drama we end up seeing Kaepernick stay in San Francisco after all.
It's worth looking at why this trade hasn't -- and might not happen.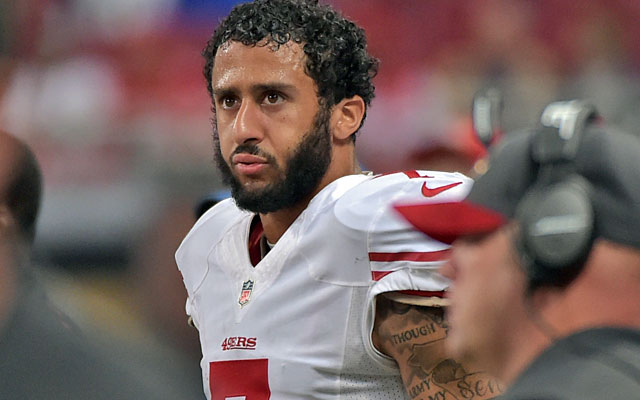 Warren Sapp was one of several players named in a lawsuit against NFL Network

Check out the uniforms that Denver and Indianapolis will be wearing on Thursday

The Cowboys are going to need a few things to go their way to get into the postseason
Rudolph will be put under the microscope in Mobile by clubs looking for a quarterback early...

This fan is taking the Saints to court for using 'football games as a platform for protest...

Can Aaron Rodgers get the Packers to the postseason? Even if they win out, they'll need he...