As we've bid adieu to another season of Monday Night Football, let us pay tribute to the color analyst who's been greeting us in the press box for the past five seasons and who always seems just about ready to head back to the sidelines.
Actually, let's just show him when he was in college, playing at the University of Dayton where he was a backup quarterback.
To wit, via ESPN's MNF Twitter account ...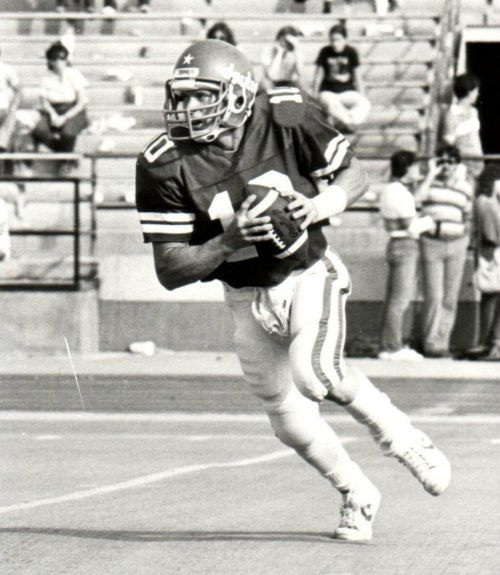 Though his dad was an assistant coach at Notre Dame under Dan Devine, Gruden opted not to take a free ride to school and instead played at Muskingum College because he thought he'd have a real chance to play. After one year, he transferred to Dayton, but he didn't make much of an impact on the field when he was there from 1983-85.
"The most disappointing thing in my whole life," Gruden told Sports Illustrated in 2002, "is not being able to be anything but a ham-and-egger."
In fact, he asked longtime Dayton coach Mike Kelly if he could play special teams as a senior. As the official University of Dayton website remembers, "Kelly looked at Gruden and asked him a question: 'You want to be coach someday. Would it be a good coaching move for me to risk an injury to my backup quarterback by letting him play special teams?' Gruden grudgingly saw Kelly's point ..."
Even so, Gruden knew his path when he was a second-stringer in college. In a questionnaire he filled out while at Dayton, Gruden stated that he wanted to be the head coach at the University of Michigan by the time he was 39.
Instead, he had to settle for landing a job with the Raiders before moving to Tampa Bay and winning the Super Bowl with the Buccaneers as the youngest coach ever to do so. He was 39.
Follow Josh Katzowitz on Google+