The Colts have dominated their rivalry with the Texans since the Houston franchise was established in 2002, a rivalry that resumes during this week's Thursday Night Football. Twenty-four times, the two sides have played. Twenty times, Indianapolis has won.
And even some of the games that Houston could have won, Peyton Manning oftentimes was there to bail out the Colts and lead them to a win. Other times, all the Indianapolis defense had to do was give the opposing quarterback a helicopter ride en route to a comeback win.
That was the case in 2008 when the Texans held a 10-point lead against the Colts with fewer than four minutes to play (not to mention a 17-point lead with slightly more than four minutes to go). Houston simply needed to hold onto the ball to grab its first victory of the season after an 0-3 start.
Instead, quarterback Sage Rosenfels got quite a ride. In case you've forgotten ...
As you can see, Rosenfels tried to hurdle Marlin Jackson, but instead, got turned around in the air while a combination of Raheem Brock and Dwight Freeney knocked the ball from his grasp. Gary Brackett then picked up the ball and ran it back for the 68-yard touchdown. A few minutes later, Manning hit Reggie Wayne for the game-winning touchdown to hand the Texans yet another loss.
Here's what it looked like the next day in the Victoria Advocate: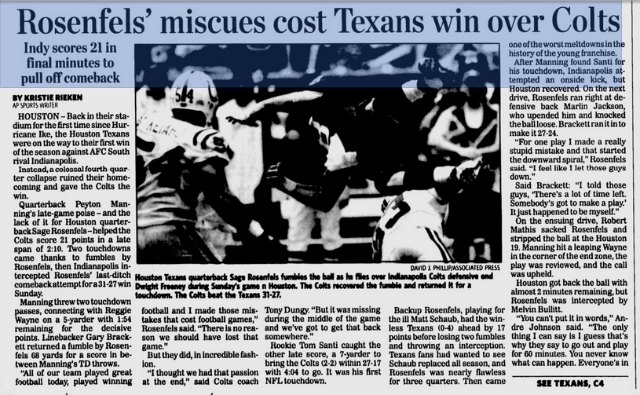 Said Rosenfels after the game: "For one play I made a really stupid mistake, and that started the downward spiral."
Ah, but what a helicoptering spiral it was.