With draft done, the great upheaval in NFL front offices will begin
The other Black Monday in the NFL is the one after the draft, when new GMs and coaches let go of personnel from the previous regime.
• 2 min read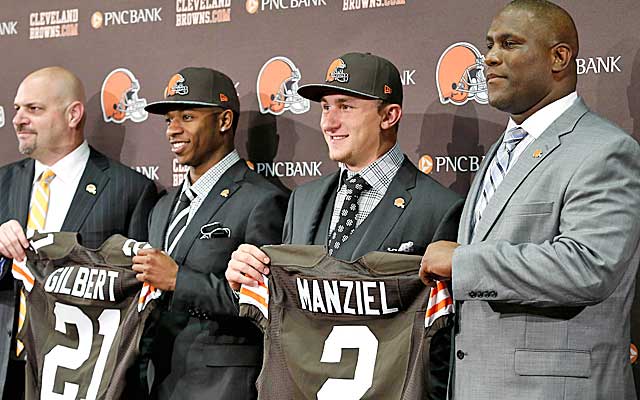 Draft coverage: Picks and grades | Prospect Rankings | Sam goes No. 249 | News
We hear so much about Black Monday every January in the NFL, when coaches and general managers, sometimes in large numbers, are let go by teams and change breeds anew in the league. But there is a Black Monday coming today as well, one far less commented on, without the same fanfare, that nonetheless will send massive waves across the scouting community.
Now, with the draft finally over and the undrafted free agents all signed, and with mini camps looming, front offices will begin their annual purge. Scouting directors, pro personnel men, scouts, who have contracts set to expire this spring will begin to be notified of their futures early this week, and by June there will be sweeping changes of executives and scouts around the league -- particularly in those organizations who recently hired new head coaches or general managers.
Cleveland, which has been operating on a fairly bare bones level since the sudden dismissal of former team president Joe Banner and general manager Mike Lombardi, will undoubtedly be making additions, and subtractions, to its front office as it tries to restructure its model.
Only so much change can occur in January and February, before a draft, with scouts and scouting directors and personnel execs still very much required to facilitate the club through the actual draft process. With a chief decision maker like Banner gone as well as his top assistant, the promotion of assistant GM Ray Farmer to GM and the addition of astute veteran personnel man Billy Kuharich to the staff likely isn't enough to retool the football operations staff long term.
Similarly, in Tampa Bay and Houston, with the Bucs hiring a new coaching staff and front office and the Texans adding a new head coach, I fully anticipate some influx of scouting or executive talent. Miami also added a new general manager, and, as much as that franchise seems like it's in wait-and-see mode with perhaps more widespread changes ahead after this season, one would only expect rookie GM Dennis Hickey would be able to bring in some other talent around him as he navigates his way through the 2014 season.
Regardless, new GMs will be able to more fully put their imprint on the scope of the organization now that the twin pillars in team building -- free agency and the draft -- are essentially complete, and, as things go, many of the men who played key roles in preparing their teams for those two massive chores will soon enough be looking for new opportunities, particularly those who happen to have expiring contracts with clubs that made front-office changes back in the winter.
These prospects aren't first-round locks now but could be in for a rise after the Senior B...

Newman was the oldest defensive player in the league to get regular snaps this season

Some Midwest companies seem to think that no Vikings fans will make it out of Philadelphia...
Mike Tierney has owned NFL totals and has a strong pick for the NFC Championship Game

Jackson was upset Pittsburgh players were looking ahead to a Patriots rematch

The bulletin board material is piling up for Sunday's AFC Championship game