David Boudia wins first U.S. diving gold since 2000
American David Boudia scored a phenomenal 102.60 on his final dive to upset favorites Qiu Bo of China and Tom Daley of Great Britain and claim the U.S.'s first diving gold medal since 2000.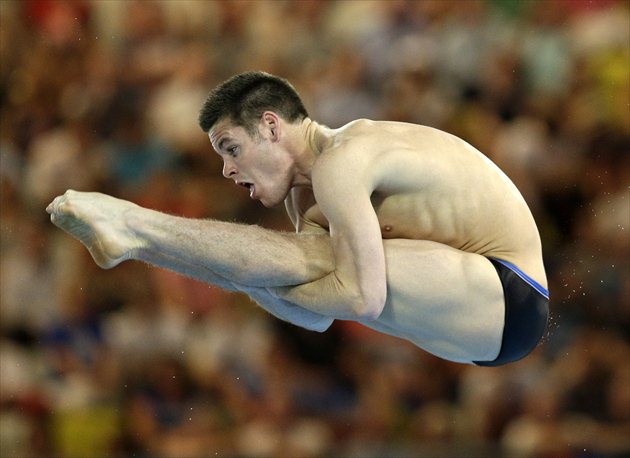 David Boudia put together the performance of his life to win gold. (AP)
London 2012 had already marked a resurgence for the downtrodden U.S. Olympic diving program, but in Saturday's men's 10-meter platform finals, David Boudia gave it its biggest victory yet.
Boudia uncorked a phenomenal back 2.5 somersault, 2.5 twist dive on his sixth and final attempt to score a whopping 102.60 points and win the gold medal, upsetting favorites Qiu Bo of China and Tom Daley of Great Britain, who settled for silver and bronze, respectively.
The gold medal is the first for a U.S. diver since Laura Wilkinson famously won gold in the women's platform competition at the 2000 Sydney Games.
Boudia had entered the competition as an expected medal contender, but struggled badly in Friday's preliminary round and only advanced to the semifinals in the 18th and final qualifying place.
He showed marked improvement in the semifinals, where he finished third, and continued his stellar diving into the finals. He stood in first place after three dives -- the third a sharp forward 4.5 somersault that earned him 99.90 -- and going into the final round was placed second behind Daley in a virtual three-way dead heat in the podium places.
Daley's final dive was a well-executed 90.75 that brought his home crowd to its feet, but left the door slightly open for Boudia and Qiu. Boudia walked through it with his best dive of the meet, then had to sweat out Qiu's final dive, the last one of the meet.
That dive was excellent as well, scoring a 100.80 to move Qiu into second place--but not enough to catch Boudia. As Boudia and his coaches celebrated, Qiu slumped against a wall in defeat, his event becoming just the second of eight in London where Chinese divers failed to win gold.
Boudia's final total of 568.65 beat out Qiu's of 566.85 by just 1.4 points. Daley finished with 556.95.
Entering the London Games, the U.S. had failed to win a medal of any color in any diving event since Wilkinson's surprise gold, with the men notably having not made the podium since Mark Lenzi's springboard bronze in the 1996 Atlanta Games. 
That changed with Troy Dumais's and Kristian Ipsen's bronze in synchronized springboard and continued through Kelci Bryant and Abby Johnston's silver in the women's synchronized springboard and Boudia's and Nicholas McCrory's bronze in the men's synchronized platform competition.
But none of those medals will compare to Boudia's gold, the first for an American man since Leniz took gold on the springboard in 1992.
Team USA was up big over Canada, but Matt Millett closed the game out with a bang

Vonn careened into the netting off of a jump

The three-time Olympic medalist and skiing superstar says injuries have taken a toll on he...
There's a track team of up to 60 athletes the Vatican would field

The decorated swimmer said chronic shoulder pain was a major part of her decision

The organization filed a Chapter 11 bankruptcy petition on Wednesday to endure countless s...