NBA Draft: Buyer beware on Shabazz Muhammad
Shabazz Muhammad was among the nation's top freshmen during his lone year at UCLA, but Doug Gottlieb says Muhammad has revealed himself to be someone who could struggle in every respect at the next level.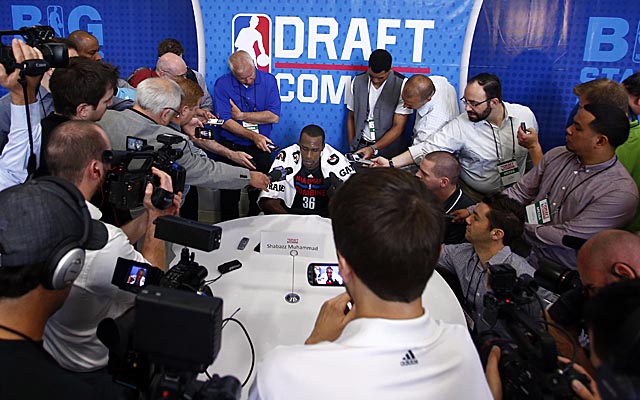 Shabazz Muhammad will be taken in the first half of the first round of the NBA Draft on June 27. But he shouldn't be.
I'm not here to say he shouldn't be drafted at all or that he doesn't belong in the NBA. This is not one of those unfair "hater" pieces that brings in personal feelings about a certain player or puts too much stock in off-the-court perceptions. Most of this is pure analysis based upon the player, the league and the situation he is likely to be put in, though I'll admit his father being charged with fraud on Thursday is worrying.
I would not take Muhammad in the first round at all, and reason No. 1 is his skill level.
He's a 6-foot-5 small forward who is a very average athlete with some "old man body" to him. Muhammad is too small to play as he always has if he wants to play the position in the NBA. LeBron James, Kevin Durant, Carmelo Anthony, Paul George, Kawhi Leonard, Luol Deng and Klay Thompson are all bigger and more athletic three-men. If he's too small to play his usual position and not athletic enough to make up for the lack of size and skill, where does that leave him?
Additionally, small forwards at the next level bring multiple skills to the table. But in his one year at UCLA Muhammad didn't defend, didn't really rebound unless it was the offensive boards, and never passed. Consider that he played in 32 games and had a total of 27 assists despite averaging 30 minutes a game. Read that sentence again. Wow.
Muhammad also stinks as a teammate. We all saw the pouting on the floor after his teammate Larry Drew hit the game-winner versus Washington last season, when Shabazz was shouting for the ball. I have been told by multiple sources that such behavior was the norm. When Muhammad didn't get his touches, didn't get his numbers, he was totally disconnected from his team.
His arrogance and lack of desire to be coached was apparent to all who watched.
"Shabazz was only about Shabazz, go back and look at how he came out of [games] -- he would not walk close to Ben [Howland]," one UCLA source told me. Translation: coach killer.
It is easy to understand why most at UCLA, including current players, think the Bruins will be better this year without "Bazz" around. College basketball exposed Muhammad's selfishness, and helped potential suitors size him up. From the standpoint of NBA scouts, he's a great case study in why the mandatory year in college is instructive and helpful for the guys evaluating players.
Could Muhammad become an off-the-bench scorer? Sure, but will he be happy or will he kill the coach behind the scenes while he learns to accept his role? I would not want to find out. Muhammad has never had to come off the bench or play a role other than the guy, the star. Part of the reason for that is he's been exposed for being a full year older than he previously let on. His physical maturity relative to his competition allowed him to be a beast in high school, just a man-child on the boards, because he was literally a man among boys at that level. That utter dominance was not apparent in college, and he doesn't have that much physical development left to do.
And of course, you can't dismiss the trust factor. His dad's fraud allegation aside, who walks around saying they are a year younger in basketball? This isn't a baseball player from the Dominican Republic trying to get off the island to make a better life, it's a kid man from a stable two-parent home who appears to have intentionally misled recruiters and scouts.
What you're left with is a great competitor who likes to win and has always been able to score, but who is also a rare combination of being smaller, older, less skilled, less trustworthy and a worse teammate than we were ever led to believe.
I know a team will select Muhammad and I hope he buys in and "gets it" sooner rather than later. But I do not see him becoming the player he needs to become to be effective, and rewiring a guy's game and expectations when they have been surrounded by sycophants for the last three years (at least) is difficult. Most teams do not, and should not want to go through the effort of working through those growing pains, and neither would I.
I would pass.
Doug Gottlieb is a college basketball analyst for CBS Sports. A former player at Notre Dame and Oklahoma State, Gottlieb is 10th in NCAA history in assists. Watch Doug on Lead Off, weeknights at midnight ET on CBS Sports Network, and listen to him on CBS Sports Radio weekdays from 3 p.m. - 6 p.m. Follow Doug on Twitter @GottliebShow.
SportsLine's Jody Demling called Gun Runner winning the Pegasus World Cup last year

Joseph Baena shared the photo in an Instagram post

Jody Demling nailed the Arkansas Derby and Florida Derby last year
Seven states have joined Nevada in legalizing sports betting, and New York could be next u...

Everything you need to know to tune in for this week's showdown at the WVU Coliseum

Stevens Point is still undefeated on the season