Inside Baseball: Royals bat back bad prediction; plus more MLB notes
Despite winning the AL pennant last year and seemingly adding to their roster in the winter, the Royals were actually predicted by PECOTA to win just 72 games. Yet here they are again in the World Series. More on that plus notes on the Royals, Mets and other news from around baseball.
KANSAS CITY -- I wonder who PECOTA likes in the World Series.
Only kidding.
Nobody knows less about the Royals, it seems, than the player-and-team-predicting, stat-driven PECOTA, which had the American League champion Royals winning all of 72 games in its forecast this year. PECOTA was named after the former Royal (and Met) Bill Pecota, who in 1992 Mets manager Jeff Torborg once famously told the New York media, "You're going to love Bill Pecota."
That happened to be a prediction that didn't come true, as Bill Pecota failed to make it in New York.
Meantime, the PECOTA call of 72 wins for the Royals may have been the worst prediction in baseball history.
"We thought it was a joke," recalled Royals star Eric Hosmer of hearing about of the 72-win prediction in spring training. "You take a team that's been to the World Series, and was one game away, and you bring back everyone. And you add Kendrys Morales and Alex Rios and Edinson Volquez.
"We thought it was a joke," Hosmer said again.
The Royals probably should be used to such disrespect by now. To be fair, PECOTA is only one of many to under-rate the Royals over the past couple seasons (though it under-rated them the most).
Even though they were coming off an 86-win season in 2013, they still weren't seen as a likely contender going into last year. They were coming off an 86-win season and were a young team that would figure to be on the rise. You'd think so, anyway. (My World Series prediction for them last year was widely ridiculed.)
"Last year no one gave us credit. And this year, same thing," Hosmer said. "But no one has to tell us how good we are."
This Royals team has a lot going for it, from the shut-down bullpen to the air-tight defense to the relentless offensive attack. But it also has the personality of a winner: it has a steely resolve and quiet confidence.
Those are things that can't be seen on a stat page, of course. PECOTA is a numbers-based prediction. Although, you'd still think a team that won 89 games, is younger than most (about 28 on average) and added more than it subtracted (James Shields, Nori Aoki and Billy Butler are gone from last year) would rise, if anything. There certainly was no basis for a 17-point drop.
That prediction is so poor you have to wonder whether that stat-based PECOTA was showing some bias against a team that does things the old-school way, for the most part. While the Royals have a significant sabermetric department in their front office, like everyone else (they have guys from MIT, Columbia and Vanderbilt), the team doesn't play like saber folks like; it swings early in the count, it doesn't walk a lot and it doesn't homer a lot, either.
What's more, their leadoff guy, Alcides Escobar, isn't even an on-base guy. They bat him leadoff simply because they often win when he bats leadoff (which doesn't even seem like a great reason to me, to be honest).
Anyway, PECOTA doesn't enter the clubhouse. It isn't in there to see how focused and ready to play this team is, how much it likes it each other, and how much it cares about winning.
"We don't too much worry about predictions," Jarrod Dyson said. "We have enough belief in this room."
And for good reason.
Royals in 7.
Around the majors...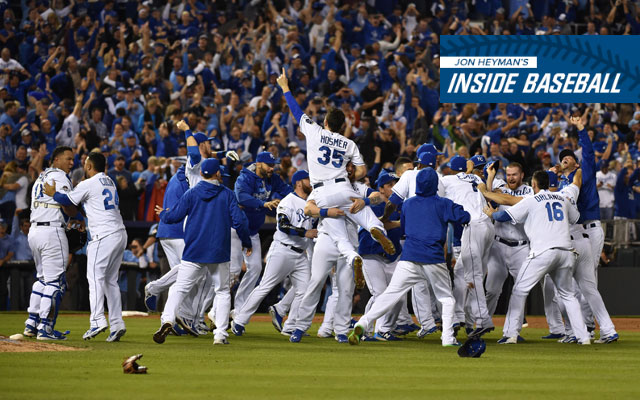 Team
News
Orioles people haven't said whether they're extending the $15.8-million qualifying offer to free agent Matt Wieters, but one rival opined that it would be a major gamble to extend that offer.
Ruben Amaro's decision to accept the first base coaching job in Boston after being the longtime Phillies GM is a gutsy one indeed. You have to admire Amaro for being willing to re-invent himself as an on-field guy, and even to start near the bottom coaching food chain.
Alex Gordon, possibly the best left fielder in the game, will surely decline his $14-million player option. But that doesn't mean he wants to leave. "I want to be here," Gordon said without specifically saying what he intends to do about the option (it's obvious he'll decline it, anyway). "This is like my second home. We love it here ... Obviously, things happen ... but this is where we want to be." ... This World Series features a pitching coach the Yankees fired (the Royals' Dave Eiland) vs. a hitting coach the Yankees fired (the Mets' Kevin Long). Eiland didn't get into what happened in New York, but he did note, "We are here. This is my second time since leaving there." The last time the Yankees were in the World Series, Eiland was their pitching coach, and Long their hitting coach, as Joel Sherman of the New York Post pointed out ... Since he plays nearly every position, Ben Zobrist was asked whether all 30 teams might pursue him this winter as a free agent. "I highly doubt all 30 will," he said, "but there'll be a lot of teams." ... Asked to summarize what he knows about the Mets' vaunted rotation, Jarrod Dyson did it in three letters. "Gas." That said, he suggested the Royals aren't too worried about the heat. "We've been facing great pitching all year." Dyson said. And in fact, the numbers show that no team does as well against 95-plus throwers as the Royals. "Ninety five plus is routine for us," Dyson said. "Look at the AL Central. Cleveland, they all throw hard. Chicago, they got some hard throwers. I doubt it'd bother us." ... Chris Young took a while to be signed despite a nice season last year in Seattle but signed an incentive-laden contract late in KC. "I had a good year. I don't know exactly what happened," Young said. "But I'm extremely grateful it led me here." He was another good idea by GM Dayton Moore ... Johnny Cueto realizes he's hurt his free-agent stock with a couple rough outings (despite one superb one, the Game 5 win over Houston). "That's the way it is," Cueto said. "Hopefully, I pitch two great games and increase my value." ... Cueto has been hurt by some late struggles more than David Price, who is still seen as the top free agent pitcher. And Cueto says he believes the biggest difference for him is the adjustment to the league change. But as a free agent, he says he isn't ruling out the AL. "The DH isn't a bad thing.," Cueto said. "I like the challenge." In fact, when a question started to be asked about Boston, Cueto, who was using a translator, immediately understood. He started to smile (but didn't comment specifically on the Red Sox's alleged interest) ... Royals people love how Alex Rios has fit in. He came in with record of having never played in the postseason and a reputation as a bit of a soft pretty boy. "It's been a long career without playoff experience," Rios said. "I'm finally getting to experience it. It's been very rewarding. I'm having a great time. " ... The Royals do a terrific job scouting and adding veteran pitchers (not only Young but Ryan Madson and Joe Blanton). They even scouted Barry Zito last winter, just in case.
Hall of Fame hitter Rod Carew recently had a heart episode while on a golf course, and later had to be re-admitted to the hospital after experiencing a setback. He's said to be progressing again, but he may need to have procedures done. Carew had the original issue while on the first hole, which may have been fortunate since it allowed him to be reached by paramedics more quickly than had he been on the middle of the course ... Eric Chavez has left the Yankees and gone to work for ex-Yankees assistant GM Billy Eppler, who is now the Angels' GM. Chavez will once again serve as assistant to the general manager.
The managerial search is just getting started, and they aren't rushing things just because the Nationals are expected to hire one of two potential Dodger candidates, Bud Black or Dusty Baker. Gabe Kapler is the early favorite, anyway. Kapler is seen a huge up-and-comer by folks in the front office, but he is also said to have annoyed a few players in the farm system with his diet suggestions. Kapler is in perfect physical condition (he has as close to no body fat as can be found), and he apparently kept as close an eye as possible on the diet habits of minor leaguers. That's the sort of attention to detail his bosses may admire.
Don Mattingly was said to have had a nice meeting with Marlins higher-ups Monday. The managing job is his to lose ... Outgoing manager Dan Jennings still isn't quite back in the front-office fold, and he hasn't been part of the managerial interview process to this point (that would be a bit weird anyway, since the person they hire will be replacing Jennings). Club owner Jeffrey Loria actually tried to hire Jennings to manage years ago, but Jennings resisted. Even this time, friends say he warned Loria that he was concerned it would affect their relationship. And it obviously has. It isn't known exactly what happened, but Jennings was protective of the players, who ended up loving him. Even though things obviously aren't wonderful there right now, it's hard to imagine a departure for Jennings since he does have about $6 million left over three years on his contract, as Ken Rosenthal of FOXSports.com first reported.
Mets people are hoping they'll be able to get an inning per game more out of their vaunted starting rotation since Royals hitters are aggressive and don't run up counts. That would be a big plus ... Manager Terry Collins named Juan Uribe  to the official World Series roster on Tuesday. He sees Uribe as having a better chance than most against the hard-throwing Royals pitchers. Uribe will be shooting for his third ring with three different teams, a rare trifecta indeed. The Mets are doing without a true backup SS (Kelly Johnson and Uribe could fill in if necessary for part of a game). If Wilmer Flores should get hurt, the Mets could activate Matt Reynolds ... Rookie Michael Conforto will play, as he has against right-handers (all four Royals starters are righthanded). Conforto started the year in A-ball. "It's crazy," he said. "It feels like a couple years ago I was in high A ball." (It was actually five months ago) ... Yoenis Cespedes said while his shoulder was a little sore Sunday taking BP, he woke up Monday morning and "felt great." So he's playing." ... He's also going to continue to golf "as long I'm feeling good." Cespedes has been playing golf for two years, and says he shoots in the 70s (one writer expressed disbelief; Ok, me). There's one story going around (one that was repeated by Collins) that Cespedes reached a 585-yard par 5 with a driver and wedge. That's almost more believable ... Juan Lagares may be used primarily as a late-inning defensive replacement in vast Kauffman Stadium ... Bartolo Colon says he'll re-enact his famous behind-the-back play "if the opportunity presents itself." ... Eiland on unconscious Daniel Murphy: "I'm sure he bleeds like the rest of us." Maybe so, but he is on his way to one of the greatest postseasons in history ... Murphy's hot streak coincided with the effort to get him to pull more, via hitting coach Long and assistant hitting coach Pat Roessler. They noticed Murphy had an OPS over .900 when he pulled the ball but under .600 when he didn't ... David Wright arrived at Kauffman Stadium at 11:30 a.m. Monday to get treatment for his back, and so he'd also have time to fulfill his obligation to participate in the 3:45 media session. Wright was also seen stopping on the street to give out his autograph. There is no finer gentleman in the game ... If there's someone close on the Mets, it might be Jeurys Familia. He stopped to hold open the door for a media member Monday (yes, me).
The Yankees aren't expecting to lose any people currently under contract to the Angels, whose new GM is Eppler, beyond Chavez, whose contract was up ... Word is that CC Sabathia is expected to come out of rehab for alcohol by sometime late this week or early next week. Ron Berkowitz, PR director for Roc Nation, declined commenting on the matter.
After his terrific year some think John Lackey could garner a three-year contract, at $15-to-20 million per.
Ex-Twins manager Ron Gardenhire has been interviewed twice, but it seems funny the 13-year veteran is in the mix with at least five others who have no major-league experience whatsoever. Gardenhire does have something in common with all the other known candidates. He also has never managed in the National League, so the double switching would be new for him .... Tom Gordon may be the most interesting candidate anyone's interviewed. Not only did he pitch 21 years in the big leagues but he helped teach his son Dee to become a star player at the big-league level. The Marlins, incidentally, have had some interest in bringing Tom Gordon into the organization in some capacity.
No matter how smart he may be, some see the hiring of Scott Servais as manager as a real gamble. He's never managed before. "It's like hiring an optometrist to do heart surgery," one rival exec said. It's not hard to believe new GM Jerry Dipoto hired someone close to him after suffering through a bad 3 1/2-year relationship with Mike Scioscia.
With their nice season and ace pitcher Yu Darvish expected back in the first half of next season, the Rangers should be a major threat in 2016. Some are expecting that, with that in mind, they will be aggressive in free agency ... There is said to be legitimate concern about Derek Holland's rough year ... The Rangers are expected to sit down with Rougned Odor after the World Series to see if something long-term can be worked out.
No matter how many times someone with the Blue Jays says David price may return, sorry, I'm having a hard time seeing Price and the Jays getting back together. The smart money has the Cubs and Dodgers as the most likely teams for Price ... Alex Anthopoulos is expected to be brought back, but quietly. Mark Shapiro isn't even intending to announce it when he extends Anthopoulos.
The Nationals are expected to choose their manager between Dusty Baker and Bud Black. Both interviewed on Monday and would be great fits for this team, which should be ready to win with a few adjustments (starting with a new bullpen), and while I suggested Black at the start of things, Baker really would make terrific sense. He's managed superstar players like Bryce Harper (i.e. Barry Bonds), he's been to the playoffs several times and he'd be a nice fit in the community.
CBS Sports HQ Newsletter
We bring sports news that matters to your inbox, to help you stay informed and get a winning edge.
Please check the opt-in box to acknowledge that you would like to subscribe.
Thanks for signing up!
Keep an eye on your inbox for the latest sports news.
Sorry!
There was an error processing your subscription.
SportsLine's Mike McClure, a DFS pro with nearly $2M in winnings, gives optimal lineup advice.

SportsLine's top experts have released their best Korea Baseball Organization parlays.

The Hall of Fame was forced to cancel its induction ceremony this summer for the first time...
'We clearly got this decision wrong,' A's owner John Fisher said

Jeter would've felt so bad after losing the battle of New York he would have moved

Samson revealed that it's a compromise that both sides can live with
The MLB commissioner was asked plenty of questions about the Astros on Sunday

The results of the BBWAA vote for the 2020 Hall of Fame class were announced on Tuesday