Lakers to start Sacre, either Jamison or Morris vs. Rockets
Lakers will start Sacre and either Jamison or Morris vs. Rockets without Howard and Gasol.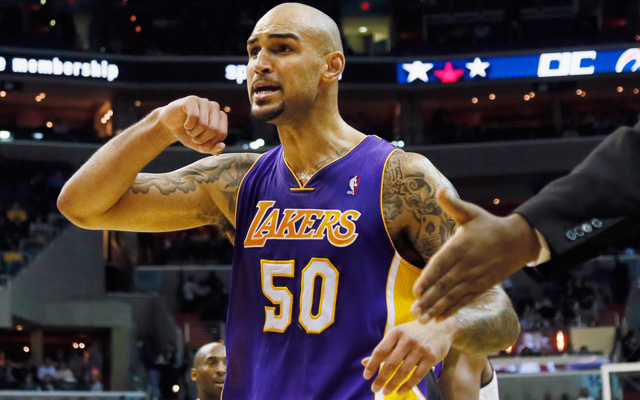 Sacre is a starter. This is happening.
(Getty Images)
Mike D'Antoni announced Tuesday afternoon at practice that the Lakers would start Robert Sacre and either Antawn Jamison or Darius Morris on Tuesday night vs. the Rockets. Pau Gasol and Dwight Howard are both out indefinitely wih injury. 
So the lineup could either be: 
PG: Steve Nash
SG: Kobe Bryant
SF: Jodie Meeks
PF: Antawn Jamison
C: Robert Sacre

PG: Steve Nash
SG: Darius Morris
SF: Kobe Bryant
PF: Metta World Peace
C: Robert Sacre
Or some other combination. There was talk Monday about Metta World Peace starting at center, which would just be crazy. The Lakers are 7.5 point underdogs vs. Houston. The over/under is 215, so the oddsmakers are expecting a defensive battle, clearly. (That is sarcasm.)
Sacre has most recently been playing for the D-Fenders (the Lakers' Development League team) and now will start alongside Steve Nash and Kobe Bryant. Luckily, Houston doesn't have a fleet of inside scorers. Omer Asik is effective inside and could have a strong game, but he isn't a huge part of the offense, and Patrick Patterson and Morris are more stretch 4s. 
But the Lakers' biggest issue has been perimeter defense allowing penetration and the bigs inside being unable to rotate. With untested or out of position players trying to compensate, this could get bad with Harden and Lin attacking. 
This is the NBA, however. You never know. 
Kris Dunn somehow took a chunk of the Bulls court out with his teeth, but didn't lose any in...

The fallout from the Rockets-Clippers tussle continues; no Clippers were disciplined

DH12 is picked for free throws after a teammate gets ejected. He makes both, and lets Scott...
Bell was injured defending a Robin Lopez dunk and had to be taken off the floor in a wheel...

Trevor Ariza and Gerald Green are reportedly both suspended two games

We've got all the scores, highlights and news from Wednesday night