LeBron says he'll be on the NBA's 'Mount Rushmore'
LeBron James is confident that by the end of his career, he'll be one of the NBA's four greatest players ever.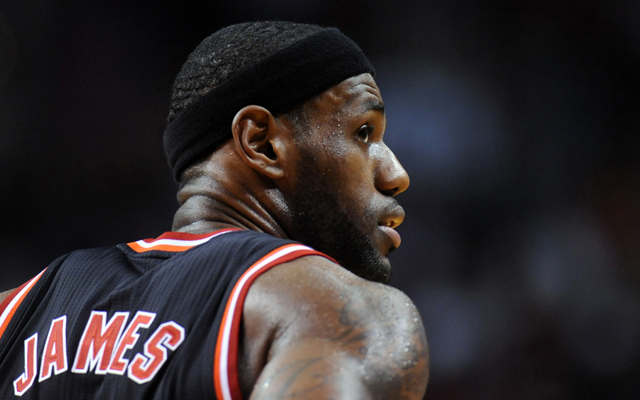 For someone as good as he is, and has accomplished as much as he has, LeBron James rarely tells everyone about it. 
He's a four-time MVP, a two-time NBA champion and has basically redefined how we perceive great players. But as he gets older, and the notches on his belt pile up, the question turns more to what his eventual legacy will be. Most dare not mention his name in the same sentence with MJ, and while that's premature, there's no doubt that by the end of it all, he'll be a true NBA legend. 
In an interview with NBATV that airs Monday, LeBron was asked who he sees on the NBA's "Mount Rushmore," a way of asking who he sees as the four greatest, most important players ever.
The easy three, that we all talk about in our league, you've got Michael Jordan, you got Larry Bird and you've got Magic Johnson," LeBron said. "And I would say the fourth... wow, this is so tough. The greatest players of all time that I'd like to see on Mount Rushmore? This is not fair ... Oscar Robertson. Those are my four."
Then LeBron was asked if he'd ever make his way on to it. 
"I'm going to be one of the top four that's ever played this game, for sure," he said. "And if they don't want me to have one of those top four spots, they'd better find another spot on that mountain. Somebody's gotta get bumped, but that's not for me to decide. That's for the architects."
That's a lot of confidence, something LeBron's never lacked for. He wants to be considered one of the game's greats. He wants his name to be mentioned alongside Bird, Magic and Jordan. 
To think of LeBron alongside those greats might seem odd right now, but remember: He's just 29 years old and has plenty of time to accomplish more. When we talk about the greatest in the NBA, a lot of it is determined on your era, and LeBron grew up on Jordan, Bird and Magic. So if you're a Kareem, Wilt or Russell supporter, don't be offended. There are so many legends in NBA history that like LeBron said, picking four is pretty hard. 
But can he eventually carve his way in? Absolutely. But he's got a lot more work to do.
The speculation has been rampant, but seeing James in purple and gold is far from a sure t...

Andrew Bogut and Corey Brewer talked to CBS Sports about Ball's reserved personality

Instead, the Hornets eventually moved to New Orleans
Galin Dragiev has his finger on the pulse of Cavs basketball and just locked in a play for...

Coming off a win over the Spurs, the last-place Mavericks will try to get another upset victory...

SportsLine's Mike McClure, a DFS pro with more than $1M in winnings, gives optimal lineup...