Rajon Rondo cleared for full-contact practice, could return in January
Boston Celtics' point guard Rajon Rondo has been cleared for full-contact practice and could be back sometime in January.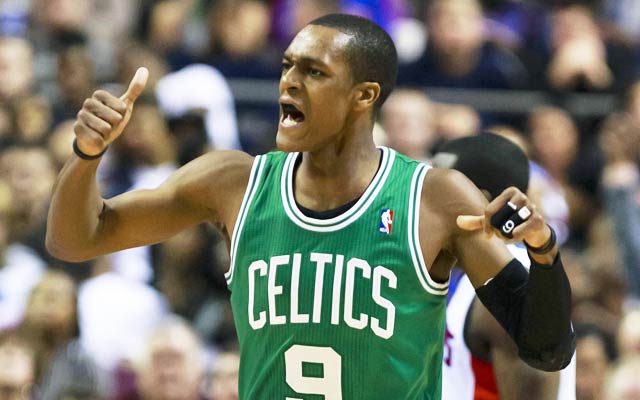 The Boston Celtics have been competitive so far this season, leading the Atlantic division with an 11-14 record so far. Much of that has to do with the Brooklyn Nets and New York Knicks failing to justify the preseason hype of the two franchises but the Celtics have still been better than many have expected. They could be getting much better sometime in the next month as well. 
Rajon Rondo took another step toward coming back from an ACL tear when he participated in a full-contact practice on Saturday, his first since surgery to repair the tear. According to Baxter Holme of the Boston Globe, Danny Ainge said that Rondo is unlikely to play any games in the month of December. Perhaps January or February will be when we see Rondo in an NBA game again.
Rajon Rondo participated in a full-contact practice Saturday for the first time since undergoing knee surgery nearly 11 months ago, meaning the Celtics' All-Star point guard is one step closer to returning.

"I don't know a timetable," Ainge said. "None of us do and none of us can. As we can recall from every one of these incidents that have happened from the past few years, it's all just guessing. So it's sort of silly to speculate.

Ainge added, "I don't anticipate him playing in any games this month, for sure. I also don't know if there's a time in January or a time in February. I really don't know the answer. A lot of it is going to depend on how he responds to this next phase."

Rondo was cleared for full contact Friday after he traveled that morning with team physician Brian McKeon to meet with operating surgeon James Andrews in Birmingham, Ala.
This is huge news for the Celtics in many ways. 
The return of Rondo to the Celtics would be great for their team. Jordan Crawford and Avery Bradley could concentrate on playing more off the ball with a real distributor to set them up. If that happens, we may see this offense climb toward the upper half of the league instead of sitting in the 23rd slot at 99.6 points per 100 possessions (according to NBA.com). Once Rondo is back to being 100 percent, it could be a big boost to them capturing the division and earning them an improbable top 4 seed in the playoffs.
This would then mean the rebuilding/retooling/reloading process of Danny Ainge would be on hold, which would be the worst timing for such a delay. The Celtics started blowing up the roster and the direction of the franchise in the summer when they allowed Doc Rivers, Kevin Garnett, and Paul Pierce to be traded away. From there, it was assumed they'd be targeting one of the top picks in the NBA Draft in 2014 that is likely to yield an All-Star caliber player.
The Celtics making the playoffs this year would be a great moral victory for them but it could also greatly hinder how quickly they get back to being an actual contender in the NBA. There is still a lot of season to go and we don't know how Rondo will return. It's just interesting to track how competitive they are throughout the season because so much of their future is riding on it.
Jordan Bell had himself a night against Portland

The younger Ball brothers are heading to BC Prienai, but that could spell trouble

Not many games, but still plenty of action and intrigue Monday in the Association
SportsLine's advanced computer model simulated Tuesday night's Lakers-Knicks game 10,000 t...

The Reno Aces are concerned about the new WNBA franchise stealing their thunder

Hinkie parted ways with the 76ers in 2016 after drastically changing the direction of the...