Rockets/Knicks '94: Where are they now?
A look at the 21 players who logged minutes in the epic 1994 NBA Finals, and what they're doing today.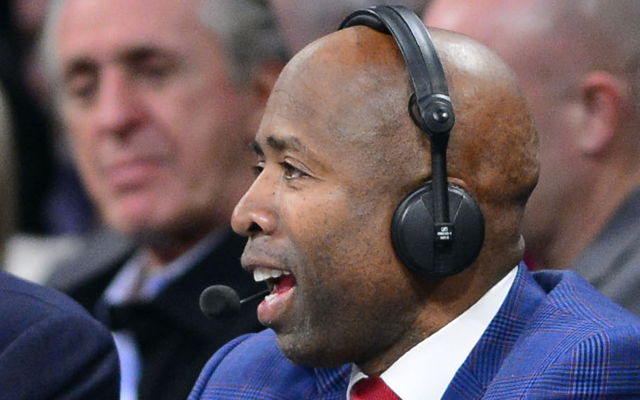 MORE: 1994's Forgotten Finals: Rockets vs. Knicks | O.J. took center stage
Rolando Blackman, Doc Rivers, and Scott Brooks -- three men bound by a commonality they'd probably be pleased not to draw a lot of attention to. The three were on the rosters of either the New York Knicks (Blackman, Rivers) or Houston Rockets (Brooks) during the teams' run through the 1994 NBA playoffs -- and none of the three played a single minute in the epic, seven-game Finals.
The circumstances of those absences were entirely different. Blackman, in a move for which then-Knicks coach Pat Riley would later admit regret, was benched in favor of John Starks. Rivers, who was coming off knee surgery, was shelved in another Riley move that incensed the player in question. Brooks appeared earlier in the playoffs but was a forgotten man in the Finals behind Sam Cassell and Kenny Smith, a status that caused friction between him and Rudy Tomjanovich.
We know what became of Rivers and Brooks, who are among the NBA's top coaches. Blackman, meanwhile, lives in Dallas and runs a foundation to assist underprivileged children.

But what of the 21 men who did appear in the '94 Finals? We're glad you asked. (Players listed below in order of scoring average in the NBA Finals):


HOUSTON ROCKETS 
Hakeem Olajuwon, C. '94 Finals stats: 26.9 points, 9.1 rebounds, 3.9 blocks per game. Olajuwon, 51, alternates time between Houston and the nation of Jordan, where the devout Muslim pursues Islamic studies. The 2008 Hall of Famer also runs his own line of shoes and clothing, called DR34M.
Vernon Maxwell, SG. '94 Finals stats: 13.3 points, 3.3 rebounds per game. Maxwell, 48, is retired and living in Charlotte. His son, Brandon, will be a freshman member of the basketball team at the University of Tennessee-Chattanooga this fall.
Robert Horry, SF. '94 Finals stats: 10.3 points, 6.1 rebounds, 3.7 assists per game. Horry, 43, retired following the 2007-08 season and has taken up a number of business and philanthropic initiatives including heading up The Ashlyn Horry Foundation, named after a daughter who died at age 17 in 2011 of a rare genetic disorder. Horry is also involved with the Robert Horry Sports Rehab Center in Houston.
Sam Cassell, PG. '94 Finals stats: 10.0 points, 2.9 assists per game. Cassell, 44, retired from the NBA following the 2007-08 season, and currently serves as an assistant on the Washington Wizards staff.
Otis Thorpe, PF. '94 Finals stats: 9.3 points, 11.3 rebounds, 3.3 assists per game. Thorpe, 51, is retired and living in the Houston area.
Carl Herrera, PF. '94 Finals stats: 7.1 points, 3.6 rebounds per game. Herrera, 47, serves as head coach of the Guyana Gigantes of the LPB, the pro basketball league in his native Venezuela.
Kenny Smith, PG. '94 Finals stats: 5.6 points, 3.1 assists per game. Smith, 49, is a broadcaster with TNT and CBS, serving as a studio analyst for NBA and NCAA broadcasts.
Mario Elie, SF. '94 Finals stats: 2.4 points per game. Elie, 50, is a stay-at-home dad in the Houston area, where he and his wife (local TV anchor Gina Gaston) are raising 11-year-old triplets.
Matt Bullard, PF. '94 Finals stats: 4.0 points, 3.0 rebounds per game (27 total minutes). Bullard, 46, serves as a Rockets television color analyst for Comcast SportsNet Houston.
Earl Cureton, PF. '94 Finals stats: no stats accumulated (2 total minutes). Cureton, 56, works for the Pistons in his native Detroit, where he represents the organization in anti-bullying and Boys & Girls Club events. 
Chris Jent, SF. '94 Finals stats: 0.3 rebounds per game (7 total minutes). Jent, 44, is one of the few NBA alumni who played in more career playoff games (11, all in the '94 playoffs) than regular season games (6). He's now an assistant with the Sacramento Kings.
NEW YORK KNICKS
Patrick Ewing, C. '94 Finals stats: 18.9 points, 12.4 rebounds, 4.3 blocks per game. Ewing, 51, has been a well-traveled NBA assistant since concluding his Hall of Fame playing career in 2002, and is currently a member of the Charlotte Hornets staff.
John Starks, SG. '94 Finals stats: 17.7 points, 5.9 assists per game. Starks, 48, works in the Knicks front office as Alumni Relations & Fan Development advisor and is part owner of the Ektio line of basketball shoes in addition to running his own foundation.
Derek Harper, PG. '94 Finals stats: 16.4 points, 6.0 assists, 2.4 steals per game. Harper, 52, serves as a game analyst on Dallas Mavericks broadcasts and is also the weekend sports anchor at local TV affiliate KTXA.
Charles Oakley, PF. '94 Finals stats: 11.0 points, 11.9 rebounds per game. Oakley, 50, is an honorary director of Jaden's Ladder, a non-profit organization that assists survivors of domestic violence. He also recently appeared on the Food Network's program "Chopped," where he competed against other athletes in a cooking competition.
Charles Smith, SF. '94 Finals stats: 9.3 points, 4.3 rebounds per game. Smith, 48, was recently in the news when he traveled to North Korea as part of Dennis Rodman's controversial faction that met with leader Kim Jong Un. Smith also helps run the Pro Basketball Alumni Association, a group he helped to establish.
Anthony Mason, PF. '94 Finals stats: 8.6 points, 6.9 rebounds per game. Mason, 47, recently saw his name surface when he, along with Starks, became investors in a Custom Fuel pizza franchise located in Harlem. Mason's son Antoine is the leading returning scorer in college basketball, and announced last month he'd be transferring from Niagara for his senior season. Mason's older son, Anthony Jr., formerly played for St. John's before serving in the D-League.
Greg Anthony, PG. '94 Finals stats: 3.3 points, 2.4 assists per game. Anthony, 46, is the lead college basketball game analyst for CBS Sports.
Hubert Davis, SG. '94 Finals stats: 1.6 points per game (38 total minutes). Davis, 44, has been an assistant coach on Roy Williams' staff at North Carolina since 2012.
Anthony Bonner, SF. '94 Finals stats: 2.0 points, 1.0 rebound per game (11 total minutes). Bonner, 46, lives in Atlanta and runs Sports Power International, a Christian organization that sponsors basketball-themed Mission trips around the globe.
Herb Williams, C. '94 Finals stats: 0.3 blocks per game (7 total minutes). Williams, 56, was a member of the New York Knicks coaching staff for most of the past 11 seasons, but was fired along with the rest of Mike Woodson's staff after the 2013-14 campaign.
Trail Blazers guards Damian Lillard and C.J. McCollum have been pushing for Anthony to join...

Anthony reportedly gave the Knicks an expanded list of teams he'd waive his no-trade clause...

The Suns will also receive a second-round pick in the deal
Kerr noted Warriors are deeper than the NBA championship team of last season

The Dubs will make a decision as a team on visiting the White House, but Steph would vote...

Wolves are an up-and-coming NBA squad, but this region knows heartache too well