Top 40 2015 NBA free agents
From LeBron James to the Truth and everything in between, a look at the 40 best free agents on the market.
With NBA free agency set to open officially July 1 we wanted to give you a guide to the biggest names in this class. These are the top 40 free agents, factoring not only on-court ability, but relative value and how much they'll tie up your cap now and in the future. 
1. LeBron James | Forward | Cavaliers
 The alpha and the omega. The best basketball player on Earth, in his prime. James is a 95 percent lock to return to Cleveland but if, for any reason, he decides to test free agency, the question is not how much to offer him, but what else you can provide in way of organizational and roster strength, perks and influence. What do you get the man who has everything?
2. Kawhi Leonard | Guard | Spurs
 The name that drives fear into the hearts of men. It's one thing to be the defensive vanquisher that Leonard has been since very early on in his career. It's another to be a transcendent force defensively who can absolutely lock down on the No. 1 guy above (even better than Iguodala did) and be able to score in so many ways Leonard can. He's a foundational piece When Gregg Popovich says you're the future of the Spurs post-Duncan, that's all the support you need.
The odds of Leonard going anywhere -- and I mean anywhere -- are zilch, but if the Spurs were to mess around for a second, every team that can should throw the max at him and the rest should throw whatever they have at him. First-born children, grandparents' jewelry, amazon stock, everything.
3. Tim Duncan | Forward | Spurs
 He's Tim Duncan. If your team can sign him -- which if you're not San Antonio, it can't -- they should. He's a future Hall of Famer who continued to make his team better despite having played the fifth-most games in NBA history, factoring regular season and playoffs. He was a Defensive Player of the Year candidate last year, can still dunk on fools, still makes his teammates better, never gets rattled and still wants to win. You're not getting Tim Duncan. But he's still one of the best free agents out there, because he's Tim Duncan.
4. Marc Gasol | Center | Grizzlies 
  The downsides: Gasol is 30 years old, and thanks to so many playoff runs with a team with so little depth, he has a lot of minutes and miles on him. Gasol doesn't take over a game; he cannot by ability or design. It's not in his DNA or skillset. Gasol can have prolonged shooting slumps from the mid-range, and in moments where he needs to be more aggressive offensively, he can become passive. Gasol can be neutralized with systemic scheming defensively, and if he has to carry a big offensive load his defense can dip slightly.
The upsides: Literally everything else.
Gasol is a Brahma bull that moves lightning quick like a hippo and can hedge a ball-handler to the sideline, to the concession stand, to their home down the street. He has a sweet running hook and a series of counter moves. He's quick and agile, but also powerful and strong. He possesses better passing instincts than 90 percent of the two-guards in the NBA and about half of the starting point guards. A ruthless competitor and quality leader, Gasol can anchor your defense, makes winning plays, shares the ball, and generally speaking, makes your entire team better. Of the players who are at least a slight possibility to change uniforms, Gasol is the best.
5. LaMarcus Aldridge | Forward | Trail Blazers
 Aldridge is set to be the biggest "free" agent on the market, in that he's actually going to explore new teams. He has all the makings of an All-Star-caliber player: led his team in scoring, big-name recognition, key playoff games and oh, yeah, he's been an All-Star.
Aldridge is a low-maintenance, high-character player who has been consistent and productive his entire career. He's well worth the money from the perspective of paying him tens of millions to play basketball. I will hammer this home one more time: LaMarcus Aldridge is a fantastic basketball player.
However. There's always a however.
Some things to keep in mind:
A) Aldridge turns 30 years old in a little over 20 days. He has been relatively healthy outside of a torn ligament in his hand that he played through last year. But Aldridge is pretty much the model of the guy you don't want to be on the hook for more than $20 million for when he hits 34 as he would be entering the final year of his contract. It is unlikely that Aldridge's game will deteriorate particularly rapidly. He doesn't rely on his athleticism or speed in huge ways. There could be a downturn in production and he could evolve more and more towardbeing a defensive liability.
B) Speaking of, Aldridge's defensive metrics are good. He tops out in a plus-60 percentile in spot-up defense, post-up defense and isolation defense. Where he struggles is in guarding ball-handlers off the pick and roll (.88 points per possession via Synergy Sports), and that same limitation is seen on the offensive end, where he struggled as the pick and pop weapon, shooting just 39.2 percent last year. Some of that can be attributed to the hand injury, but his relative struggles in mobility as he gets older seems evident. Aldridge is smooth, but he's not mobile.
C) In a league that continues to evolve more and more toward efficiency, and despite the dinosaurs crying out as the meteor heads toward them, the mid-range jumper has never had less value. Yet here is Aldridge's shot chart: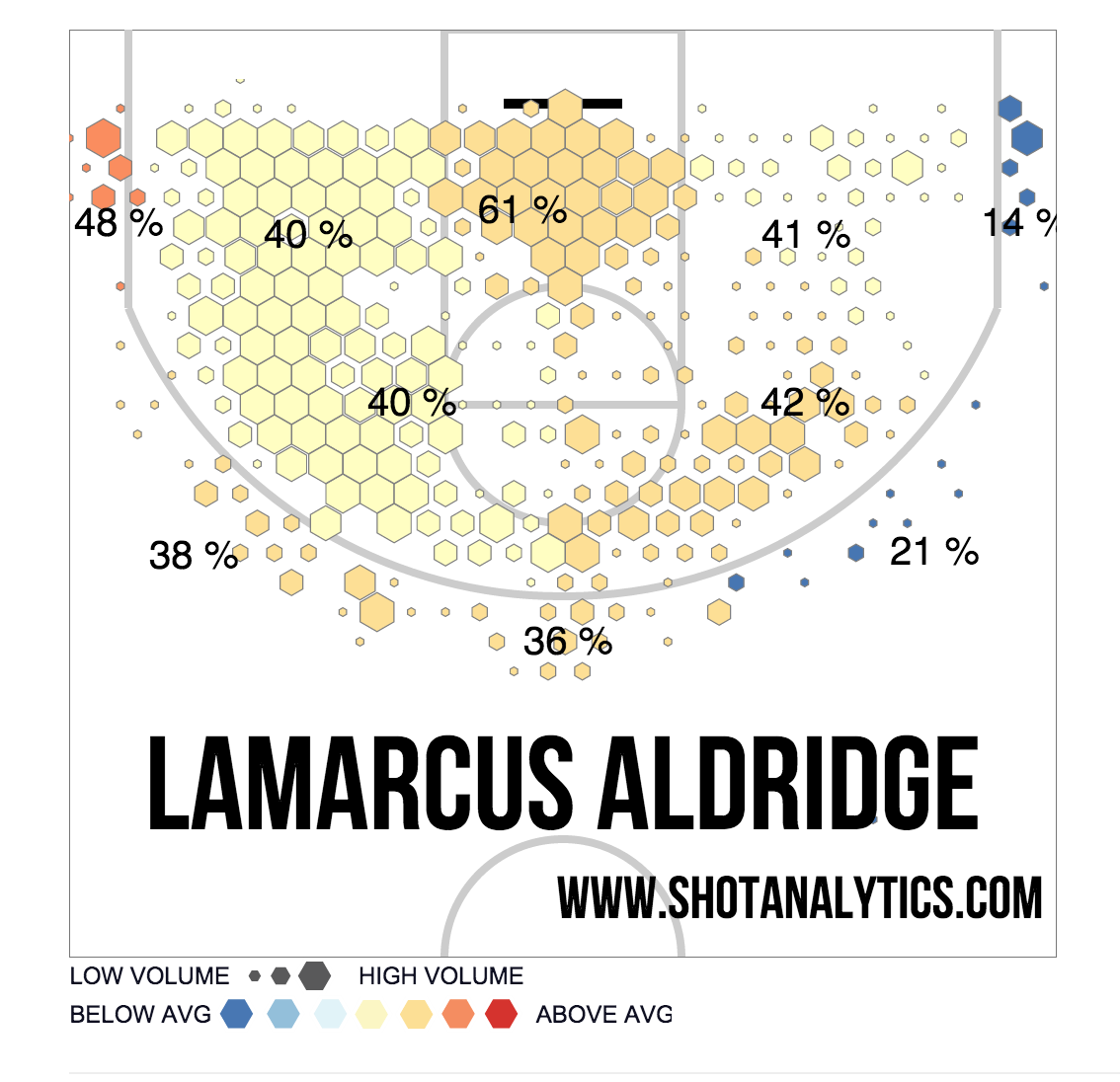 Here's kind of the deal: Aldridge is insanely efficient at an incredibly inefficient shot. It's why he averaged 34 points on 29 shots per 100 possessions last year. For comparison, DeMarcus Cousins averaged 36 points on 27 shots.
Aldridge is going to get a max contract, and will deserve it. But teams should be very aware of what they need to put him around him. You need strong guard play and great rim protection to pair with him. Aldridge is not a tide that lifts all ships.
6. Goran Dragic | Guard | Heat
 Franchise point guards are honestly dime-a-dozen, but Dragic still has the ability to transform your team. He makes every player better offensively, can deliver big scoring performances, is smart and knows every trick in the book. He's not a two-way player like Butler or Matthews, but he can fundamentally revamp your team at a key position and is far from a liability on defense. You'll never lack firepower at point guard with Dragic on the court. The Heat are going to make a huge push for Dragic as soon as free agency begins. There's a lot up in the air for Miami, but if your team wants Dragic, they're going to have to fight for him.
7. Paul Millsap | Forward | Hawks
 Millsap is a 30-year-old All-Star who can still score in bunches, is a great defender, a smart passer and a great playmaker at both ends. Millsap pretty much makes your team better no matter who you are, and has never carried much of an ego with him. He's only 6-8. but extremely powerful, big but quick, shoots 48 percent from the field and 36 percent from 3-point range.
He's mobile, a good defender, can hit from range, plays with explosiveness inside and is a gifted passer ... how is LaMarcus Aldridge significantly better than him, again?
8. Kevin Love | Forward | Cavaliers
 Love was a top-10 player in the league headed into last season, and now he's not even the second-best power forward on this list. That's what David Blatt can do for you in a year. Love says he's re-signing, the Cavaliers say he's re-signing, but those trusty anonymous sources keep pushing the idea to outlets that he's going to look around. Does Love want his best chance to win a ring or the best opportunity to maximize his talent? That's the dilemma in front of Love this summer. 
He costs the max, was used as a decoy this year, and plays zero defense. Not exactly the total package, but an incredible offensive weapon and facilitator. 
9. Jimmy Butler | Forward/Guard | Bulls
Took the leap in his contract year to true star. One of maybe four guys who can defend LeBron James to a limited game 1-on-1. Has developed an unreal arsenal of moves to create looks off the dribble. Intense competitor who will take it to you at both ends. Butler can't be the best player on a championship team, but he can definitely act as a No. 2 weapon on a title team and best player on a playoff team.
10. Wesley Matthews | Guard | Trail Blazers
Matthews is reportedly asking for $15 million per year, which sounds like a lot for him coming off his Achilles injury. But in the modern NBA, with the TV money coming in next year, and for a player that works as hard as Matthews does, shoots how Matthews does, and defends how Matthews does, it's not really all that much of an overpay. You need 3-and-D guys like Matthews, and while he's not going to dramatically alter the outlook of your team, if he can return from the Achilles injury, he can be the difference in a sub-contender and a true contender.
11. Danny Green | Forward/Guard | Spurs
 "Danny Green?!" you exclaim. "Danny Green!" I reply. Green's this high on the list not just because of his shooting and defense, but because of his value. You don't have to sign Green to a max contract. You can get him on a reasonable $13 million-ish deal that won't even graze your cap in coming years, and for that you get a player who had one of the best defensive ratings on one of the best defensive teams in the league, who plays within the system and within himself, can knock down big shots, cut to the basket, has a great attitude and no significant injury history at age 28, with a realistic 5-6 years left in the tank.
Green can't take over a game or shut down LeBron James, but everything that helps you win in the margins for a perimeter player? That he can do. Teams should throw gobs of money at him.
12. Dwyane Wade | Guard | Heat
  Definitely did not expect to find him on this list of suspects, but here we are. Let's clear up one major misconception about Wade. He is not "washed." Twenty-two, four rebounds, five assists, 47 percent from the field and a 21.4 PER in 62 games. Yes, he is probably not going to play in 70 games for you. But the 60 or so he's going to play in, he's going to give you star production. He's still a crazy-gifted athlete, sneaky smart, and able to score over and through contact like few in the game's history. When engaged, Wade remains a solid to good defender, and you're not going to find many better leaders in the league.
It's insane that Wade is actually maybe going to be on the market, that Miami is going to allow him to actually look around, but here we are. If a team gets him, they're not getting 2009 Wade, but they're still getting Dwyane Wade. He's this low only because you have to pay for 82-games Dwyane Wade, and you're not getting that.
13. DeAndre Jordan | Center | Clippers
 The premier shot blocker in this class. Jordan is a better rim protector than Marc Gasol, and a player who fundamentally changes an offense. Those are rare. Ask perimeter players in this league and they'll tell you, the effect of having a defensive force that deters you from getting into the lane is huge. It keeps everything on the edges and results in more contested mid-range jumpers. In a league that's gone so much to perimeter shooting, it may seem less important, but in reality, the starting block of defending 3-point shots is the ability to trust that your big man will clean up drives to the rim if you overplay to prevent the shot.
Offensively, obviously, is the question. Beyond the free-throw shooting, which we don't need to cover here, is the fact that Jordan is basically only good for put-backs and lobs. Jordan can still be an effective, productive and efficient player on that end, but if a team is looking at adding him without a marquee point guard to get him the ball, there could be trouble. Something to think about before just throwing the money you'll have to (which is the max) at him.
14. Brook Lopez | Center | Nets
Injuries, injuries, injuries. Healthy, Lopez is a post-dominant force who can control the game and has improved as a rebounder and defender when his coach isn't making him hate life. But he's had more metal put in his foot than Robocop, and every time it seems like he's put together a good run, something happens.
Lopez is a low-maintenance guy who has put up with the Nets dangling him in trade talks year after year. The Nets are reportedly set to throw money at him to keep him, but you wonder if he might be better off somewhere, especially somewhere with a great training staff like Phoenix.
15. Draymond Green | Forward | Warriors
 Draymond Green is a do-it-all player who was the second-most important player on a championship team. He's an emotional leader, still young, has no injury issues, can defend all five positions, comes and goes as a good 3-point shooter, is an excellent passer and all around playmaker. There's a reason that his plus-minus numbers have always been phenomenal: He makes his team better.
So why so low? To get him, you have to offer the max. Even if you offer the max, you're just tying up cap space, because the Warriors are keeping him. All this for a player that's not going to take over a game, lead your team in scoring and isn't a true rim protector (he can definitely swat some shots, but he's not DeAndre Jordan) or post threat. He's a jack of all trades, master of none. He's worth a max for what he brings to a good team, specifically his good team. He's not worth the max for the teams that can afford him.
Green's contract will have better value than whatever Wade signs, but Wade's will be shorter and Wade can still take over and win you a game. Green is extremely valuable, but the market for him is wonky.
16. Tristan Thompson | Forward/Center | Cavaliers
 Speaking of a wonky market, you have to ask how much Tristan Thompson would be generating on an open market if he weren't part of the Cavaliers' ECF run or if his agent wasn't Rich Paul. He'd still be in line for a huge payday; he's a superb offensive rebounder who's well ahead of the curve defensively. He's just 24 and showed his value in the playoffs. The Cavaliers are a near-lock to re-sign him as well, but trying to get a handle on his value outside of the Cavs is tricky.
17. Tyson Chandler | Center | Mavericks
 Chandler looked like the same player last year, but the results weren't the same. Still, he's a defensive floor general who's efficient offensively (shot 67 percent last season) and a veteran leader. Chandler can still be a difference-maker for a playoff team, and at 33 should be able to land one more multi-year contract.
18. Brandon Knight | Guard | Suns
 Knight was having an All-Star-caliber year for the Bucks before they traded him to avoid fitting the bill for him this summer. He struggled and was injured in Phoenix but remains a tremendous young two-way guard. After looking lost and positionless for two seasons, Knight seems to have turned the corner. The question is what value a point guard that isn't in the top tier has on the market when seemingly everyone in the West has a premier point guard. Knight is rumored to have a five-year, $70 million offer from Phoenix waiting on him.
19. Khris Middleton | Forward | Bucks
 Middleton's story is pretty great, and he's gone from second-round pick to a guy who can flat-out fill up the basket. As a restricted free agent, the Bucks are expected to retain Middleton.
20. Thaddeus Young | Forward | Nets
 Will some good team please go get Thaddeus Young so he's not stuck wandering through the basketball desert? Young suffered through the rebuilding era in Philadelphia, then was rewarded by being traded to the Wolves ... and then finally winding up on a playoff team by only the very strictest definition of it in Brooklyn. All the talk of the Warriors with their versatility and skill combinations fit Young perfectly. Young just turned 27. The Nets are expected to re-sign him to a big-money contract.
21. Greg Monroe | Center | Pistons
 Monroe's so low here because he's going to demand a max contract for a player that's a liability on the defensive end. However, he's a great post scorer who can score with either hand and a terrific rebounder. His defensive issues can be mitigated by having a rim protector next to him. Then again, he had that in Andre Drummond in Detroit and it didn't work. There has to be some concern about Drummond winding up in a David Lee situation.
22. DeMarre Carroll | Forward | Hawks
 Carroll kept the Atlanta Hawks afloat in the playoffs almost on his own. That's a sentence I never really expected to type. Versatile, strong and skilled, Carroll is a playmaker defensively who can hit from the outside and attack the rim. He's perfect for any pace-and-space system.
23. Monta Ellis | Guard | Mavericks
 There was a notion that Ellis had somehow turned a corner in Dallas, but now he's set to hit the market again as reports indicate he was a locker room problem with the Mavericks. Oh, and his overall inefficiency dragged and his defense was non-existent. So pretty much the same Monta. Still, Ellis is a top-notch talent that won't be on the market long. Just rest assured you know the Monta you're getting.
24. Arron Afflalo | Forward | Trail Blazers
  Once upon a time, Afflalo looked like an All-Star. He was leading his team in scoring, had a reputation as a defensive stopper and was in the top five of shooting guards in the league. A lot has happened since then. Afflalo clashed with Brian Shaw in Denver (but then who didn't?) and never really made an impact in Portland before coming down with an injury. Still a starter-level two-guard who can have big nights.
25. Tobias Harris | Forward | Magic
 No one's quite sure if the Magic plan to retain restricted free agent Harris. Harris scores in bunches, and does so efficiently. Reports have indicated he wants a max contract, but Harris hasn't shown he can carry a team's offense on his own, and doesn't pull a top grade in any other area.
26. Al-Farouq Aminu | Forward | Mavericks
 Aminu has a raw offensive game, but is a difference-maker on the defensive end and provides great energy. On a Mavericks team that was an abject disaster defensively, he made a huge impact. In the playoffs, he showed that he can score a little bit, too. Aminu has several suitors but can still be had at a lower contract value.
27. David West | Foward | Pacers
 The veteran opted out of his deal with the Pacers and seems to be headed for greener ... well, wallets. West was supposed to take a dip after an ACL injury before he signed with the Pacers, instead he helped guide Indiana to the Eastern Conference Finals. West is tough as nails, a 17-foot-assassin and a guy you definitely want on your side in a tough series.
28. Kosta Koufos | Center | Grizzlies
 Koufos was the starter on Denver's 57-win team two years ago, and has been a huge part of Memphis' success the past two years, giving them a starter-quality backup center. Koufos has some post moves, protects the rim, and is an overall big dude. He's a steal in this class if you can get him for moderate money.
29. Luol Deng | Forward | Heat (Update: Opted in with Miami)
 It pains me to put him here. Deng's a wonderful human being, a smart defender, and a versatile offensive player. His numbers last year were good. But there is a concern despite his playing 72 games last year that he had too many miles and minutes under Tom Thibodeau in Chicago. Deng is only 30, though, and should have a few more years in him.
30. Reggie Jackson | Guard | Pistons
 Jackson fell apart last season in OKC at the worst time and then struggled in Detroit after being traded there. Jackson's a restricted free agent and presumably the Pistons will sign him to a long-term contract after trading multiple players for him. Detroit would be wise to keep the price down to mitigate the impact on their cap sheet, though. Jackson may not be a true No. 1 option for an offense.
31. Cory Joseph | Guard | Spurs
 Joseph was great for San Antonio the past two years and is your basic "Spur who plays well in all the right ways but you're terrified about signing him because he may be a product of the Spurs' system." But for his age and skillset, he's a tempting combination.
32. Rodney Stuckey | Guard | Pacers
 A combo guard with great size, Stuckey shored up the key weakness in his game last season by shooting 39 percent from 3-point range. He's a scoring guard, no doubt, but he can slide into almost any lineup or act as a quality sixth man.
33. Corey Brewer | Guard | Rockets
  Once thought to be a draft bust, Brewer has reclaimed his career by playing for teams that play fast and simply gunning to get up the floor. He's best used as a weapon off the bench but he's also rounded out his game to become a better defender and a corner 3-point shooter. He wants a long-term deal.
34. Jae Crowder | Forward/Guard | Celtics
 Great defender and energy guy. Can get signed for a reasonable mid-level contract.
35. Alan Anderson | Forward/Guard | Nets
  Anderson really quietly is a great contributor. He attacks ball-handlers and rarely gets lost off-ball defensively. He's also a big-shot maker. He's a value-bin Wesley Matthews.
36. Lou Williams | Guard | Raptors
 The reigning Sixth Man of the Year will be chasing a big-money contract off that, but really all he does well is shoot and draw fouls. Not really score efficiently, mind you, but put up shots and try and draw contact. That's basically it. If you're challenged offensively, though, he's worth every penny.
37. Darrell Arthur | Forward | Nuggets
  Arthur's shot has been shaky since injuries disrupted his rhythm two years ago. But he's a terrific pick and roll defender who can manage in any number of coverages, battles for rebounds, and makes an all-around impact. He's also got a strong pick-and-pop game.
38. Robin Lopez | Center | Trail Blazers
 Lopez would be higher if it weren't for all the rim protectors available on the market this summer. He's a great value signing who just does the dirty work, can score a little bit, and struggles to grab defensive rebounds. His contract should be high, which takes a knock off the top a little bit. You can easily make an argument to put him in the high 20's.
39. Patrick Beverley | Guard | Rockets
 The key with signing Beverley is to set up a forum for your fans to defend his recklessly aggressive defense from accusations of being dirty and sell advertising. You should make up the total cost of his contract in about two weeks.
40. Paul Pierce | Guard | Wizards
 Pierce is pretty much only going to the Clippers or back to the Wizards. He's not the same guy he used to be but the playoffs showed he can still win his team a series. The Truth remains.
Curry was visibly frustrated as he limped to the locker room, and will undergo an MRI on S...

We have all the scores, top plays and news from Friday's NBA games

Clark was shot by police in his grandparents' backyard Sunday night in Sacramento
After a strong start, the Magic are heading to the lottery yet again

This is not what Danny Ainge envisioned when he signed Gordon Hayward and traded for Irvin...

The Spurs recently held a team meeting in which Leonard was questioned about when he would...