With Serge Ibaka out, the Thunder should go small
MVP Kevin Durant and reserve Perry Jones III should get a shot at the power forward position in the Western Conference finals.
• 2 min read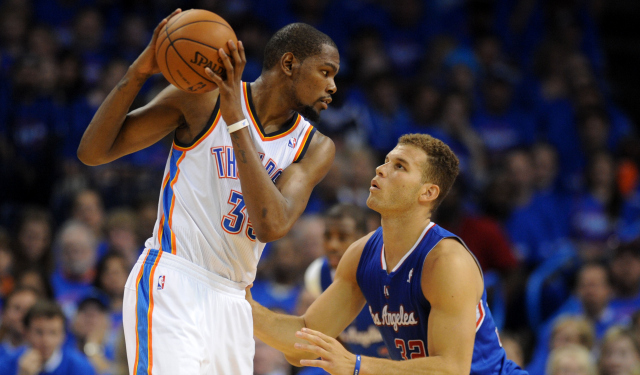 More postseason coverage: Playoff schedule, results | Latest news, notes
The Oklahoma City Thunder  are without their third-best player and their most effective rim protector, and they're about to meet the team that finished with the NBA's best regular-season record. They announced on Friday that they expect to be without Serge Ibaka for the remainder of the playoffs. Thunder general manager Sam Presti said they will have to adjust as they head into the conference finals. This is a big problem, and the best way to solve it is to go small.
Kevin Durant won the MVP award this season playing mostly small forward, but he's an extremely effective power forward, too. He's a little bit taller than his listed height of 6'9, and big men generally have no hope of containing him on the perimeter. Even without the Ibaka injury, using Durant at the four spot would be a sound strategy against the San Antonio Spurs, and it's likely that head coach Scott Brooks would have done it for significant stretches. The difference is that when Brooks does this now, Durant won't have one of the best shot blockers in the world on the back line. This needn't deter him.
If Durant sticks mostly to his natural position, Oklahoma City will be playing two of Kendrick Perkins, Nick Collison and Steven Adams together. This might be the optimal option defensively, and the Thunder will be able to get away with it at times, but it clogs the paint and lowers their ceiling. While Collison has an adequate midrange jumper, none of those guys can shoot the ball with the consistency and range of Ibaka, who can draw defenders out as far as the three-point line. Collison shot 4-for-17 on threes in the regular season, with all but one of his attempts coming in the corner. He fouls too often to be counted on for extended minutes, and he simply doesn't provide the same spacing. A great deal of Oklahoma City's offense comes from Durant and Russell Westbrook creating from the perimeter, and a floor spread with shooters makes them much more dangerous.
The other thing that the Thunder are losing with Ibaka is athleticism, the main advantage they exploited against the Spurs two years ago, and playing small helps there. It's the reason why, as well as using Durant as a big man, Oklahoma City should think seriously about putting Perry Jones III back in the rotation. Jones was shuffled in and out of the Thunder's rotation during the regular season, and he's been confined to the bench during the playoffs outside of garbage time. The second-year forward is 6'11, but has the quickness and agility of a man much smaller. He's shown tremendous defensive versatility this season, but he's only done so in limited minutes. Throwing Jones out there in a pressure-packed environment is a risk for Brooks, but with his ability to hit spot-up three-pointers, it could come with a huge reward. 
The loss of Ibaka completely changes this series for Oklahoma City, but it doesn't make it unwinnable. The Thunder have an opportunity to push the pace and make the Spurs adjust to them. They should run with it.
Kris Dunn somehow took a chunk of the Bulls court out with his teeth, but didn't lose any in...

The fallout from the Rockets-Clippers tussle continues; no Clippers were disciplined

DH12 is picked for free throws after a teammate gets ejected. He makes both, and lets Scott...
Bell was injured defending a Robin Lopez dunk and had to be taken off the floor in a wheel...

Trevor Ariza and Gerald Green are reportedly both suspended two games

We've got all the scores, highlights and news from Wednesday night