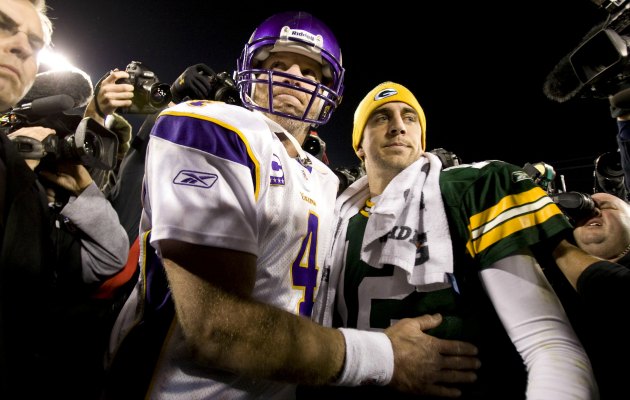 Favre doesn't usually pay Rodgers many compliments. (US Presswire)
Brett Favre hasn't always had the nicest things to say about his replacement, Aaron Rodgers. Not that he's been mean, necessarily. But there always seems to be some element of passive-aggressive behavior, even when Favre is supposedly complimenting Rodgers.
Take this October 2011 quote regarding Rodgers' overall play, for example.
"I'm going to be honest, I was not surprised [about Rodgers' performance]," he said. "The biggest surprise to me would be that he didn't do it sooner."
Really, that's a nasty back-handed compliment, and if you go through his entire statement a little further in the link above, you'd see Favre talking about how much talent Rodgers has surrounding him and how much strong mentoring Favre did with Rodgers when the two shared the same locker room.
"He just kind of fell into a good situation," Favre said then. "On top of that, he's a good player."
That's why it's newsworthy when Favre compliments Rodgers, and the back-handed compliment, if it's even there, is not evident.
"Aaron Rodgers, I knew when I left [Green Bay], this guy has all the tools," Favre recently told the NFL Network, via Fox Sports Wisconsin. "He can beat you with his feet. He's got a great arm, extremely accurate, handles the cast around him perfectly. I think that's the key sometimes. I think that's what [Tom] Brady has done, regardless of who you put out there, he's good. That, to me, is the mark of a good quarterback."
So, let's break down the only questionable sentence in the quote: "I knew when I left, this guy has all the tools." Translation: Rodgers is good. The only narcissistic point: But I knew it all the way back then.
Really, though, I'm just nitpicking. Favre said something nice about Rodgers, and there doesn't appear to be anything back-handed about it. Which is quite a change.

For more NFL news, rumors and analysis, follow @EyeOnNFL on Twitter, and subscribe to our Pick-6 Podcast and NFL newsletter. You can follow Josh Katzowitz on Twitter here: @joshkatzowitz.