Eli Manning thought Peyton was 'done' after first neck surgery
According to Eli Manning, Peyton couldn't throw a football 15-yards after undergoing his first neck surgery in May 2011.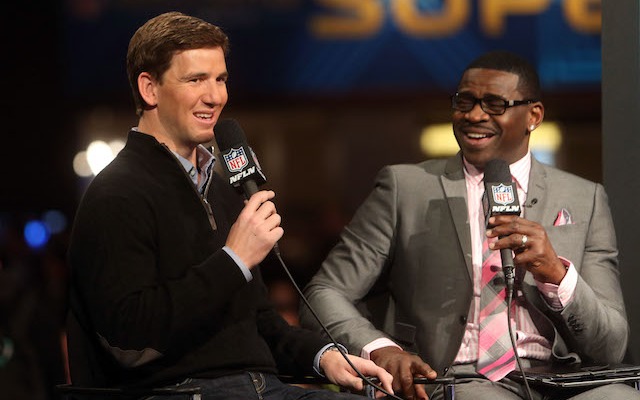 More SB coverage: XLVIII odds | Expert picks | Super Bowl weather | Latest news
NEW YORK -- How close was Peyton Manning to never playing football again after undergoing his first neck surgery in May 2011? So close that Eli Manning thought Peyton's career was 'done.' 
"I saw him after that first surgery, this neck surgery, and I was pretty much convinced that he was done," Eli said on Wednesday, via NFL.com. "There was no way he could come back and play football. That first time he went and we were just throwing it in the backyard of our house. We're throwing 15 yards away, and it was a lob. He couldn't throw 15 yards on a line. It had no pop. I was like, I mean -- he wanted to come back and play football, and I didn't think it would happen."
After Peyton signed with the Broncos in March 2012, , Eli was still nervous about Peyton's ability to play football. 
"I remember watching his preseason game last year and I was worried. I was kind of like, 'I don't know how this is going to work,'" Eli said. "If you gotta make a throw, or someone's in your face, and you can't step into the throw, can you make all those throws that you gotta make a lot of to end games."
Not only has Peyton recovered, but he's arguably gotten better. In 2013, Manning set the NFL single-season record for passing yards and touchdown passes in a season.  
"He's been able to do it, and even this year, he's been stronger, his arm strength's been stronger, and he's been better than ever," Eli said. "So it's been an amazing journey for him and what he's overcome and for me to watch him to go through it, and the dedication to work has been inspiring."
Eli has never talked much about Peyton's neck surgeries or his recovery, but he probably got the OK on Tuesday night. The two brothers ate dinner together at Eli's home in Hoboken, N.J. Just in case you're wondering, they had chicken.   
Breaking down why the underdogs are very dangerous against the Patriots

All of the information you need to know about the 2018 Super Bowl

Here's all the details you need to know on watching Super Bowl LII between the Patriots and...
No one wants to give the Eagles any respect

Here's a look at the NFL's entire postseason schedule for 2018

Here's everything you need to know about Super Bowl LII