Miami Dolphins 2014 offseason preview
With the 2013 season officially in the books the Eye on Football staff is looking ahead to the offseason for all 32 NFL teams. Next up: the Miami Dolphins.
• 8 min read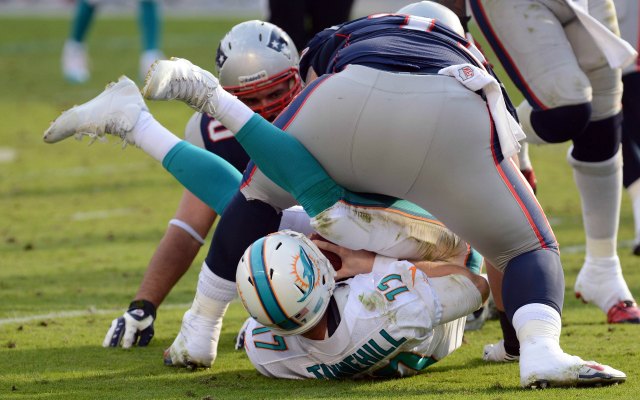 With the 2013 season officially in the books the Eye on Football staff is looking ahead to the offseason for all 32 NFL teams. Next up: the Miami Dolphins.
When you remember the 2013 Miami Dolphins season, what are you going to think about? Ryan Tannehill 's improvement at the quarterback spot? The absurdly expensive offseason free-agent acquisitions that didn't pan out in a way that would have saved Jeff Ireland's job? The team's late-season surge that almost got Miami into the playoffs and the subsequent cracking in the final two games?
No, of course not.
You're going to think about Richie Incognito and Jonathan Martin and the bullying accusations and the Twitter sniping. And well, that just about says it all right there.
Even though the team had good moments in 2013, it's still a franchise in disarray -- remember how long it took for owner Stephen Ross to hire a GM to replace Ireland? For a few moments there, coach Joe Philbin's job seemed to be on the line, especially when Miami dropped to 5-6 after opening the season on a three-game winning streak.
But Miami beat the New York Jets , Pittsburgh Steelers and New England Patriots in three consecutive weeks to put itself at 8-6 with a strong chance to make the playoffs for the first time since 2008 and only the second time since 2001. But the Dolphins lost by a combined score of 39-7 in Weeks 16 and 17 to the Buffalo Bills and the Jets to end the season on the sourest of notes.
What went right
Contrary to what we're all thinking at the moment, especially coming off the Ted Wells report, the team had some good moments this year.
Like, for instance, this game-winning, walk-off safety vs. the Cincinnati Bengals .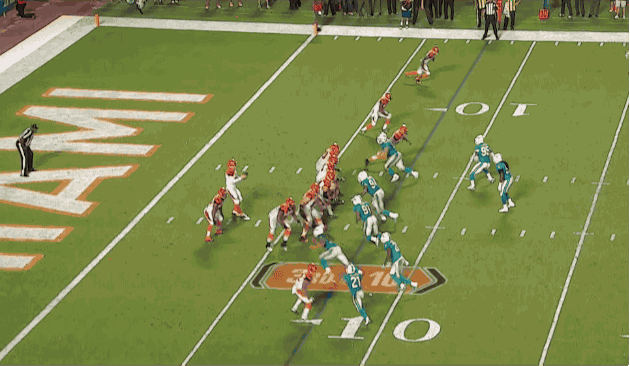 While Ryan Tannehill failed to find a great chemistry with Mike Wallace , the Dolphins quarterback continued to build on his rapport with Brian Hartline . For the second successive season, they connected on more than 70 passes and 1,000 yards, and while Wallace and Tannehill struggled to bond for much of the year, tight end Charles Clay had a breakout season with 69 catches for 759 yards and six touchdowns. Receiver Rishard Matthews also nearly quadrupled the output of his rookie season (41 catches in 2013). So, Tannehill had some weapons.
And in reality, Tannehill was better in 2013 than he was in his rookie season of 2012. His completion percentage was better. He threw for more yards. His touchdown-to-interception ratio was much better. His passer rating was better. And Pro Football Focus ranked him seventh among all quarterbacks this year, as opposed to No. 13 from 2012. If Miami wondered whether it had drafted a legitimate first-round quarterback in 2012, Tannehill confirmed in 2013 that the Dolphins, in fact, had.
Defensively, two of Ireland's offseason splurge items, linebacker Dannell Ellerbe and cornerback Brent Grimes , put up strong statistics. Ellerbe recorded a career-high 101 tackles with two interceptions and five passes defended -- though PFF graded him as one of the worst run-defending inside linebackers in the game -- while Grimes, coming off an Achilles tendon tear in 2012, delivered four interceptions. Grimes was the team's best off-season signing; Ellerbe was a little less spectacular.
What went wrong
We'll get to the Richie Incognito-Jonathan Martin disaster in a second, but there were other problems.
While general manager Jeff Ireland went on an off-season shopping spree that seemed like a last-ditch effort to save his job, his most expensive acquisition was receiver Mike Wallace, who won a five-year, $60 million deal. Then, he put up one catch for 15 yards in Week 1 and complained about his targets after the team's season-opening victory. His final numbers weren't bad (73 catches, 930 yards, five touchdowns), but for that much money, Ireland had to have been hoping for much more.
OK, Incognito had other problems besides Martin. He. for example, continued his feud with Houston Texans defensive end Antonio Smith . But word filtered out in late October that Martin had left the team. That started a cavalcade of stories and posts about who had said what to whom and when and how much of that contributed to an atmosphere of supposed bullying and hazing.
The Ted Wells report was finally released last Friday, and with it, the Dolphins career of Incognito -- and perhaps his NFL career in general -- is probably over. John Jerry and Mike Pouncey also came off looking horrible, along with offensive line coach Jim Turner.
No matter what happened on the field of play for Miami in 2013, there was nothing that was uglier than the Incognito-Martin report.
MVP
Ryan Tannehill was solid in his rookie season, but we wanted to see more of what he could do before we would feel comfortable calling him the team's franchise quarterback. His 2013 season, though, was good enough where we're confident that Tannehill will be the best Dolphins quarterback since Dan Marino. Whether he can get the Super Bowl ring that was so elusive to Marino, we'll have to wait and see.
LVP
Richie Incognito and the other Dolphins protagonists cost his team quite a bit, running off Jonathan Martin and putting the team's locker room in peril. But to cast him as the team's LVP is too judgmental for my tastes (surely, others should bear some of the blame for this mess). That's why we'll go with Dion Jordan , the team's No. 3 overall pick in 2013. Yes, we figured he would be a project heading into the season, but he was never anything more than a situational pass rusher for the Dolphins. As for his chances of starting heading into 2014? Not very good. This is not to say Jordan is a bust -- it's way too early to make that charge -- but it would be nice to see some improvement (and some more playing time) in his second season in the league.
What has happened since the season ended
There was little question that general manager Jeff Ireland had to be fired. Does it necessarily matter when former players are calling you the biggest jerk or when the NFLPA executive director rips you? Not really. But the team Ireland put together didn't win enough games, and he embarrassed the franchise a few years ago when he asked Dez Bryant if his mother had ever been a prostitute.
The power struggle in the front office was disastrous, and eventually, owner Stephen Ross kept executive vice president of football administration Dawn Aponte and Philbin instead of Ireland. But it also took Miami quite a while to find another GM, partially because of the front-office-hierarchy setup. Dennis Hickey, formerly in the Tampa Bay Buccaneers organization, has replaced Philbin as GM.
There was a question mark midway through the season whether head coach Joe Philbin would keep his job, particularly with the locker room catastrophe that he apparently didn't know anything about. He survived, but his offensive coordinator, Mike Sherman, did not. Bill Lazor, formerly the Philadelphia Eagles quarterbacks coach, has replaced Sherman.
Free agents to be
Two of the team's top defensive tackles, Randy Starks and Paul Soliai , are 30 years old and are unrestricted free agents. Starks was ranked the seventh-best defensive tackle in the league by PFF. Meanwhile, the contract of  two of the team's best defensive backs -- Grimes and safety Chris Clemons -- also expire.
The easiest off-season call for the team should be to say goodbye to Incognito. He also is a free agent heading into 2014. But the team could lose tackle Jonathan Martin, even though the Dolphins will still hold rights to him, and tackle Tyson Clabo , who was a disappointing off-season signing and once again is a free agent. It also seems unlikely that Miami would spend much money on tight end Dustin Keller before he enters free agency.
Free-agency gameplan
The Dolphins must improve their offensive line heading into next season. Already, the three former contributors who probably won't be back are Martin, Incognito and Clabo. Considering the Dolphins allowed a league-high 58 sacks -- eight more sacks than anybody else -- there's much work that needs to be done here. In October, Miami traded for Baltimore Ravens tackle Bryant McKinnie  and moved Martin from the left side to the right, but McKinnie was mediocre. A free agent like Kansas City left tackle Branden Albert , who was not pleased when the Kansas City Chiefs selected Eric Fisher with the No. 1 overall pick last season, could find Miami attractive.
Miami probably would like to re-sign Starks, because he is coming off such a good season. But the problem is that the Dolphins slapped a franchise tag on him last season, and it seems unlikely he would give the team any kind of hometown discount. Soliai would likely be a cheaper resource, and he's on record as saying he would like to return to Miami.
The good news for Miami is that it's, at this moment, about $32.5 million under the salary cap for 2014 -- if the team renegotiates with Wallace, there would be even more -- so there will be room for Hickey to begin fixing the Dolphins mess. Miami is hoping this offseason spending spree will turn out better than the last.
Draft gameplan
If you check out the CBSSports.com mock drafters, you'll notice that all four of them predict that Miami will take an offensive tackle. Three believe it will be Notre Dame's Zack Martin, and one thinks it could be Alabama's Cyrus Kouandjio. Either way, it's clear the Miami needs a new left tackle. The last time Miami picked a tackle in the first round in 2008, it was Jake Long , and he served the Dolphins well when he was employed there. One twist, though, is that Dane Brugler believes Martin is an eventual Pro Bowl selection ... at the guard position.
And while the Dolphins aren't going to grab a running back in the first round -- and probably should wait more than a few rounds to do so -- Lamar Miller and Daniel Thomas didn't play particularly well last season. Both are young, but as we've seen in the past several years, a running back doesn't need to be drafted until late -- or can be not drafted at all -- and still find plenty of success.
Ridiculously premature prediction for 2014
The AFC East should be even more competitive next season. The Patriots showed signs of weakness, and if Tom Brady has another mediocre year (by his standards), you have to wonder how New England will compensate for that. But the way the Patriots looked last year, they are beatable -- and Miami beat them in Week 15 -- and no sure bet to win the AFC East title again. Could Miami sneak in there and compete for the conference title? If the Dolphins can fix their offensive line, they'd have a chance to do so.
Predicted record: 9-7
The top pick in the 2018 draft will come from Oklahoma State but it's not QB Mason Rudolph

Nick Kostos won big on Monday nights last season and gives his best 3-team NFL parlay for Week...

While the offense in Pittsburgh tries to gain traction, the defense has looked great
Lacy, currently the odd back out in Seattle, wonders what trolls get out of fat shaming him...

The NFL commissioner also met with local police and politicians to discuss social issues this...

Brady's 28th career AFC Offensive Player of the Week award breaks a tie with The Sheriff for...