Report: Buccaneers dealing with MRSA outbreak
According to reports, Tampa Bay's Carl Nicks and Lawrence Tynes are dealing with MRSA infections.
• 1 min read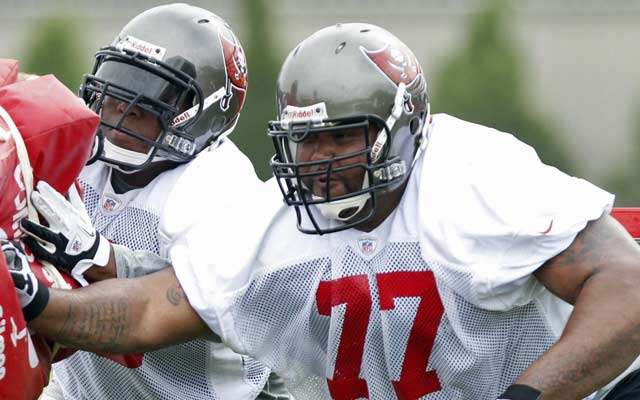 The Buccaneers have been dealing with a MRSA outbreak, and  ESPN writes that guard Carl Nicks and kicker Lawrence Tynes are fighting infections.
Fox Sports' Alex Marvez writes that the outbreak was discovered last week during the team's scrimmages with the Patriots. The Buccaneers players and coaches were informed about the outbreak in a team meeting Monday. It's not known how the players contracted the MRSA.
Marvez writes that the team sanitized the facility last weekend and will do it again this weekend while the team plays in Miami. The team also gave its players special soap to use. The Buccaneers "hope [the] outbreak is contained before spreading," Marvez wrote.
According to the Mayo Clinic, MRSA (Methicillin-resistant Staphylococcus aureus) "is caused by a strain of staph bacteria that's become resistant to the antibiotics commonly used to treat ordinary staph infections."
The antibiotics-resistance is what makes MRSA such a scary infection, and it actually can be life-threatening.
The Browns were hit by staph infections numerous times last decade (including tight end Kellen Winslow) and the Rams watched as five players were infected with MRSA in 2003.
"I'm concerned, and wondering why it's happening. It's not some little infection that goes away in a few days, it's pretty serious," said Bears running back Matt Forte in 2008.
Tynes is in a battle for the place-kicking job, but he hasn't played in the team's first two preseason games because of a toe injury. Nicks, penciled in as the team's starting left guard, also been dealing with a toe injury.
An ESPN report said Nicks could miss a month because of the infection, and earlier Thursday, the Buccaneers tweeted this.


The Bucs need to give Carl Nicks 5-7 days to let the medicine for his foot infection work before re-evaluating how much time he will miss.

— Tampa Bay Buccaneers (@TBBuccaneers) August 22, 2013

Follow Josh Katzowitz on Google+
There is suddenly a wide open NFC playoff race and the MVP battle could get interesting to...

Pittsburgh is headed to its fourth consecutive postseason appearance

The NFC is going to be a blast to watch down the stretch
Here are the Week 14 grades for every team that played Sunday

Someone apparently threw a drink at Jefferson as he left the field and he was not happy about...

All of the best highlights from Week 14 are right here