Goal scoring declines in the NHL again
Goal scoring across the NHL declined for a fourth straight season.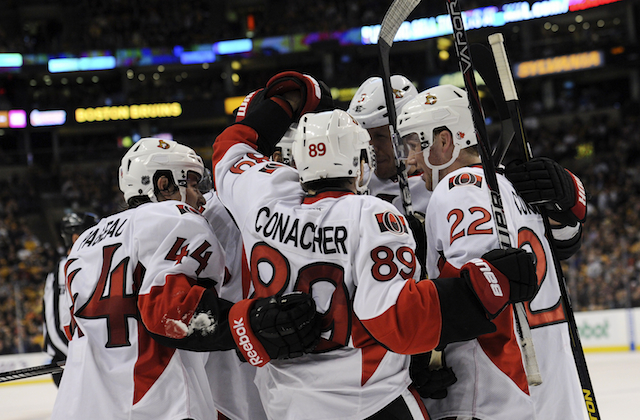 More NHL Playoffs: Scores | TV Schedule | Expert Picks | Odds | Mock Draft | Rumors
For the fourth straight year, the NHL saw a decline in goal scoring in 2013 with an average of 5.44 goals per game.
The league hasn't quite dropped down to the level that it was in the late 1990s and early 2000s, a period in league history that is infamously referred to as "the dead puck era." But it's something that keeps going down, even if only slightly, and the 2013 season is still one of the lowest scoring campaigns in history.
Why the continued drop? There are a couple of reasons and possibilities. For one, goaltending seems to be better across the league than it maybe has ever been. The decline also coincides with a decrease in the number of power-play opportunities that teams are getting -- as the chart below illustrates.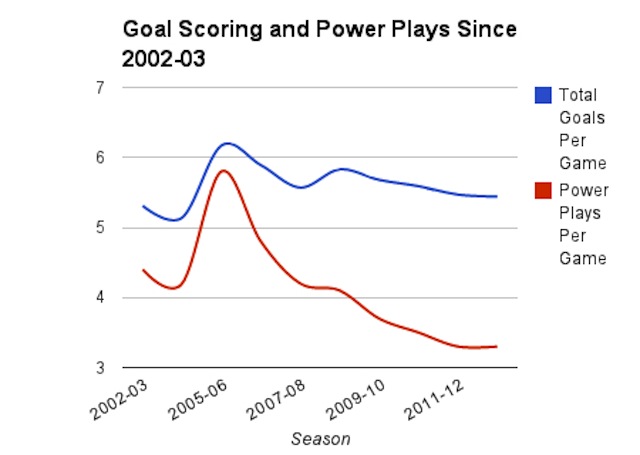 A couple of thoughts and observations:
•  Of the five teams that played in the highest scoring games this season (goals for plus goals against), four missed the playoffs (Tampa Bay, Carolina, Calgary and Florida). The Penguins, whose games featured an average of 5.92 goals per game, were the only team in the top five to make the playoffs. Tampa Bay, Carolina and Calgary all played games with an average of six goals or more. The average Lightning game saw 6.21, by far the highest in the league. That's what happens when you combine Steven Stamkos and Martin St. Louis with lousy goaltending and defense.
•  Detroit, Columbus and Ottawa all played games that averaged fewer than five goals per game.
•  When you account for league-wide scoring and how far it has dropped, it makes the seasons from guys like Stamkos, Sidney Crosby and Alex Ovechkin look even more impressive. Crosby's point-per-game average of 1.56 in 2013 was the fourth highest in the NHL since 2000, and he did it in what was one of the worst offensive seasons in NHL history. The same is true for Ovechkin and his 56-goal pace this season and for the numbers that Stamkos has put up the past two seasons.
After missing the Stanley Cup playoffs with a herniated disk, Letang is working on his foo...

The 38-year-old defenseman had been on the free agent market since July 1

New York fans aren't too happy about it, either
The league is not backing down, but players aren't hiding their frustrations, either

Draisaitl remains unsigned as Edmonton's premier restricted free agent

Yes, it is as perplexing as it sounds