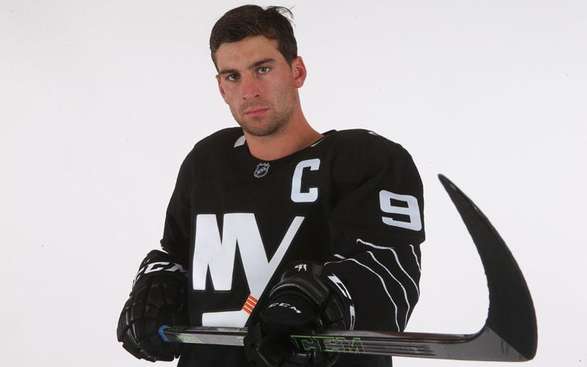 The New York Islanders' move to Brooklyn for the 2015-16 season means that there is going to be somewhat of a new look as well as a new home. And on Wednesday the team unveiled their newest third jersey and yes, they are sticking with the black color scheme that was a part of their most recent alternate jersey that nobody seemed to like. 
Pictured above is team captain John Tavares modeling the new look. And below is the full uniform, via the Islanders.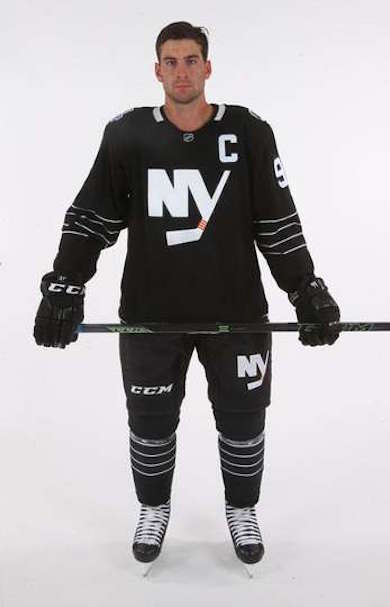 You know what? That's probably not going to be very popular, but it's still probably better than their most recent third jersey that first introduced black to the team's color scheme because that thing was just terrible. 
The Islanders will wear the new uniforms 12 times this season and will debut them on Nov. 3 against the New Jersey Devils.
"It was extremely important to ensure that our passionate fan base could still see the traditions of the New York Islanders represented in this third jersey," Islanders General Manager Garth Snow said in a team statement. "We feel we've created a jersey our players will be proud to wear that has unique features which will also connect with Brooklyn residents."
And more, from Barclays Center CEO Brett Yormark
"While being respectful of the tradition of the Islanders' current uniforms, we are thrilled to have been able to collaboratively find a balance that embraces Brooklyn with the new third jersey. The colors of black and white infuse the spirit of Brooklyn into the borough's new home team, while the four stripes seen throughout the uniform pay homage to the Islanders famed Stanley Cup dynasty."
The four strips exists on both sleeves, inside the "B" logo that will appear on both sides of the jersey, inside the front logo on the jersey, as well as on the socks.
The jerseys will also have a patch on the right shoulder that honors coach Al Arbour who passed away earlier this summer at the age of 82. Arbour was the greatest coach in Islanders history and behind the bench for their four Stanley Cup wins in the early 1980s. The patch honoring Arbour will also appear on the team's regular home and away jerseys.