NHL lockout: The fight over contract term limits
One of the biggest fights still remaining in the NHL lockout is, perhaps somewhat surprisingly, the NHL's insistence on contract term limits. The NHLPA wants no part of that.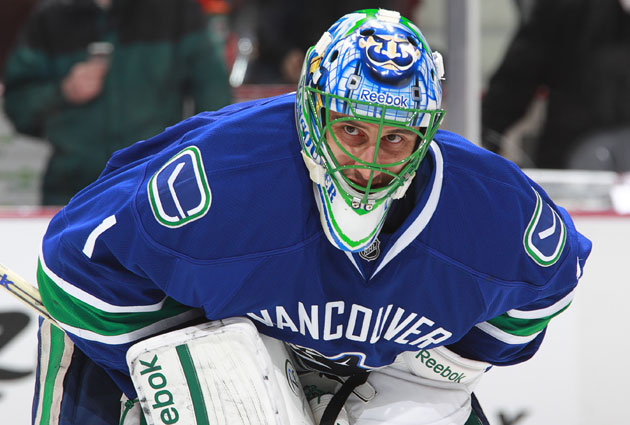 The NHL wants term limits on contracts to eliminate front-loaded deals like the one signed by Roberto Luongo. (Getty Images)
When the NHL's labor talks went off the rails on Thursday evening, one of the biggest issues was the owners' proposed term limits on player contracts and the NHLPA's refusal to accept them.

The league feels it's something it must have in a new CBA and proposed a five-year limit on contracts. That limit would increase to seven years if it's a player already on a team's roster.
(In other words, a team wouldn't be able to sign a free agent to any contract longer than five years, but they could re-sign their own guy for seven years).

The league feels so strongly about this part of its latest offer that deputy commissioner Bill Daly referred to it as "the hill we'll die on" during Thursday night's collection of hyperbolic and outrageous press conferences. That could also be seen as a rather ominous statement given the perceived player opposition to the proposed limits.

When asked why it's so important to the owners, Daly simply said it was their prerogative.

"That was what the owners determined they wanted in return for walking away from the other player contracting issues, all of which they continued to think was important," said Daly.

Is this really so important to both sides that it would put the 2012-13 season in jeopardy? It doesn't seem like it should be, especially since both sides appear to be so close -- or were close -- when it comes to the financials. Still, both sides of the aisle have compelling arguments for why there should or shouldn't be a cap on contract term length.

The league has made it known from the very beginning of the lockout, and even before the previous CBA expired Sept. 15, that it wanted to put a stop to the long-term, front-loaded contracts that were structured to lower the cap hit for star players and essentially circumvent the league's salary cap. These types of deals have become more common in recent years. The best examples are the ones that belong to New Jersey's Ilya Kovalchuk (the one that resulted in the Devils getting hammered by the league with severe sanctions, including a major fine and the loss of draft picks), Vancouver's Roberto Luongo and Chicago's Marian Hossa.

And there are, of course, many others.
You could get a sense that general managers and teams knew this was coming given the number of players who were signed to long-term contracts in the months before the CBA expired. That continued right up until the final hour, when the Winnipeg Jets gave Evander Kane a six-year contract worth more than $30 million.

Along with putting a limit on the length of the contracts, the league is also trying to make it so there could only be a maximum 5 percent year-to-year variance in terms of salary. It would be impossible for a team to front-load a contract and tack on a few meaningless years at the end to lower the cap hit.
To use Kovalchuk's 15-year, $100 million contract with the Devils as an example of how teams were able to circumvent the cap under the previous agreement, $88 million of Kovalchuk's contract comes in the first 10 years. The final five years, when Kovalchuk will be in his late 30s or early 40s -- or perhaps even out of the league altogether -- are worth just $12 million. His yearly cap hit for the duration of the contract is $6.6 million, which is pretty reasonable for a player with his talent level and production, even though he's scheduled to make more than $10 million per season in terms of actual salary over the next six years.
This is the type of contract the league is looking to stop.

The number of long-term contracts has risen dramatically in recent years as commissioner Gary Bettman pointed out on Thursday. Bettman mentioned that in 2004 there was only one contract in the league longer than six years.
Right now there are close to 90.

"The trend has gone completely in the wrong way, and that has a whole host of consequences to the game and to the operation of our clubs," said Bettman.

For the owners, it's about putting a stop to the cap circumvention and the extra long-term contracts that could cripple some franchises and be a drain on their value and overall bottom line if (and/or when) they don't work out. Also, it only takes one team to ruin it for everybody else by making an outrageous offer in free agency that every other team has to chase after and try to match.

The counter argument to that begs the question: Why should the players have to be responsible for protecting the owners from themselves? After all, nobody is twisting their arms and making the owners sign off on such deals. If New York Islanders owner Charles Wang thinks it's a good idea to give Rick DiPietro to a 15-year contract (and it most certainly wasn't), more power to him (and good for DiPietro!).
If Mario Lemieux and Ron Burkle want to sign Sidney Crosby to a 10-year contract coming off two concussion-shortened seasons because they want to keep their franchise player -- and most marketable player -- in Pittsburgh for the rest of his career, they should be allowed to take that risk and make that investment.
Some teams can afford to take on that risk. If they can (and want to), why shouldn't they be allowed to do it?

But there is also a counter argument to that point: Why is the NHLPA so dead set against something that currently impacts fewer than 100 players across the league? Think about it: At any given time, there are 690 active players in the NHL (30 teams with 23 active roster spots per team). When you add players who are injured or players in the American Hockey League on two-way contracts, you're probably talking about roughly 7-8 percent (or perhaps fewer) of the players on such a deal.

Most players who make the NHL will never see a contract that approaches six -- or even four or five -- years in length. So why is the NHLPA willing to fight tooth and nail for something that impacts such a small portion of its workforce?

Well, the players see it as taking money away from the "middle class" of players.
If a star player (Kovalchuk, Luongo, Hossa, etc.) is limited to a five-year contract, it could increase his salary-cap hit on the roster that would then leave less cap space for the NHL's second- and third-tier players (a group that represents the majority of the league). It's a point that Los Angeles Kings forward Kevin Westgarth recently made to James Mirtle of the Globe and Mail:
As a fringe player, Westgarth added that he realizes some of what players are fighting for will never affect him directly, but he also argued that the trickle-down effect of eliminating creative contracts for stars would mean less cap space for the remaining players.

He also believes those contract rights are worth fighting for after other players lost a season in 2004-05 to get them.

"I will stand up for what I think is right for all the guys on my team," he said. "The reason those contracts exist is because, in a cap system, that's how you make room for paying other players. If we gave up the rights that the league wants, I believe it would annihilate the middle class of the NHL."
In response to that, Tyler Dellow at Mc79hockey did some analysis in a post titled, "How Zach Parise signing for 13 years is good for Kyle Brodziak."
If Parise would demand $60MM over five years instead of $53MM and there are 20 guys or 30 guys in the NHL in similar positions, you can at least understand the PA's concern about a realignment of dollars and the emergence of an NBA style salary structure where a greater share of the dollars are directed to the better players. If it's 30 players, at an average of $1.4MM per year (just based on my Parise number), you're talking about $42MM a year that moves to the highest paid players in the NHL from the rest of the league. If that's a conservative estimate and the Parises of the world are actually being grossly overpaid after year five relative to what an actuary would come up with, it could be considerably higher. I've got a hard time seeing it being significantly lower.
This is the fight as it stands.
It has shifted for the most part from hockey-related revenue to contracts and term limits (not to mention a disagreement on how long the actual CBA itself should be -- the league wants 10 years; the players want a shorter one).
This shouldn't be a dealbreaker or stop the two sides from being able to complete an agreement. San Jose Sharks defenseman Dan Boyle recently told David Pollack of the San Jose Mercury News that he doesn't see it preventing an agreement and added, "I don't recall somebody saying no. They [the owners] are saying five or six years, right? Maybe we're not OK with five, but maybe there is a number we can live with. Maybe it's seven. I don't know."
Right now, nobody seems to.
Either way, it does seem to be one of the last remaining hurdles for a deal. And it's probably not the one that most people saw being a major issue when all of this started.
For more hockey news, rumors and analysis, follow @EyeOnHockey and @agretz on Twitter and like us on Facebook.
Vladislav Yeryomenko was the Teddy Bear Toss goal scorer for the Calgary Hitmen

The Golden Knights are finally getting their No. 1 goalie back after a 25-game absence

Washington has won four straight, and the Kings are also on a tear right behind the Lightn...
The NHL says it's only interested in expanding to Seattle, but here's a look at all the moving...

The NHL says it is only looking toward Seattle for the next expansion team

The 33-year-old defenseman hopes to help find a cure for serious head injuries in athletes