Instead of helping Davone Bess, the Dolphins failed him
Davone Bess had obvious off-field problems in spring of 2013 when Dolphins sent him packing to an unsuspecting Browns team.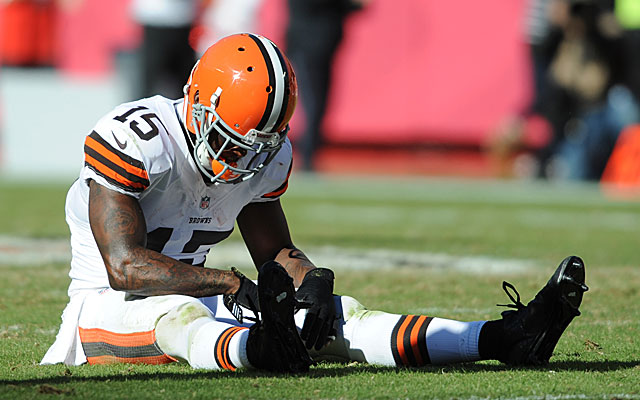 One month after Dolphins receiver Davone Bess was committed to a treatment facility for psychological and mental health issues, the Dolphins traded him to the Cleveland Browns. Bess has been self-destructing in recent days, but that 10-month-old information from March 2013 is new and disturbing and has triggered a pointless debate:
Did the Dolphins owe it to the Browns to reveal Bess' issues before trading him?
That's what people are arguing, and it misses the bigger point. Because that argument, that debate, implies that Davone Bess is a chess piece to be moved about the board. One team moved him here. Another team acquired him there. Did the first team do right by the second team by keeping his personal issues quiet?
Forget that question, and ask yourself this:
Did the Dolphins do right by Davone Bess?
Consider, if you have not, what the Dolphins are reportedly guilty of: shipping a profoundly disturbed man to another city, where he has money and free time but no roots, no safety net. And they shipped that profoundly disturbed man to that city reportedly without telling his new team that what the Browns had acquired wasn't merely a receiver who had averaged 64 catches from 2008-12. The Browns had acquired a ticking time bomb.
And didn't know it.
But again, this isn't about the Browns. Did the Browns get screwed by the Dolphins? Of course they did, and not in a way that should ever happen. What Miami did to Cleveland was unethical, dishonest, unprofessional, unfair.
But Cleveland was treated great, compared to how Davone Bess was treated.
The guy has problems.
This isn't one of those cases where the meatheads among us can grumble that Bess is an adult and should be able to take care of himself. Because, see, he's not merely an adult. He's an adult with psychological issues. And those people are helpless.
Davone Bess, professional athlete. Three-year, $11.5 million contract.
Helpless.
This isn't an either/or scenario. You can be everything in column (A) -- rich, famous -- and still be in column (B): helpless. And Bess was helpless. Hell, he still is. In the last week he has devolved in a scary way, triggering an investigation by the Browns last Thursday by posting pictures on Twitter of marijuana, and one day later being arrested on charges of assaulting an officer at Fort Lauderdale/Hollywood (Fla.) International Airport. Bess reportedly was walking through the airport concourse singing and dancing with his pants falling down, then smashed a cup of coffee on an officer who asked him to stop. After that? After that, Bess removed his shirt and crouched into a fighting stance.
That was Friday. On Saturday, Bess tweeted a photo of himself standing in front of a mirror, completely naked.
This isn't fodder for snark, because this man is not well. The Browns apparently started to figure it out in mid-December when they put him on the non-football illness list for the final two games of the season, the worst of his career (42 catches), when he led the NFL in drops with 14.
Bess is not well, hasn't been all year, and the Dolphins knew.
And didn't tell Cleveland. Which means Bess -- who grew up in Oakland, played collegiately at Hawaii and spent his NFL career in Miami -- went to that new city without a chance. He had been committed by his family, against his will, in March 2013 after police were called to his house and found Bess ranting about guns and marijuana and shouting, "I want to get in the end zone; throw me the football!"
Davone Bess needed help.
The Dolphins traded him to Cleveland.
That's astounding negligence, and while the Dolphins have since parted ways with the snake who was running their football operations, don't be fooled. This place isn't cleaned up simply because the Dolphins are free of general manager Jeff Ireland, the same guy who asked Dez Bryant before the 2010 draft if his mother was a prostitute; the same guy whose response to the news that 300-pound Richie Incognito was bullying 300-pound Jonathan Martin was to tell one starting offensive lineman to punch the other one. Ireland, presumably, is the one who traded Bess to the Browns without making sure the Browns knew Davone Bess was going to need help in his new city.
But don't be lazy and assume Ireland is the only one in the Dolphins organization who knew about Bess' March hospitalization. Bess caught 321 passes from 2008-12, and was the Dolphins' punt returner in that time. He wasn't just an asset, but a valuable part of the team. So when he was committed in March, don't think for a second that coach Joe Philbin and owner Stephen Ross didn't know. Of course they knew. Ireland didn't just trade the team's leading receiver since 2008 without telling them why.
All of which makes Ross' mealy-mouthed talk about wanting to replace Jeff Ireland with someone of "integrity" so ludicrous. Integrity starts at the top, with the man who hired Ireland, kept him after the Dez Bryant fiasco, even kept him after Richie Incognito -- whom Ireland acquired -- tore his locker room asunder while the GM was telling Jonathan Martin he would help things by punching Incognito in the mouth.
Ireland is out of work, but Stephen Ross still owns the Dolphins. Joe Philbin still coaches them.
Davone Bess? He faces charges of assaulting a law enforcement officer, which means he faces jail time. Not the place to address his personal issues. That place was Miami in March 2013, but only if the Dolphins were a franchise run by decent people. They weren't.
And still aren't.
Rowdy took to Twitter after winning Friday night's NASCAR Xfinity Series race

Rowdy will go for the sweep Saturday night after winning both the Xfinity and Truck races.

Truex's Furniture Row Racing teammate Erik Jones will lead to field to green on Saturday n...
Rowdy swept all three stages en route to his eighth NASCAR National Series victory of the...

NASCAR drivers had some fun with Kenny Wallace after he posted a 'crazy story' to his Twitter...

Martin Truex Jr. could clinch the NASCAR Cup Series regular-season title Saturday night