Are you a 'Big Hall' or 'Small Hall' fan?
Are you a "Big Hall" or "Small Hall" person when it comes to judging who you believe should be enshrined in the Baseball Hall of Fame in Cooperstown, New York?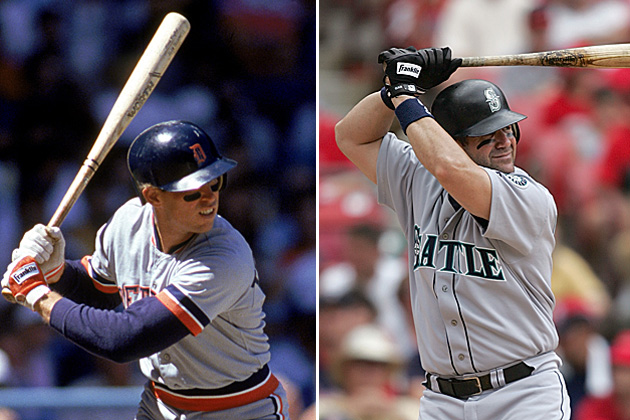 'Small Hall' people definitely don't want Trammell and Martinez to get in. (Getty Images)
Are you a "Big Hall" or "Small Hall" person when it comes to judging who you believe should be enshrined in the Baseball Hall of Fame in Cooperstown?
Among all the other stuff we sort through in the weeks (months?) leading up to the revealing of the 2013 BBWAA Hall of Fame class -- including the PED mess that is now upon us full steam -- that's a question that often gets left behind. But it's also an important one, because sometimes when people are arguing about whether someone like Larry Walker should be in the Hall of Fame, the difference of opinion isn't really about the player. It's about the mindset of each individual.
A "Big Hall" person is someone who thinks more is better -- though not excessively more. They don't necessarily want all good players in, as everyone has standards. But they might look at this season's Hall-of-Fame ballot and see names like Don Mattingly, Kenny Lofton and Dale Murphy and strongly consider those players. Guys like Walker, Edgar Martinez and Alan Trammell would be easy "yes" answers for Big Hall people, just as the likes of Tim Raines and Curt Schilling would be.
On the other hand, "Small Hall" people want only the absolute elite. Baseball immortals. You should be able to name them off the top of your head: Babe Ruth, Willie Mays, Mickey Mantle, Hank Aaron, Ted Williams, Joe DiMaggio, Roberto Clemente, Lou Gehrig, etc. You don't go to the Hall of Fame to see Joe Cronin, Andre Dawson, Tony Perez, Rube Marquard and Bobby Doerr. You go to see Jackie Robinson, Honus Wagner, Ty Cobb, Walter Johnson and Cy Young, the Small Hall folk might say.
This is generally where the conversation morphs to that cliche, "The Hall of the Very Good," but it's really to each his own here because "Fame" isn't the same medium as "very good." For Big Hall guys, some very good players that weren't technically elite could qualify. After all, the Hall of Fame is a museum and I don't think any legitimate baseball fan actually thinks that Tommy McCarthy was as good as Stan Musial just because both are in the Hall of Fame. C'mon, we're all smarter than that.
It's just a matter of opinion. For me, I'm more of a Big Hall guy. In a few years, when my son is older, I'd love to be able to take him to Cooperstown and have the option of discussing many of the best players to ever play baseball, not just the 25 or even 75 best. I'm not saying all good players should be Hall-of-Famers, but with over 20,000 big-leaguers in history, having 500 players in the Hall would still amount to less than 2.5 percent of the best all-time players. To me, that's not necessarily too watered down. I think it's a healthy glance at baseball history to see some of the better players from all generations and discuss their differences in merit, even if to say that an individual Hall-of-Famer actually does not belong in Cooperstown -- which I did Wednesday with a handful of players.
On this year's ballot, for example, I'm very pro Martinez, Trammell and Walker, but I fall just short on Lofton, Murphy and Mattingly.
For those who disagree with the Big Hall stance and want a truly elite group in the Hall, that's fine with me. I would say it's not called the Hall of the Elite, but we can respectfully disagree on the purpose of the museum.
There's also the "pyramid" idea floating around the Internet, which is that there could be different levels of Hall-of-Famers and the top level is where you'd find Ruth, Aaron, Mays et al, but the lowest levels would house the likes of Bruce Sutter, Lloyd Waner and High Pockets Kelly. There's no logistical way a pyramid would be possible -- and, man, I can't imagine the headaches of going through balloting to decide where each new inductee would be placed -- but I have nothing against finding ways to differentiate between the truly immortal players and ones who were merely great players for a long time.
As with the entire debate, it's a subjective matter and each person has his own opinion. From where I sit, there's no wrong answer and I respect all comers who make a salient point in respectful fashion.
So, what say you? Are you a Big Hall or Small Hall person? Let us know below ...
For more baseball news, rumors and analysis, follow @EyeOnBaseball on Twitter, subscribe to the RSS feed and "like" us on Facebook.