When the NFL announced in March that it was going to tweak the rules for what constitutes a catch, the league didn't say exactly what that tweak was going to be. 
Under the old rule, a player had to make a "football move" before the refs would rule that something close to a catch was actually a catch and not an incomplete pass. 
Under the new rule, all a player has to do is "clearly establish himself as a runner."
Got it?
It's OK if you don't have it because former NFL VP of officiating Mike Pereira took some time on Twitter this week to explain the newly written rule.
From Pereira's Twitter:
A player is considered to be going to the ground if he does not remain upright long enough to demonstrate that he is clearly a runner. If a player goes to the ground in the act of catching a pass (with or without contact by an opponent), he must maintain control of the ball until after his initial contact with the ground, whether in the field of play or the end zone. If he loses control of the ball, and the ball touches the ground before he regain control, the pass is incomplete. If he regains control prior to the ball touching the ground, the pass is complete.
The interesting part here is that Dez Bryant's no-catch, the thing that sparked the rule change, would still be a no-catch under the new rule.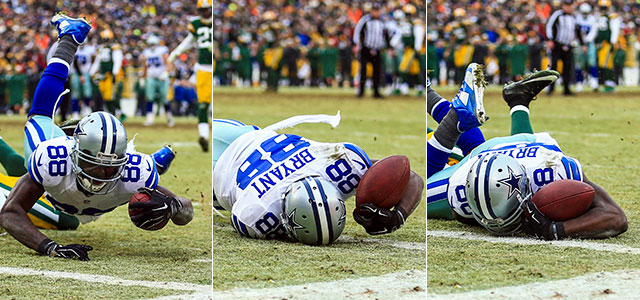 Sorry, Cowboys fans, that 26-21 loss to the Packers still stands. 
Dez Bryant play..rule rewritten. New word like "initial" contact with ground. Football move is gone. Bottom line its clearly incomplete

— Mike Pereira (@MikePereira) July 23, 2015
So what exactly changed? Here's a look at the rule as it was written for the 2014 season. 
A player who makes a catch may advance the ball. A forward pass is complete (by the offense) or intercepted (by the defense) if a player, who is inbounds: a) secures control of the ball in his hands or arms prior to the ball touching the ground; and b) touches the ground inbounds with both feet or with any part of his body other than his hands; and c) maintains control of the ball long enough, after (a) and (b) have been fulfilled, to enable him to perform any act common to the game (i.e., maintaining control long enough to pitch it, pass it, advance with it, or avoid or ward off an opponent, etc.). 
Just so we're all on the same page, let's watch Dez's catch that wasn't really a catch one more time.