Panthers Observations: Can DBs take necessary step forward?
The Carolina Panthers struggled against the pass in 2012. With potentially three new starters in the secondary, things could be changing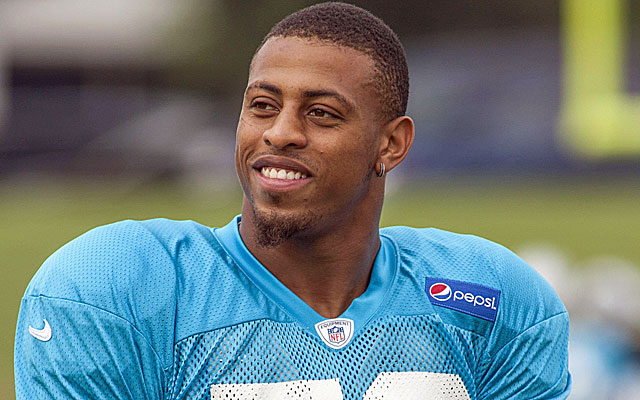 SPARTANBURG, S.C. -- The Carolina Panthers should have a heck of a pass rush with ends Charles Johnson and Greg Hardy.
They'll need it, because the back end of their defense is a major question.
"We think we're going to have a good combination of guys," Panthers coach Ron Rivera said. "Plus, our pass rush got better."
As of right now, the starting corners are veteran Drayton Florence, signed as a free agent, and second-year player Josh Norman. Captain Munnerlyn, who started last season, is also pushing for time and could be the nickel corner.
The safeties are Mike Mitchell, signed away from Oakland, and Charles Godfrey, who is now the free safety.
The Panthers need big improvement from Norman. The previous regime thought he could develop into a top-level corner and he did start 12 games as a rookie. He looks the part now.
Mitchell, a second-round pick for Oakland, has the physical tools, and he comes with an attitude. So this could be his chance to show what he can do after a slow start to his career.
Teams completed 66.8 percent of their passes against Carolina last season, the highest percentage against any defense in the league.
With the addition of first-round pick Star Lotulelei at defensive tackle, the Panthers have the making of a talented front. If the back end can take a little step forward, which is almost a must in a division with Drew Brees and Matt Ryan, the Panthers should improve defensively.
More observations
• In a bid to get quicker, Hardy has dropped his weight from 300 to 275, although he was down to 273 after practice Monday. He said he lost the weight because he wants to feel more explosive off the edge. Hardy had 11 sacks last year to finish second on the team to Johnson, who had 12 1/2. "I got up to 310 and played last year at 298," Hardy said. "I took out of my weightlifting regime and replaced it with running. I ran six miles a day." Hardy is also a good run defender at end, and said that won't change with the drop in weight. In a contract year, he is doing all the right things.
• One of the impressive players in camp has been converted college quarterback Armanti Edwards. After a slow start to his NFL receiving career, Edwards looks much better. Now in his fourth season, he is running crisper routes and appears more comfortable outside, although he did drop a deep pass it the work I watched. "If he's really [ready to] become the guy I think he can be, the big question will be catching the ball in traffic," Rivera said. "And taking the big shots after he catches it. Out here, he's not getting the big shots." Veteran Steve Smith is the No. 1 receiver with Brandon LaFell locked in as the second guy. Domenik Hixon, who the Panthers signed as a free agent from the Giants, has missed time with what the team has called cramps. But five days?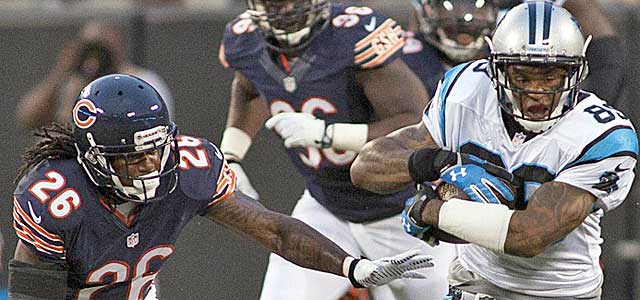 • If you think Smith is slowing down, forget it. He made a great over-the-shoulder catch on a deep ball in the practice I watched. He can still get down the field.
• The Panthers will have a new left guard with Garry Williams, who has started 20 games, taking over for Geoff Hangartner, who was released. Williams and Byron Bell give the Panthers a big, powerful right side to run behind. Bell has shown a nasty streak at practice, getting into a couple of scuffles.
• Veteran linebacker Jon Beason has been held out of camp as he tries to come back from micro-fracture surgery on his knee. In his absence, the Panthers have used veteran Chase Blackburn, signed as a free agent, on their No. 1 defense. Thomas Davis, who is also penciled in to start at linebacker, has also been limited after thee major knee surgeries. Luke Kuechly is the starter in the middle, and is coming off an impressive rookie season.
• DeAngelo Williams is the Panthers starting running back, but Jonathan Stewart isn't practicing after having surgery on both ankles. That should open a chance for rookie Kenjon Barner to get some time. But he has danced too much so far in camp and the coaches want him to hit the holes harder. He has big-play speed, but there are questions whether he can run inside the tackles.
• One of the keys for the Panthers is getting off to a fast start. They have opened 1-5 and 1-6 the past two seasons. 
There, I said it:
• Cam Newton will throw for 4,600 yards and 33 touchdown passes.
• The read-option will be limited.
• Hardy will get 15 sacks and cash in after the season.
• The Panthers will push for a .500 record.
Doug Pederson headlines a staff that hasn't received as much love as it deserves in 2017

Philadelphia will try to prevent New England from winning back-to-back Super Bowls

Bettors are favoring the Eagles to keep Super Bowl LII close, but the Patriots remain clear...
No one wants to give the Eagles any respect

Could the singer stage an *NSYNC reunion in Minnesota?

The three-time Grammy winner will sing before Super Bowl LII on Feb. 4