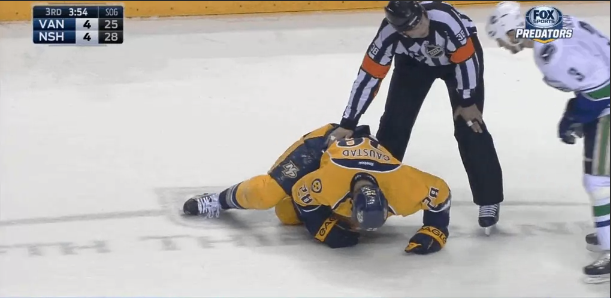 Two Vancouver Canucks players were ejected from their 5-4 shootout win in Nashville on Tuesday night following an incident involving Predators forward Paul Gaustad. 
With just a little less than four minutes to play in what was at the time a tie game, Burrows hit Gaustad away from the play, injuring him and knocking him out of the game. Burrows was given a five-minute major and a game misconduct for interference as a result of the hit.
But he wasn't the only player from the Canucks to be thrown out of the game on that play. 
His teammate, Kevin Bieksa, was also ejected after he skated by Gaustad as he remained on the ice and clearly said something to him right in front of the referee. The referee immediately signaled to Bieksa that he, too, was going to be ejected.
Here is the hit, as well as the moment when Bieksa said something to Gaustad.
The hit was definitely interference as the puck was nowhere near the two players at the time.
Whether or not there was any head contact -- or anything else, really -- doesn't matter when it comes to the penalty as the referee has the power to issue a five-minute major when an interference play results in an injury. If the referee decides that a major penalty is warranted, a game misconduct on that play becomes automatic. It's not a very common call, but it does happen.
Gaustad did not return to the game and the Predators had no postgame update on his status. 
As for Bieksa, his ejection wasn't the first controversial play of the night. In the first period he was given a two-minute minor penalty for an illegal check to the head of Predators forward Viktor Stalberg on this play, via Sportsnet.
Stalberg was initially shaken up as a result of the play, but was able to eventually return to the game.