By just about any objective measure, Dodgers ace Clayton Kershaw is the best pitcher in the world. He's won three of the last five NL Cy Young awards -- an argument can be made Kershaw deserved all five -- and he has a 2.10 ERA (173 ERA+) with 35.7 WAR in 1,135 innings since 2011. At least one current Hall of Famer thinks Kershaw is Cooperstown-bound:
For sure one day Clayton will join me in Cooperstown

— Pedro Martinez (@45PedroMartinez) April 5, 2016
The Dodgers handed the Padres the worst Opening Day shutout loss in baseball history Monday night (LA 15, SD 0), so chances are Kershaw's latest masterpiece will be overlooked. He held the Padres to one hit and one walk in seven shutout innings, striking out nine. Only six of the 23 batters he faced hit the ball out of the infield. Total dominance.
During his Opening Day start, Kershaw did something he has very rarely done in the past: he threw a changeup. Two, in fact, he confirmed to MLB.com's Ken Gurnick. The PitchFX algorithm actually classified six of his 96 pitches as changeups, but it's not uncommon for the system to misclassify changeups as two-seam fastballs or sinkers based on the movement.
Most starting pitchers need a changeup to combat batters of the opposite hand, but Kershaw is not most pitchers. He has thrived as a three-pitch pitcher (fastball, curveball, slider) over the years because of his command and the sheer quality of his stuff. His pitch usage chart looks very much like a guy who has made the transition from "thrower" to "pitcher" over the years. From Brooks Baseball: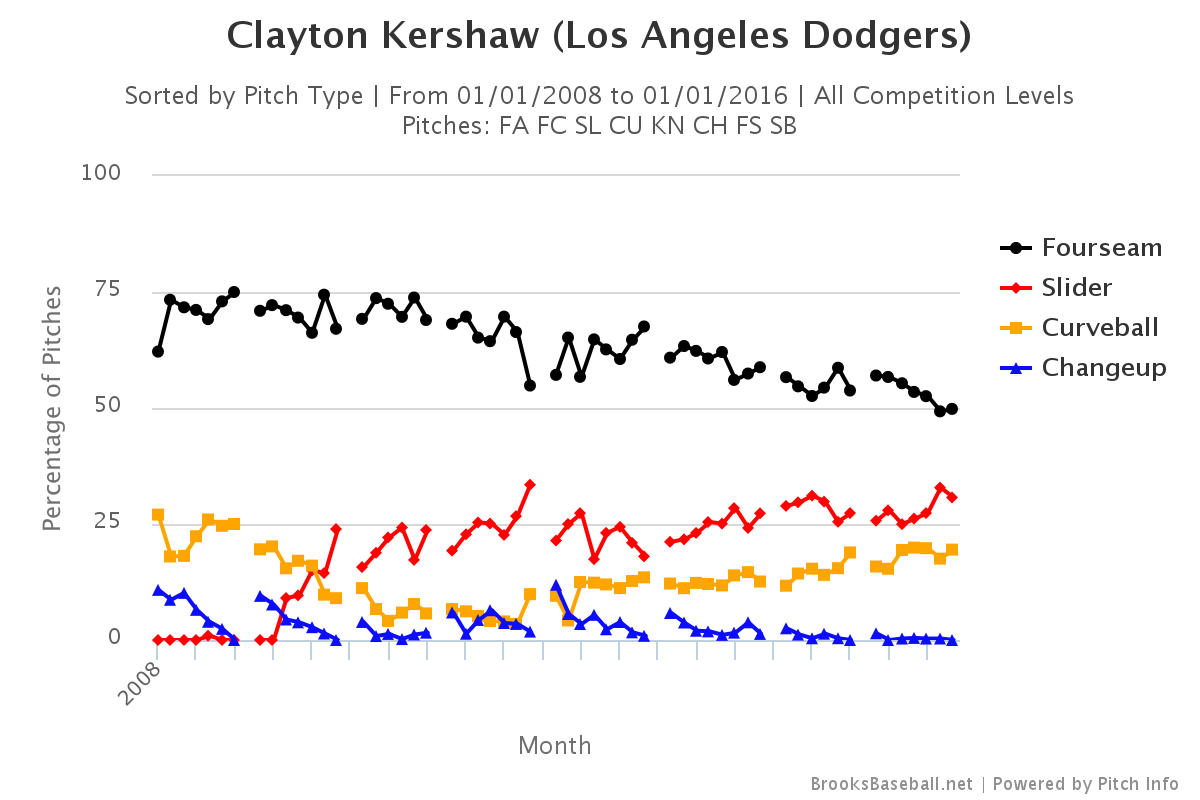 Kershaw threw roughly 75 percent fastballs from 2008-10, but he has gradually scaled back, and now throws his heater around 50-55 percent of the time. This is not uncommon. Many young guys come up pumping fastballs because they throw hard and are comfortable locating it. It takes time and experience to trust and command offspeed stuff.
Veteran pitchers learn how to "pitch" over time, so to speak, and they also refine their repertoire by adding or tweaking pitches. They add weapons because baseball is hard, and if you do the same thing for too long, opponents will catch up. For whatever reason, Kershaw was simply unable to pick up a changeup in the past. From Gurnick:
"It's fourth on the depth chart, for sure," Kershaw said. "I still work on it, play catch with it every day. I mess around with it more than any pitch, changing grips. It just doesn't come natural to me. I learned the slider out of desperation. I don't think I've reached the desperation level with that. Maybe there is something mental to it, if you really need to throw it, you throw it. That's probably where I'm at."
Kershaw told Gurnick he would talk to former teammate and noted changeup artist Zack Greinke pretty much everyday about the changeup, but it never came for whatever reason. It could be his arm slot -- he has to get the pitch to fade down and away from righties -- or even the size of his hand. If changeups were easy, everyone would throw it.
This spring Kershaw enlisted a new instructor in his never-ending quest to add a changeup: former Dodgers closer and 2003 NL Cy Young award winner Eric Gagne. Gagne had one of the nastiest changeups the game has ever seen, and when you've exhausted all other resources, why not turn to the changeup master? Here's more from Gurnick:
"I met him when he signed in 2006, and when he was a rookie we played golf in Spring Training," recalled Gagne. "He doesn't talk a lot, but he learns a lot. Even this year, he came up to me and asked how I threw my changeup. He's never satisfied with whatever his numbers are. He just wants to get better. That's the difference between a good pitcher and one-of-a-kind.

"I just told him to throw it as hard as he can in arm speed. It has to look like the fastball. He's capable of taking anything to the next level. We played catch the other day, he threw a cutter I didn't even know he had. He's not going to throw 97 (mph) the rest of his life. I think he's getting ready for that, for being able to dominate for many years. And he's still himself. He's cool to watch."
Per Brooks Baseball, PitchFX clocked Kershaw's two changeups at 86.8 mph and 87.4 mph, so about 7 mph slower than his average fastball on the night. Ideally it would be 10-12 slower than his fastball. That's the ideal separation.
Kershaw definitely picked his spots with the changeup Monday night: he threw his two changeups back-to-back to the last hitter he faced, Alexei Ramirez, with the Dodgers leading 11-0 in the seventh inning. If you're going to experiment with a pitch, that is the time to do it.
The first changeup Kershaw threw Ramirez was sloppy. It basically rolled out of his hand and out of zone, down and away to Ramirez. I thought Kershaw slowed his arm noticeably when he released the pitch. The second changeup was far better, however. To the action footage: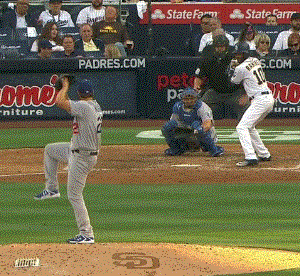 Kershaw threw that changeup like a fastball and it had fade down and away, like a changeup is supposed to have. Doing it once does not mean he can do it all the time. That's the hard part. Kershaw showed it is in there though. He just has to figure out how to get to it consistently.
I am interested to see how often Kershaw uses this changeup going forward. Were the changeups Monday night a one-time thing, just a veteran guy messing around with an 11-0 lead? Or is this something he is committed to and will continue to work on in the future? The former is possible, but I think the latter is more likely.
For now, Kershaw remains a truly great pitcher with "just" a fastball, a curveball, and a slider. He's tinkering with a changeup -- "It's his white whale," catcher A.J. Ellis told Gurnick -- and Monday night he showed probably the most promising changeup he's ever thrown as a big leaguer. He doesn't need the changeup to dominate, but if he can add another tool to his toolbelt, why wouldn't he?