Creating baseball's perfect starting pitcher
It's time to create our "Frankenstein" starting pitcher, with parts of current major-league pitchers.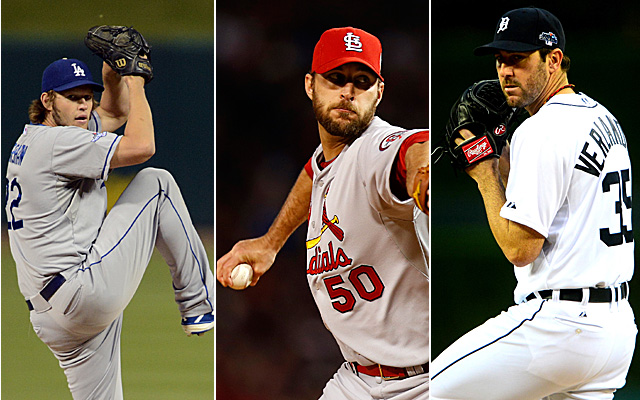 Creating the perfect: Catcher | First baseman | Second baseman | Shortstop | Third baseman | Left fielder | Center fielder | Right fielder
As we move our series onto the pitcher's mound, things get a bit more complicated. With the position players, we have the five tools and a few other obvious areas. Concerning pitchers, we're going to try and come up with all of the individual pitches in addition to stamina, control, pickoff move and durability.
The problem here is that some of the best pitchers in baseball -- Felix Hernandez and Max Scherzer, to name two -- are great because they are really good at so many different things instead of being the absolute best at one thing. So if you see us choose Andrew Cashner's fastball (ahem, you will), that doesn't mean we think he's an elite pitcher. He's not. Let's just realize what we're trying to do here. We're taking parts of every pitcher in the league in an attempt to create a baseball Frankenstein that would be the ultimate pitcher.
As with the rest of the series, we're talking about current starting pitchers only and their current skill sets.
The perfect starting pitcher would have ...
Andrew Cashner's four-seam fastball
Yes, a spoiler was contained above. We need to throw on a caveat here, too, which is that when Cashner is healthy is what we're looking at here. As luck would have it, this Frankenstein has great durability -- see below! -- so we're fine there. When Cashner's on, his heat is unmatched among starters. Take the Aug. 31 start he made against the Dodgers last year. He averaged 98 miles per hour on his four-seamer and hit 100 several times, with a max speed of 100.7 mph -- and that happened after his 100th pitch of the game (via BrooksBaseball.net).
Also considered: Matt Harvey, Stephen Strasburg, Justin Verlander
Justin Masterson's sinker/splitter
We included the "drop" pitches here together, though there's a distinction in that a sinker is a two-seam fastball and a splitter is a split-finger fastball. Masterson is as good as it gets in terms of keeping the ball on the ground, utilizing his sinker about half the time (49.4 percent of his pitches last season) while inducing an MLB-best (among qualifiers) 58% ground ball rate. It wasn't a fluke, either, as Masterson was sixth in groundball rate in 2012 and seventh in 2011.
Also considered: Doug Fister, Tim Hudson, Hisashi Iwakuma
Adam Wainwright's cutter
Wainwright just started throwing it in 2012, after returning from Tommy John surgery, but he's already mastered the cutter. He threw it 28.5 percent of the time last season to resounding success, helping to even better set up his devastating curve.
Also considered: Yu Darvish,  James Shields, Travis Wood
Clayton Kershaw's curveball
He only breaks out the curve 12.5 percent of the time, but according to fangraphs.com, Kershaw has the most effective curve in the majors on a per-pitch basis. As for the visual evidence, watch what this knee-buckling hammer does to lefties: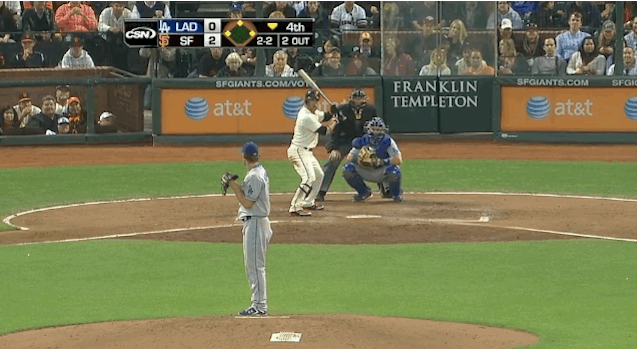 Also considered: Stephen Strasburg, Adam Wainwright
Yu Darvish's slider
The Cy Young contender has the widest arsenal of pitches in the majors, but the slider is his most effective pitch -- giving him a huge lead in the value of his slider among qualified starters, per fangraphs.com. And, hey, if you don't believe us, just ask Nolan Ryan who has the best slider in the game.
For more, we present the 82-mph-falling-off-the-table visual:
Also considered: Jose Fernandez, Max Scherzer
Cole Hamels' changeup
This was one of the toughest categories, as there are so many good changeup artists in the majors. The spot and setup are just as important as the change of speed and movement. Hamels gets the nod here as he entered the season on the short list of pitchers with the best change in baseball and took things to another level during the season, leading the majors in changeup value and changeup effectiveness per pitch thrown among pitchers who regularly use it. Lots of pitchers have an argument, though.
Also considered: Clay Buchholz, Felix Hernandez, David Price, Kris Medlen, Hyun-jin Ryu, James Shields, Stephen Strasburg
R.A. Dickey's knuckleball
Do we really need an explanation here?
Justin Verlander's stamina
Verlander trailed only C.J. Wilson in pitches per start last season, but that was likely due to the Tigers trying to save his bullets a bit. He led the majors in pitchers per start in each season from 2009-12. Not only that, but Verlander gets stronger as the game goes. Check out the velocity chart for his four-seam fastball throughout his career by inning:
Also considered: Cliff Lee, Chris Sale, James Shields, Adam Wainwright, C.J. Wilson
Cliff Lee's control
In the past four seasons, Lee has walked only 120 batters in 878 2/3 innings, or an average of 30 per season. In the past four years, there have only been two instances of a pitcher throwing at least 200 innings and allowing fewer than 30 walks. Both times were Lee (2010, 2012). He's led the majors in walk rate three of those four seasons while also leading in strikeout-to-walk ratio three of four times.
Historical nugget: Lee ranks sixth in MLB history in K-BB ratio, behind -- in order -- Tommy Bond (of the 1800s!), Curt Schilling, Pedro Martinez, Mariano Rivera and Dan Haren.
Also considered: Bartolo Colon, David Price, Adam Wainwright
Mark Buehrle's pickoff move
It's so good runners don't even try much off him these days. Still, Buehrle was able to pick 10 runners off base (six at first, four "caught stealing" as they took off for second) this past season. Opposing runners were also only 4-of-9 in actual stolen base attempts against him, too. Basically, if you get on base against Buehrle, just stay close to the bag.
Also considered: Tony Cingrani, James Shields, Julio Teheran
Justin Verlander's durability
He's made at least 32 starts and thrown at least 200 innings in each of the past seven seasons, but several pitchers regularly take every turn and hit 200 innings. In the past five seasons, though, Verlander has separated himself from the pack by averaging 34 starts and 234 innings a year. He led the majors in innings three of those five years. 
Also considered: Bronson Arroyo, Mark Buehrle, Matt Cain, Cole Hamels, Felix Hernandez, Clayton Kershaw, Cliff Lee, CC Sabathia, James Shields
We heard about it being awful for years, but was it?

Then again, three trades in four days might be behind Jerry Dipoto's usual pace

Ohtani is arguably the best hitter and pitcher in Japan
The O's need rotation help, and Cobb is available for hire

The Red Sox and Cardinals are expected to make trade offers next

The free agent first baseman may be a fit in St. Louis