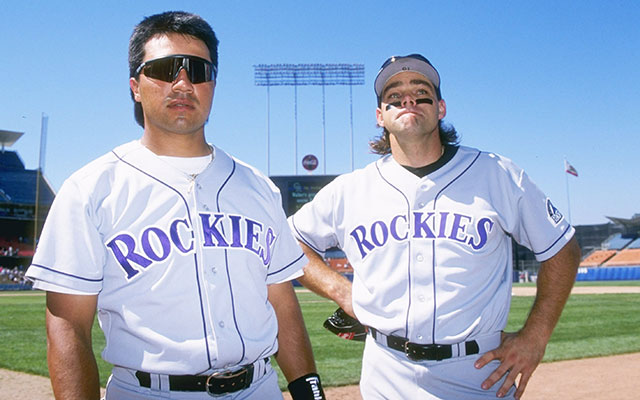 We are venturing through the history of each of the 30 Major League Baseball franchises, discussing some of the best and worst moments, players, teams, etc. It's more of a fun snapshot for discussion purposes than a be-all, end-all declaration. Now batting: The Colorado Rockies.
It's still an open question as to whether a Major League Baseball team can win consistently in the thin air of Colorado, which makes every slugger better and every pitcher vulnerable. Regardless, there's little doubt the X-factor of Coors Field makes for a unique venue in the league. And the Rockies periodically have provided some highly entertaining teams — the original Blake Street Bombers of 1995, who made the playoffs in the franchise's third season, and the Rocktober club of 2007, which went on a magical run that finished in the World Series. Let's take a walk (sometimes in the snow) down memory lane.
Best team: 2007
Rocktober started out at rock-bottom, with Colorado sporting an 18-27 record in May, and the Rockies still were 4 1/2 games out of a wild-card spot with nine games left in the regular season. But they reached the World Series by winning 21 of 22 overall, including an epic Game 163 tiebreaker against the San Diego Padres. Only the 2009 team won more games. Top sluggers included Matt Holliday, Brad Hawpe, Todd Helton, Garrett Atkins and rookie shortstop Troy Tulowitzki. But what made the '07 club playoff-worthy was its pitching staff, which sported four above-average adjusted ERAs in the rotation, most notably Jeff Francis, Aaron Cook and another rookie, Ubaldo Jimenez. The bullpen, particularly Manny Corpas and Brian Fuentes at the back end, also was effective. It all resembled one big miracle until the Red Sox swept them from the World Series.
Worst slide: Matt Holliday
Ow, Holliday's poor face. It's also the best slide, because he scored the winning run in the tiebreaker against the San Diego Padres that pushed the Rockies into the playoffs via an 8-7 victory in 13 innings.
Best player: Larry Walker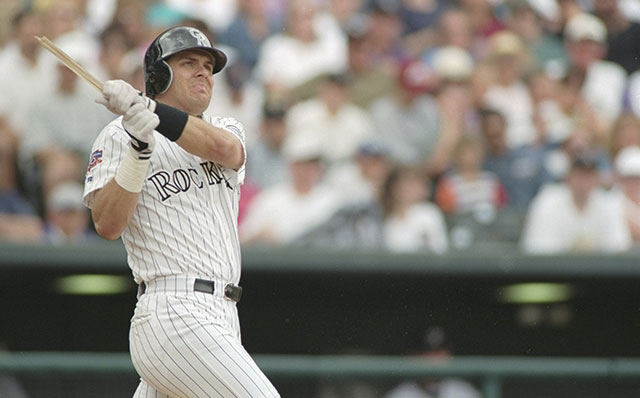 Todd Helton holds many of the career records for the Rockies, but he also accumulated about twice as many plate appearances with Colorado as Walker did. When starting a team from scratch, Walker would be the smarter play. Not only was Walker a better hitter (147 OPS+ to 133), he contributed at a more demanding defensive position, right field. It might be a different story if Helton's back were healthier over the long haul, and were he able to be a more productive player in his 30s.
Best first at-bat in franchise history: Eric Young
A rich minor-league history in Denver officially ended April 9, 1993, with the Montreal Expos visiting the Rockies at Mile High Stadium for Denver's inaugural major-league game. Eric Young led off the bottom of the first with a home run against Kent Bottenfield, and the Rox won 11-4, getting seven shutout innings from Bryn Smith.
Best 'other' first home run: Dante Bichette christens Coors
Bichette's three-run blast in the 14th erased a one-run deficit and gave the Rockies an 11-9 victory against the Mets in the first game at Coors in April 1995. It was a good omen for the season; the Rockies became the first wild-card winner in NL history. The Rockies had made the playoffs in their third season; no other expansion team had reached the postseason before its eighth season.
Best Todd Helton moment: Last out of 2007 NLCS
Not an at-bat, but instead a play at first base, Helton made the final putout of the 2007 NLCS in a 4-0 victory against the D-backs that sent the Rockies to their first World Series. Troy Tulowitzki's throw was better than the catch, but Helton's reaction -- raising his arms to heaven in triumph -- gave an incredible Rockies season another lasting image aside from Matt Holliday's faceplant.
Worst Helton moment: The lottery DUI
He made about $160 million in baseball, yet still played Powerball. Or was it Megamillions? Both? Helton quietly retired in 2013 and was respectfully honored for his career in 2014. 
Best defense: Humidor
Starting in 2002, the league gave the Rockies permission to "do something" about diffusing the effects of the atmosphere at Coors Field, so the club started storing balls in a humidor, like one might do with cigars to keep them from drying out. And it has appeared to work, with home runs being down about 25 percent ever since. The league has instituted tweaks in humidor procedure from time to time, but the curb on home runs at Coors makes it much less unfriendly to pitchers.
Best pitcher: Ubaldo Jimenez
Highlighted by the first no-hitter in franchise history, Jimenez posted a 2.88 ERA in 221 innings overall -- and 3.19 in 101 innings at home -- in 2010. Jimenez also has the best career ERA (3.67) for anyone with at least 10 starts at Coors. Tom Glavine is one point behind, but he made only 13 starts (eight pre-humidor) at Coors. 
Best (and most unbelievable) pitching performance: Dodgers' Hideo Nomo 9/17/96
Given the way that Coors Field bled runs before the humidor, Nomo's no-hitter might be the most impressive pitching performance ever. He allowed four walks, so his results have some minor aesthetic blemishes, but -- as Vin Scully said on the broadcast -- no-hitters at Coors were supposed to be impossible. Other than with Nomo, they have been. A season before, Pat Rapp of the Marlins tossed a one-hitter at Coors and, in 2006, Rockies pitchers Jason Jennings, Tom Martin and Brian Fuentes combined for a one-hitter at Coors.
Not that Nomo was too amazed by himself. From the Los Angeles Times:
[A]ll it took was a quick visit to the local 7-Eleven.

Nomo stopped in for a bag of chips and a soda. He ran into four customers who couldn't believe their good fortune. They started chanting his name. Before Nomo knew it, he was signing napkins, burrito wrappers and tissue paper.

"I was more excited than Nomo was," said Michael Okumura, Nomo's interpreter and confidant. "It's almost like he had to calm me down."

Nomo, who called his parents after the game, was low-key Wednesday. "I think the no-hitter is difficult to achieve," he said. "I know Coors Field is an advantage to the hitters, but I think wherever I go, it would be a difficult challenge to pitch a no-hitter.
Worst impulse buys: Mike Hampton and Denny Neagle
Over a span of six days in December 2000, the Rockies promised a combined $172 million to left-handers Mike Hampton and Denny Neagle. Hampton's contract for $121 million was a record at that moment, and he went on to post a 5.75 ERA in 62 starts for the Rockies before they traded him. Neagle posted a 5.57 ERA over two-plus seasons, in part because of elbow injuries. Unlike with Hampton, there was no way the Rockies could trade Neagle. They were stuck with him.
Worst indiscretion: Denny Neagle caught with prostitute
Thank goodness for morals clauses in contracts, yeah? Neagle was sentenced to complete 40 hours of community service in 2004 after pleading guilty to patronizing a prostitute. By the time Neagle pleaded out his case, the Rockies had cut him for violating his contract, which still had two years left on it.
Best repeat performance: Vinny Castilla in 1996 and 1997
In one of the quirkiest statistical notes ever, Castilla batted precisely .304 with 40 home runs and 113 RBI for two successive seasons. Curmudgeonly sabermatricians note that Castilla's slugging percentage was one point lower in '97 and his on-base percentage was 13 points higher. He also played in one fewer game in '97, so, pfft. Few players benefited from Coors more than Castilla, who slugged .609 there but .476 overall.
Best uniform: Black sleeveless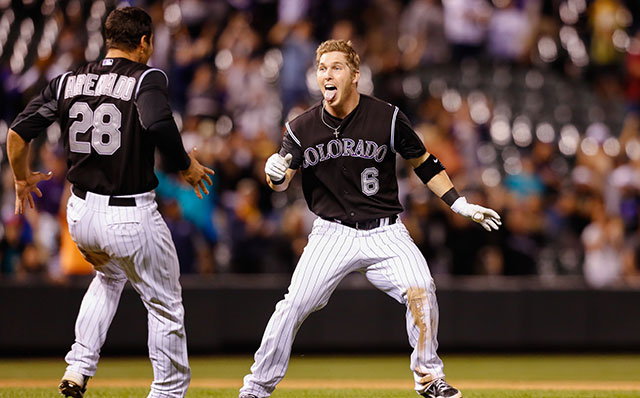 The most underrated uniform in sports might be the Rockies alternate jerseys. Black and sleeveless jerseys have been done and overdone by major league teams over the past 25 years. But there's something about the Rockies version that appears to be next-generation classy. They look like regal spacemen! Remember the turn-ahead-the-clock uniform experiment MLB tried? Big failure. But without trying, the Rockies showed us all what a snazzy baseball uniform from the future might look like in the present.
Worst pants: Dinger the Purple Triceratops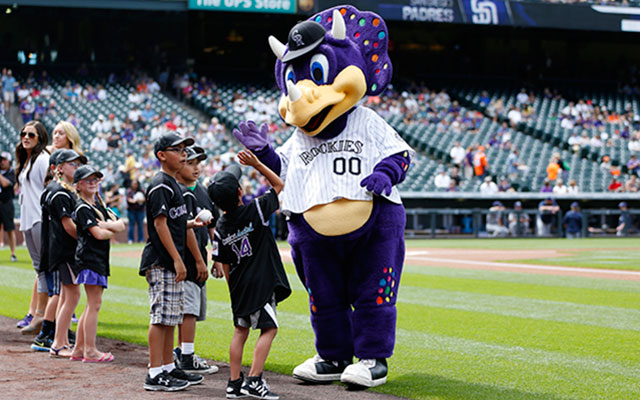 That's because Dinger, the club's mascot since 1994, doesn't wear pants. It's likely that real dinosaurs also wore no pants, so Dinger gets an "A" for realism there. But dinosaurs weren't purple and they didn't like baseball, either, so a clothing compromise would seem in order. Dinger probably means no harm, but out in public, among kids especially, he should wear pants. It just sets a good example. Plus, when Dinger goes behind home plate for the ninth inning and tries to distract the opposing pitcher with his half-nekkid pelvic thrusts and gyrations, act goes beyond the pale(ntological).
Worst venison: Clint Barmes in 2005
Barmes was climbing stairs carrying deer meat given to him by Helton when he fell and broke his collarbone, missing nearly three months of the 2005 season as a result. It remains notable on the list of strangest injuries in baseball history.
"I'll always probably be known for deer meat," Barmes has said. He's still playing, so the venison flop didn't kill his career, but Barmes wonders if he has ever been quite the same since the accident.
Best manager: Jim Leyland
The Rockies went 72-90 in Leyland's one and only season managing in Denver in 1999. He also took off the next six years from managing anyone, which makes you wonder exactly what managing the Rockies did to him. Colorado has made the playoffs under the likes of Don Baylor, Clint Hurdle and Jim Tracy, respectively, but no matter -- Leyland's still in the Hall of Fame. He's just not wearing a Rockies cap, is all.
Up next: A look Monday at the Dodgers 
>> Want more franchise bests/worsts? CHC | MIL | STL | CIN | PIT |CLE | DET | MIN | CHW | KC | NYY | BOS | BAL | TOR | TB | MIA | WAS | NYM | PHI | ATL