NBA All-Rookie Team Analysis: Wait, what, why?
The NBA announces the All-Rookie Teams. Was Isaiah Thomas snubbed?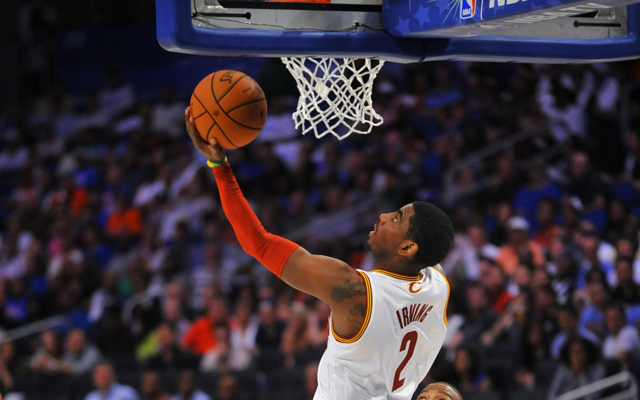 Irving received all but three of 120 first-place votes. (Getty Images)
The NBA Tuesday announced the 2012 NBA All-Rookie Team. The results from ye old presser: 
Well, first off, if these guys try to put seven guys on the floor together for a team, I'm fairly certain the officials will have an issue with that (obviously the final three guys tied). 
Second, well at least there was no glaring omission here. Yup. A good solid list of... wait, what?
Quick question, where's
Isaiah Thomas
, exactly?
Thomas averaged 16 points and 6 assists per 36 minutes over the course of the season, but averaged 18 points and 7 assists after the All-Star break, on 47 percent shooting, with a 60 percent true shooting mark. He won Rookie of the Month, twice in the last three months.
The
Kings
were watchable with him at point guard.
So, yeah, maybe not the 7th-place finish he wound up with for that.
Brandon Knight's the big problem there. Knight played well and is going to be a quality point guard in this league for years. But to put him above Thomas shows a blatant lack of attention to what actually went on in the games. Shocking, I know. A video assistant failed to adequately rank a rookie picked 60th in the
NBA draft
? Crazy.
Shumper's appearance here is also suspect. Shumpert showed enough for New York fans to build a cult around him, but then, they do that for pretty much anyone who isn't terrible. Thomas' defense doesn't come close to Shumpert for long stretches. Thomas would take over the game and do it efficiently, without turnovers. That should carry him over the Knickerbocker.
Alas, here's Thomas, in the second team rankings. 
The voters weren't completely nuts, as Chandler Parsons gets some votes. Again, more than Thomas, which makes no sense, but at least some. Tristan Thompson is probably too high on this list, but he's going to work out fine long-term. Here are the rest of the votes.
Markieff Morris
,
Phoenix
, 7 (1);
Kemba Walker
,
Charlotte
7;
Alec Burks
,
Utah
2;
Norris Cole
,
Miami
2;
Bismack Biyombo
, Charlotte 2;
Enes Kanter
,
Utah 1;
Greg Stiemsma
,
Boston
1;
Gustavo Ayon
,
New Orleans
1; Nikola
Vucevic,
Philadelphia
1. 
Morris deserved to be higher, Biombo as well, and Ayon. Kanter, Stiemsma, and Vucevic tying is pretty much the most appropriate thing possible.
The NBA All-Star Game is here. Follow our live updates to keep up with the action

Bryant says he was looking at schools in Chicago and was ready to meet Jerry Reinsdorf and...

The 76ers guard is in hot water after a controversial video surfaced showing him using a racial...
James Harden is the only player representing the best team in the NBA

Adam Silver sees a 1-16 playoff as a real possibility in the future if they can figure out...

Galin Dragiev is SportsLine's No 1. NBA expert and locked in a pick for Team LeBron vs. Team...