Agent's Take: Remembering three NFL Draft day experiences
Former agent Joel Corry revists three NFL Draft day experiences, including his time representing star wide receiver Jimmy Smith.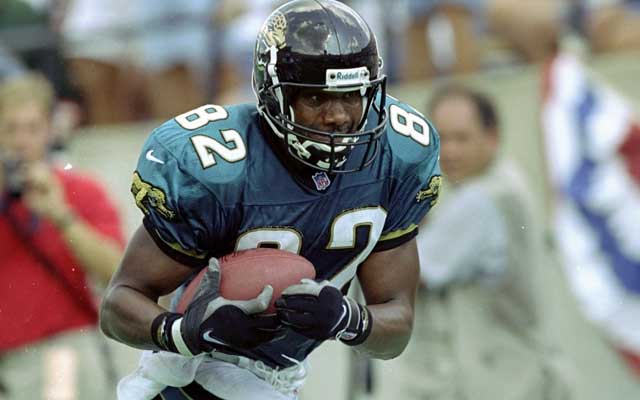 More Draft coverage: Mock Drafts | Prospect Rankings | Big Board | News
The draft day is supposed to be a momentous occasion for players. Unfortunately, it isn't always a positive experience because players don't get drafted as high as they think they should or go undrafted.
Some agents don't do a good job of managing client expectations. Instead of telling a player what they need to hear, they are told what they want to hear. It's easy for players to get caught up in draft rumors since draft prognostication is no longer a cottage industry. Smokescreens and misinformation are a part of the process. A seasoned agent will use his network of contacts to get a feel for his client's draft market and assess the credibility of the information received. Some agents are hesitant to give players projections of their draft positions because they know the draft is a fluid process where even the best projections can be inaccurate.
Draft day can become uncomfortable for an agent when the draft isn't going as anticipated for a client, especially when the agent is with that particular client. The agent is expected to "work the phones" if this happens. Agents don't control the draft so they can't do too much to influence the draft process in these cases. He or she can try to find out from teams what could be causing the player to slip in the draft, counter any erroneous information, alleviate any concerns teams may have about the player and plead his client's case for being drafted as soon as possible.
Inevitably, draft day disappointment will lead some players to find new representation shortly after the NFL Draft, especially when pre-draft promises made by agents don't come true. Fortunately, I was never in that position when I represented players.
Below are experiences I had on draft day with three players I helped represent. The experiences are different because one player was a high first round pick, another taken early in the draft and the other was a late round selection.
Jimmy Smith (WR)-Dallas Cowboys (1992, 2nd round-38th overall)
My introduction to the business of draft day occurred with Jimmy Smith. He was a client of the sports agency that gave me my first job in the industry.
Smith, out of Division I-AA (now known as Football Championship Subdivision) Jackson State, was regarded as the third best wide receiver prospect in the 1992 draft. He was considered slightly below Carl Pickens as a prospect.
We thought Smith had a chance to be a late first-round pick when the draft started but knew going ahead of Pickens was unlikely. The Cincinnati Bengals selected Pickens early in the second round with the 31st overall pick (there were only 28 NFL teams in 1992).
The Dallas Cowboys called Smith once their 10 minutes to make a selection began (it's now seven minutes in the second round). Smith was told they would draft him only if he agreed to the contract they were offering, which was below market value for the eighth pick in the round. He wasn't given an opportunity to consult anyone, including his representation, before making a decision. Once Jimmy agreed, the Cowboys selected him. The Cowboys drafting Smith was a surprise because they had good receiver depth with Michael Irvin, Alvin Harper, Kelvin Martin and 1990 first-round pick Alexander Wright.
Generally, the only team that was supposed to negotiate with players before they were selected was the first overall pick. The 2011 rookie wage scale has eliminated the need for these early negotiations. The Cowboys drew criticism from agents and other teams for using this tactic with several of their 1992 draftees because it violated conventional draft protocol.
After Smith told us what happened, his primary agent called Cowboys owner Jerry Jones to let him know the verbal agreement wasn't binding and any negotiations would be with him. The following day during a meeting in Dallas, an agreement on market value deal was reached. Because of the Cowboys' tactics, all future draft-eligible clients we signed were given instructions on how to handle the situation Smith faced.
Smith spent two uneventful years in Dallas before he was released. He missed half of his rookie season after breaking his right leg early in training camp. Smith was relegated to special teams duty once he was healthy. He was almost traded to the Los Angeles Rams for Cleveland Gary in 1993 during the preseason while Emmitt Smith was involved in a contract dispute with the Cowboys. Smith missed the entire 1993 season because of complications from an emergency appendectomy late in the preseason.
Smith's career took off in 1996, his second season with the Jacksonville Jaguars when he had 83 receptions for 1,244 yards and seven touchdowns. He was selected to five straight Pro Bowls (1997-2001). When Smith retired in 2006, he was seventh in NFL history with 862 receptions and 11th with 12,287 receiving yards.
Willie McGinest (DE/OLB)-New England Patriots (1994, 1st round-4th overall)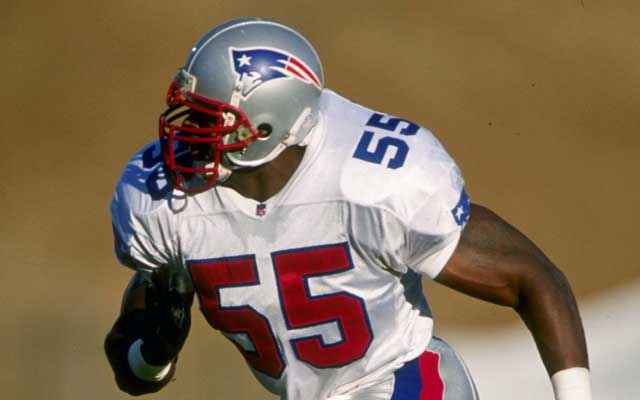 Willie McGinest's draft day was the least stressful experience I had as an agent because everything went according to plan.
Before McGinest's senior year in 1993, Arizona head coach Dick Tomey said, "If the Pac-10 had a player draft, he'd be my first pick." That's high praise considering some of the talent in the Pac-10 at that time. USC teammate Tony Boselli, an offensive tackle, was selected second overall in 1995 by the Jacksonville Jaguars. The Baltimore Ravens took Hall of Fame offensive tackle Jonathan Ogden fourth overall the following year.
McGinest's sack total dropped from 16 in his junior year to five as a senior with John Robinson returning to USC for his second stint as head coach. Robinson used McGinest differently than his predecessor Larry Smith. He was moved from outside linebacker to defensive end. McGinest also lined up all over the line scrimmage and occasionally at middle linebacker. Pac-10 teams also employed a "Willie Watch" by accounting for him with double teams or running plays away him. His draft stock took a slight hit because of the decrease in his productivity.
McGinest took advantage of the pre-draft process by focusing on the things he could control such as his workout performances and making a favorable impression on pre-draft visits. "I never worried where my stock was," McGinest said when drafted. "At first I was 15 to early second." He added to an impressive combine workout by running a 4.46 and 4.48 40-yard dash in a private workout with USC teammate Jason Sehorn at Cerritos College in Norwalk, Calif. As the draft approached, there was a lot of buzz surrounding McGinest.
The New England Patriots were straightforward with their intentions. During the week of the draft, they called to let us know that McGinest would be their choice if they retained the fourth overall pick. They also informed us that they were interested in moving up to the first overall pick to select defensive tackle Dan Wilkinson, the consensus best player in the draft.
The Cowboys called toward the end of the week to request that a team representative be present at McGinest's draft day location because they were interested in trading up to draft him. We didn't object because McGinest was having a draft day party with family and friends at a Marina del Ray, Calif. sports bar. Because of the Cowboys' tactics with Jimmy Smith two years earlier, I was assigned preparing for negotiations as the fourth to the tenth picks in case New England passed on McGinest and Dallas wanted to quickly negotiate a deal in the event of a trade.
New England kept their word but not before using almost all of their 15 minutes (now 10 minutes in the first round) to make a selection by fielding trade offers for their pick. "I really didn't expect to go so high," McGinest said at the time. I can only think that the scouts appreciated how hard I worked since the season ended."
Jerry Jones, who allowed an ESPN camera into their draft room, was visibly upset when New England selected McGinest. He had worked out a trade with the Los Angeles Rams that was contingent on McGinest being available. The Cowboys would have gotten the fifth pick in exchange for Alvin Harper.
McGinest played 15 years in the NFL. During his 12 seasons with the Patriots, he was a three-time Super Bowl champion and a two-time Pro Bowl selection. McGinest holds the career playoff record for sacks with 16. He is also the single game playoff record holder with 4.5 sacks. McGinest is currently an analyst with the NFL Network.
David Gibson (S)-Tampa Bay Buccaneers (2000, 6th round-193rd overall)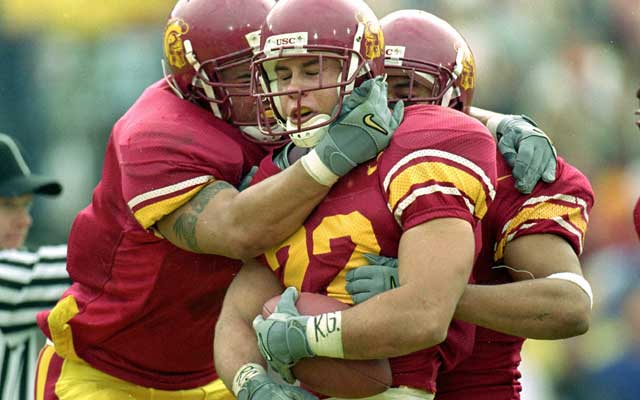 David Gibson fought an uphill battle to have an NFL career. After being a three-year starter at safety and linebacker for USC and earning All-Pac 10 honors as a senior, Gibson didn't receive an invitation to the combine. Gibson said in a recent interview, "I was disappointed at first about the combine but became extremely motivated to prove everybody wrong."
USC's pro day took on more significance than usual because it was Gibson's only   opportunity to impress NFL teams. The 6-1, 210-pound safety opened eyes by running 4.37 and 4.39 in the 40-yard dash on USC's track. "When I was finished, Tim Ruskell (Tampa Bay Buccaneers Director of College Scouting at the time) told me I had a phenomenal workout and put myself in the draft," said Gibson.
Gibson had several pre-draft visits because of his workout. Since he didn't go to the combine, teams were interested in doing medical examinations as well as personal interviews.
Gibson wasn't expecting any interest on the first day of the draft (first through third rounds). He received a surprise call from the San Francisco 49ers telling him he was being considered for their third-round pick. The 49ers chose linebacker Jeff Ulbrich with the 86th overall pick.
While we were watching the draft with Gibson's family at their home, one of the strangest things I experienced during the draft occurred. The New Orleans Saints called Gibson right before their last selection in the fifth round (166th overall) to tell Gibson they would be drafting him. They chose USC teammate Chad Morton, a running back and return specialist, instead. Teams frequently tell players prior to the draft that they will take them in a certain round but this was the only time something like happened while I represented players. He was taken 27 picks later by the Buccaneers in the sixth round.
Gibson played four years in the NFL. He was a reserve safety for the Buccaneers until his first NFL head coach, Tony Dungy, acquired him in a trade early in the 2002 season. Gibson started nine regular season games for the Indianapolis Colts after the trade. The Colts released Gibson in the final roster cut down the following year. He returned to the Buccaneers in 2003 after injuries in the secondary. Gibson ended his career in 2004 after he was released by the Cleveland Browns in training camp. He made a smooth transition to commercial real estate in Tampa once his playing days ended.
---
Joel Corry is a former sports agent who helped found Premier Sports & Entertainment, a sports management firm that represents professional athletes and coaches. Before his tenure at Premier, Joel worked for Management Plus Enterprises, which represented Shaquille O'Neal, Hakeem Olajuwon and Ronnie Lott.
You can follow him on Twitter: @corryjoel
You can email him at jccorry@gmail.com
The Steelers didn't have to look far to find their replacement for Todd Haley

The pop superstar will seek halftime show redemption at Super Bowl LII

Our computer model simulated the AFC and NFC title games 10,000 times with surprising resu...
Todd Haley's name has also been floated as a possible replacement

It wasn't the matchup that we expected, but the Jaguars would argue that's everyone else's...

CBS All Access allows viewers to stream every NFL game on CBS in their local market