Sports often intersected with the popular culture icon that was/is Seinfeld. One of the teams that was immortalized in a most memorable fashion on the beloved TV show was the New Jersey Devils by way of the in-your-face face-painting boyfriend of Elaine Benes known as David Puddy.
Pop culture has been intersecting with goalie mask art for years as well. So when Seinfeld fan and Devils goalie prospect Scott Wedgewood was thinking about new mask ideas for this season, it dawned on him. David Puddy has got to be on the mask. And he is.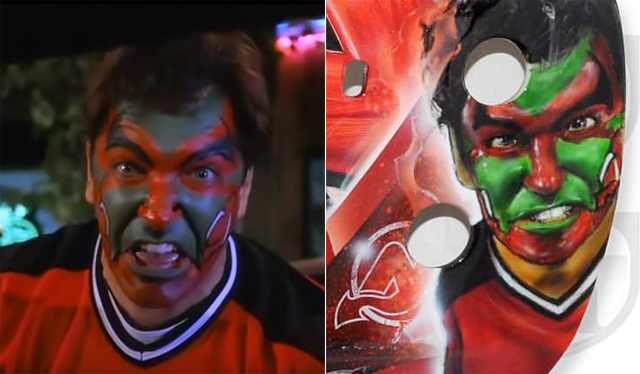 You see, Puddy, who was played by Patrick Warburton, had an intense love for the Devils. Clad in his Martin Brodeur jersey and aggressive face paint, Warburton embarrasses Elaine as a visiting fan in Madison Square Garden during a playoff series. However, he'll most be known for the moment when the group was walking home and Puddy was nearly struck by a car which happened to be carrying a priest in the passenger seat.
Gets me every time.
Designed by mask painter to the stars, David Gunnarsson, Puddy's painted face appears on Wedgewood's new mask which is tinged with green, part of the Devils' original color scheme.
Here's a look at the whole mask via DaveArt's Facebook page: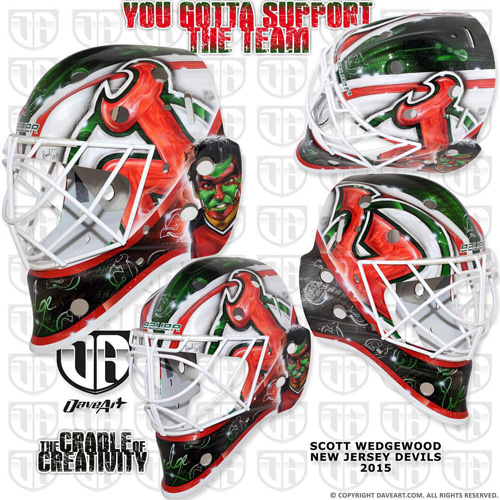 Gunnarsson says in his Facebook post that he is also a huge Seinfeld fan and was extremely excited to design this mask. 
Here's Wedgewood explaining the mask design and that he wanted to get Puddy on his mask for a long time. He also shared the story about how he and his brother reacted to his being drafted by New Jersey in the third round -- with a Puddy-esque "THE DEVILS!" of course.
Warburton actually caught a glimpse of the mask and reacted thusly on Twitter:
This is most awesome!!!! Love it! https://t.co/o3ave9oMtL

— patrick warburton (@paddywarbucks) November 1, 2015
Wedgewood is currently playing for the Devils' AHL affiliate in Albany.