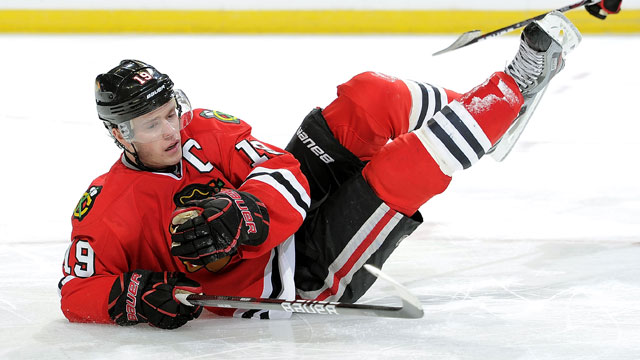 Toews hasn't played since Feb. 19. (Getty Images)
Jonathan Toews has been out for a few weeks for the Chicago Blackhawks and nobody really knew why. The updates were always vague about his status. There was one report out there that he was suffering from a concussion but it wasn't confirmed.
Until Friday, that is.
Toews revealed to the Chicago media that he was indeed suffering from a concussion and that right now there is no timetable for his return, although he is doing OK.
#Blackhawks captain Jonathan Toews confirms he has concussion. Feeling better but not sure when he'll be back.

— Chris Kuc (@ChrisKuc) March 9, 2012
In fact, he played a few games after suffering the concussion before they shut it down. Fully aware of what has happened to players before him, Toews mentioned he is a bit worried what multiple concussions in his career could do about his life after hockey.
The only good news here for the Blackhawks is that their captain is doing better as he said. Otherwise, it's obviously very concerning that Toews is dealing with a concussion, you never know how that will play out or how quickly things can go from good to bad. Moreover, you hope that his concern about concussions doesn't change the way he plays on the ice.
And no, Toews said that car accident he had in Chicago didn't make things worse, it was just another episode in a bad week.
"A lot of people want to tie that in there with this injury but when it rains it pours. I had a rough week and throw that in there with it," he said. "It's one of those embarrassing things I didn't want to get out of my car for a long time."
There is no denying the obvious, which is Toews means a lot to this team. He's their captain and remains their leader in goals despite not playing since Feb. 19.
At least Chicago is pretty comfortable in their position in the playoffs right now that they can take their time with Toews. They aren't close enough to Detroit to fight for the fourth seed but aren't sweating too much about missing the playoffs all together.
For more hockey news, rumors and analysis, follow @EyeOnHockey and @BrianStubitsNHL on Twitter and like us on Facebook.