Maple Leafs lose, are eliminated from playoff contention
The Toronto Maple Leafs have blown their playoff spot. Comfortably in playoff position a month ago, the Leafs were eliminated on Tuesday with a loss in Tampa.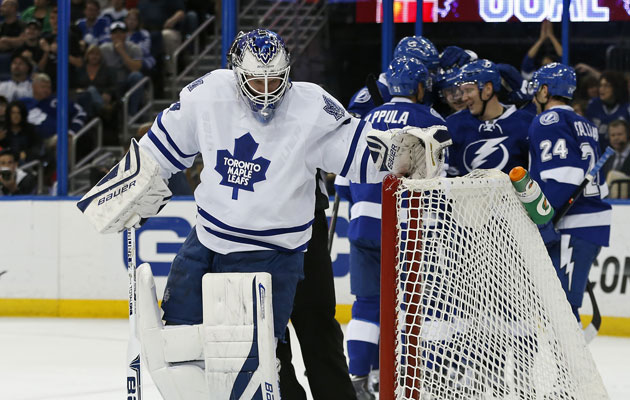 More NHL: Trades | Scores | Standings | League Leaders | Odds  | Power Rankings
The collapse is complete, the Toronto Maple Leafs are out of the playoff race.
From start to nearly finish this season, the Maple Leafs were solidly in playoff position. They once again got off to a hot start to their campaign and built up a cushion in the early going to make a return trip to the postseason. Through their ups and downs they never looked to be in much danger because of that early cushion.
And then mid-March came and away went the Maple Leafs.
It coincided with an injury to starting goaltender Jonathan Bernier but seemed inevitable all season long, the Leafs stopped winning and their lead began melting faster than the snow in Ontario. Their awful possession metrics and unsustainably high shooting percentage came crashing back to earth.
The result was a stretch that saw the Leafs lose eight games in a row -- all of them in regulation, no less -- to lose their grip on a playoff spot. The got back on track a bit to keep the hope alive but when the Columbus Blue Jackets beat the Coyotes in overtime on Tuesday night while the Leafs were trailing in Tampa Bay, their fate was virtually sealed. That became official a short while later when the Leafs game went final, a 3-0 loss in Tampa Bay.
It was just over a month ago, on March 4, when the Maple Leafs were six points clear of the last wild card spot and were actually third in the Atlantic Division. Now they are fifth, in danger of falling behind Ottawa in this final week of the regular season. It's been a long, hard fall for the Leafs.
With the fall from grace done, the Leafs will hit the offseason early and as usual they will face a lot of questions but chief among them will be if they keep head coach Randy Carlyle after this. A collapse of this kind down the stretch never looks good on a head coach who is already under some scrutiny in the intense Toronto market.
The Leafs weren't the only team to be eliminated on Tuesday, Ottawa and Carolina were also now officially done but neither of those teams took the staggering fall the Leafs did. As a result, the Canadiens will be the only team from Canada out of the seven to make the playoffs.
The former Boston Bruin was the first black player to play in the NHL

Inclement weather led to the Charlotte Checkers and Bridgeport Sound Tigers playing in front...

The NHL chose the Detroit rocker as its All-Star Game entertainment and not everyone is th...
NHL fans from all over seem to agree on one thing: Hating Kid Rock

The team tweeted on Monday that Shaw would be re-evaluated in 7-10 days

The Montreal forward was hospitalized after taking a Zdeno Chara slap shot to the head