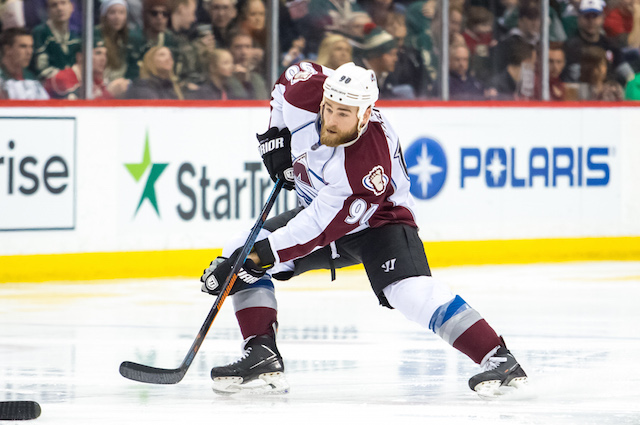 SUNRISE, Fla. -- The Buffalo Sabres stayed busy on what could end up being a historic day for their organization. On top of swinging a deal earlier in the day and making the second overall selection in Friday night's draft, the Sabres acquired forward Ryan O'Reilly from the Colorado Avalanche according to Renaud Lavoie of TVA Sports.
In exchange for the two-way forward, the Sabres sent the Avalanche defenseman Nikita Zadorov, forward Mikhail Grigorenko and prospect J.T. Compher and the 31st overall a draft pick for O'Reilly and Jamie McGinn according to Darren Dreger of TSN. This trade works on multiple levels for both teams.
For one, the Sabres have had issues with Zadorov on a disciplinary front over the last season and worried about his overall maturity, despite his immense potential. Secondly, Grigorenko is a restricted free agent and it sounded like he wasn't willing to take a two-way deal from the Sabres, with jumping to the KHL possible. Then to add a player of O'Reilly's caliber further makes Buffalo a different team by next season.
The Avs, meanwhile, acquire two players with a mountain of upside despite their issues. Grigorenko played for Patrick Roy in the Quebec Major Junior League, which could be a huge plus at the negotiating table for his rights. Additionally, landing Compher, who will be a junior at the University of Michigan next year could be a little protection if Grigorenko bolts to the KHL.
Colorado looked less and less likely to be able to get O'Reilly signed to a long-term extension. He has one year left on his deal before he can hit unrestricted free agency. The Sabres will have the cap space to extend him if they choose to, but this move also signifies that they're expecting to compete next season.
Tim Murray is getting aggressive in his efforts to rebuild his roster, utilizing the draft over the last two years and bringing Jack Eichel in during this year's draft. This is certainly a new day for Buffalo.
O'Reilly has already appeared in 427 games at age 24. He has 246 career points, including 119 over the last two seasons. His two-way skills make him a huge factor in every game he plays.
Grigorenko has just 14 points in 68 games. The former No. 12 pick has struggled in limited opportunities with the Sabres, who may have bungled his development from the start by trying to get him in the NHL too soon. That was under a different administration however. He's just 21 and could be a great reclamation project.
Zadorov played in 60 games last season. He had 15 points. At 20 years old, he's only beginning to realize his potential.