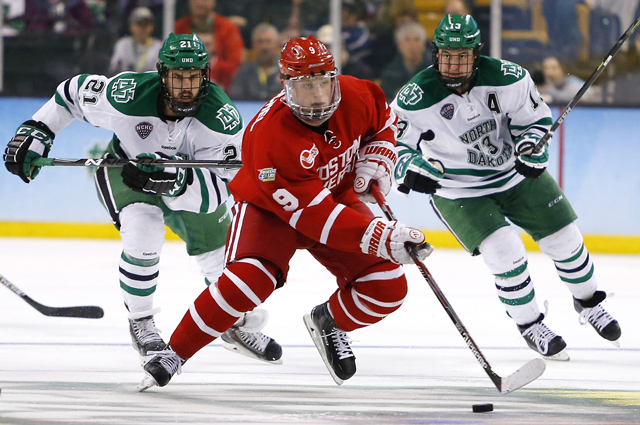 Jack Eichel is certain to go second in the NHL Entry Draft in June, but that doesn't mean he has to believe he's the second best player in this draft. Connor McDavid is the man essentially known to be going No. 1 to the Edmonton Oilers. He's worth the hype, but Eichel sees a different future for the two of them, and he doesn't plan on playing second fiddle.
In an interview with WGR 550 in Buffalo, Sabres general manager Tim Murray confirmed a Boston Globe report that Eichel has been telling teams in interviews that he will be better than McDavid as a pro.
"He said that," Murray confirmed about Eichel's better-than-McDavid remarks to WGR.  "I think he should say that. Why not say that? I think he believes it.
"With the way he played this season, we called it a two-horse race all year. Why should he not believe that? Why should he not believe his skill set and whole package? He's confident in it. He's backed that up and had a tremendous year. I don't know why he wouldn't believe that he's the best player."
Murray also addressed his now infamous remarks from after the draft lottery in which he said he was disappointed for the Sabres fans that were so excited about McDavid. It was something that Eichel even touched on during his interview with the team at the combine.
"He said to me that they were pretty happy after the draft lottery," Murray noted to WGR. "He said 'you may have been disappointed, but you shouldn't be disappointed.' "
The Sabres GM also wanted to clarify that his disappointment was not directed at landing Eichel, but the process by which the lottery was held. Specifically, and he has been beating this drum since it happened, he was upset that the lottery system was changed to be weighted differently right in the middle of the Sabres' rebuild.
"Never once did it enter my mind that I was disappointed about getting Jack Eichel," Murray said. "We talked about that. I just explained that whatever you do, you want to win. When you don't win, some people show disappointment, others hide it. I'm not very good at hiding it. It was never about the player."
What's interesting is that Murray was happy to confirm Eichel's statements. Those meetings are behind closed doors and the contents of those meetings rarely makes it out to the public. There have been some behind-the-scenes type things, but it's mostly the generic stuff that no one really cares about like a player detailing his strengths and weaknesses like the rest of us do in job interviews.
Eichel is saying he'll be better than McDavid, prehaps not knowing those remarks would be made public. Now that they are out there, he's going to have to back it up with his play. It's more pressure than was already on him, but that's unlikely to bother Eichel. Don't think for a second that he's satisfied with being No. 2, even if McDavid could be the best prospect since Sidney Crosby.
Despite his confidence, Eichel isn't taking it for granted that the Sabres will draft him at all.
As he told Michael Traikos of the National Post:
"I don't want to jinx myself," said Eichel. "We haven't been told anything, so we don't know where Connor (McDavid) or myself is going to go. Obviously, it looks like he'll go to Edmonton and I'll go to Buffalo. But with that being said, nothing is ever set in stone until they go up to the mic and say something."
The 18-year-old Massachusetts native has plenty of reason to be confident he'll be the pick, though. Besides, it sounds like the preparations are already underway:
Ted Black said the Sabres have already talked to Eichel about what number he wants. So....

— Matthew Coller (@MatthewWGR) June 5, 2015
On top of that, Eichel just had the best season by a college freshman in more than 20 years in the NCAA. He led Boston University to the national championship game with 71 points in 40 games. That earned him the Hobey Baker Memorial Award, the first freshman to win it since Paul Kariya in 1993. He also was one of Team USA's better players at the World Championship, playing against pros and helping the club win an unexpected bronze medal. 
There's no doubt he is a special player, but he'll always be compared against McDavid as long as both are in the NHL.
Eichel's now public comments only add more pressure to what is sure to be a pressure-packed career as long as he is a Buffalo Sabre. But that gives him something to strive for, and something for the rest of us to watch with great interest.
[H/T Pro Hockey Talk]